A FEW FINDS FROM THE CHICAGO COLLECTIVE
It was a terrific spring '19 Chicago Collective with retailers in an upbeat mindset and vendors showing some fabulous product. Here, a few of our finds: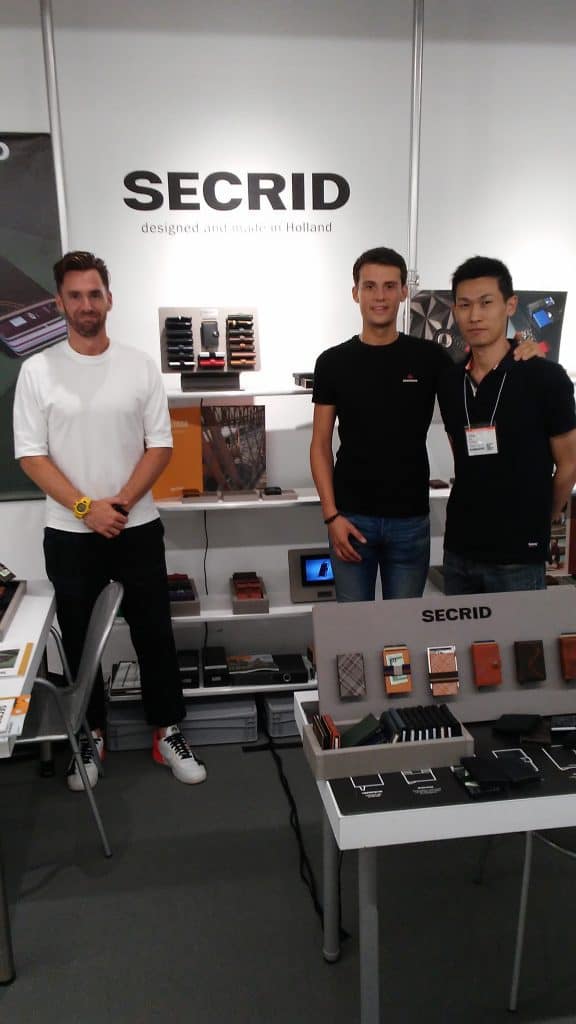 If there was a hot item at the show, it was the Secrid wallet, a cleverly designed credit card holder that, at the flick of a lever, reveals up to six credit cards (12 in the double version), in a staggered arrangement so you can pull out one card without having to remove them all. The collection comprises numerous styles in various fashion leathers, all crafted with "utmost care for labor standards and the environment." What's more, the company (based in Holland where the wallets are made) hires workers with disabilities and trains them. "A better world starts in your pocket" is more than just a tagline for this amazing company, where a percentage of sales goes to various charities and where workers get time off for altruistic endeavors. Suggested retails on the wallets: $45 on metal basics; $90-$135 on fashion leathers and $135-$155 on the twins; minimum orders are $750, which includes a free moveable display.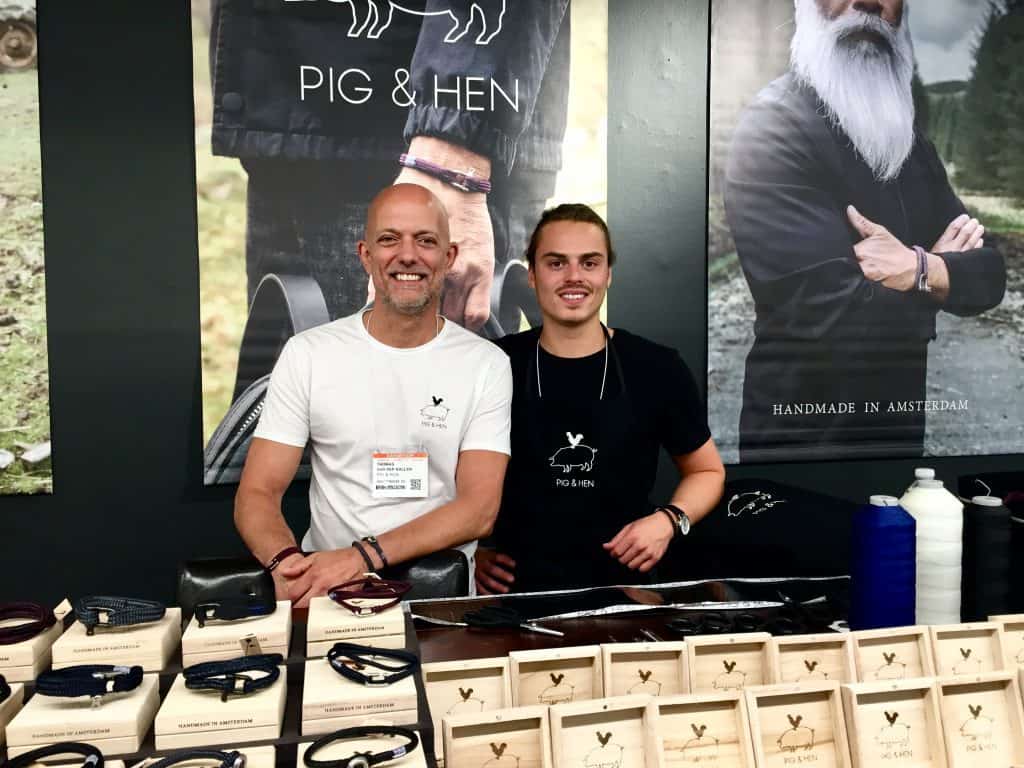 Another hot accessories collection: Pig & Hen. We spoke with Thomas VanDerKallen who told us the lovely story behind these fabulous rope bracelets, handcrafted in Amsterdam. (The company is just five years old, they did their first trade show just this past February and they're already in 90 upscale stores.) The legend behind the look dates back to the 1600s when sailors sailed out to far-off destinations with crates of pigs and hens on board for food. In the event of a shipwreck, the animals always survived since the crates would float so the sailors tattooed themselves with images of pigs and hens for protection. The message: you can live life on the edge but not without a good luck charm. These charming bracelets retail from $79-$99.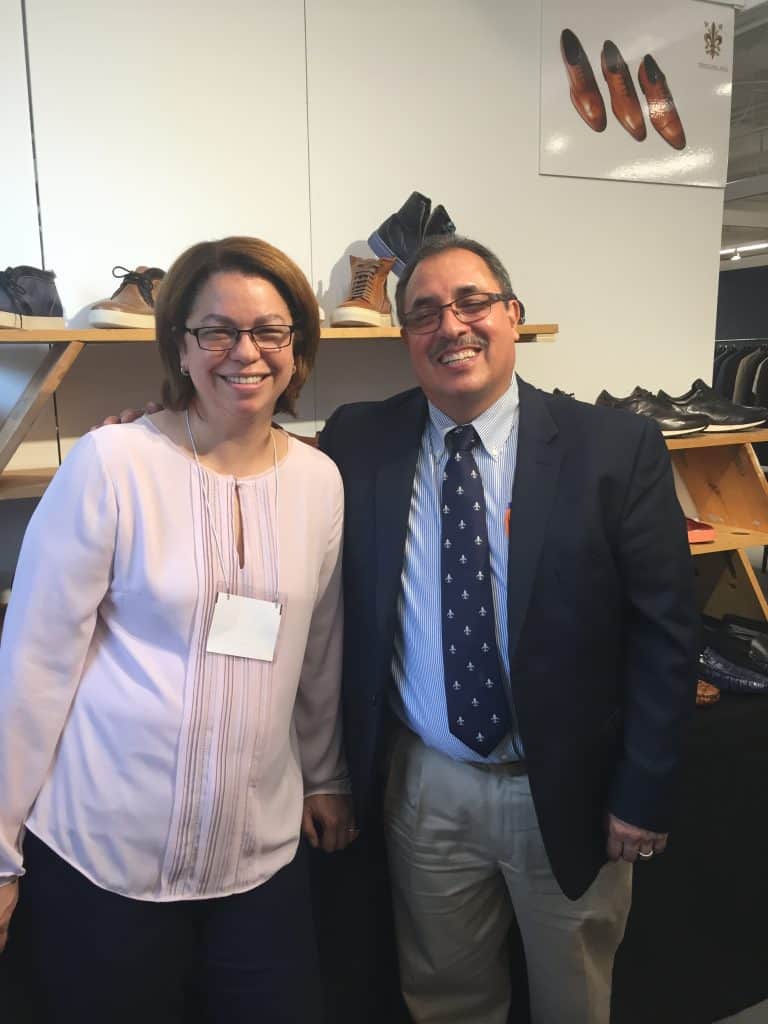 The Toscana USA spring '19 footwear collection was influenced by Italy in the 1940s. This collection of beautiful Florentine leather footwear ranges from dress shoes to drivers with a fresh take on very cool leather sneakers on comfort soles that work well with everything from sweats to tailored clothing. All leathers are hand-painted and vegetable dyed; wholesale prices range from $140 to $415 (for American alligator; ostrich is $300.) We especially loved the dip-dyed drivers and the dip-dyed double-zip high top on a Vibram sole. The dip-dye process takes two days for dying, then the leather is dried on drums to allow the ink to sink in; the leather then acquires a shine as it wears.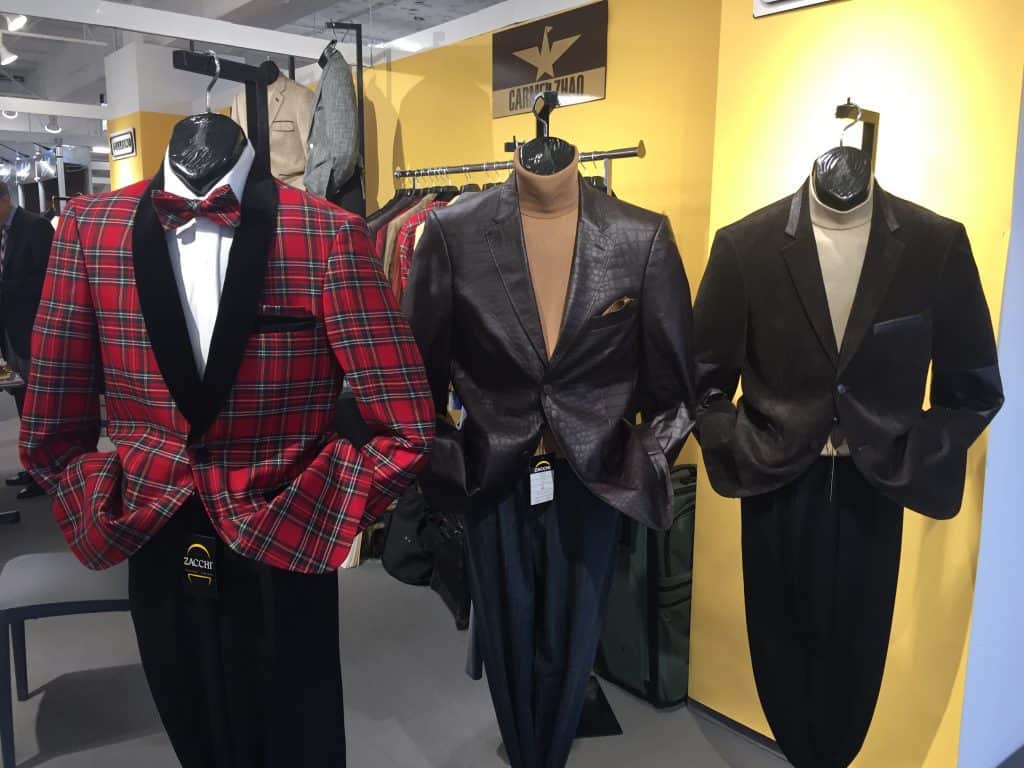 Not for everyone, but check out the Zacchi suits that Ross Veltri showed at the show. Fabrics range from alligator-embossed PU to poly/rayon chenille to poly/nylon/spandex; wholesales are in the $65-$70 range for suggested retails from $295 and up. We love the black watch tuxedo jacket for holiday!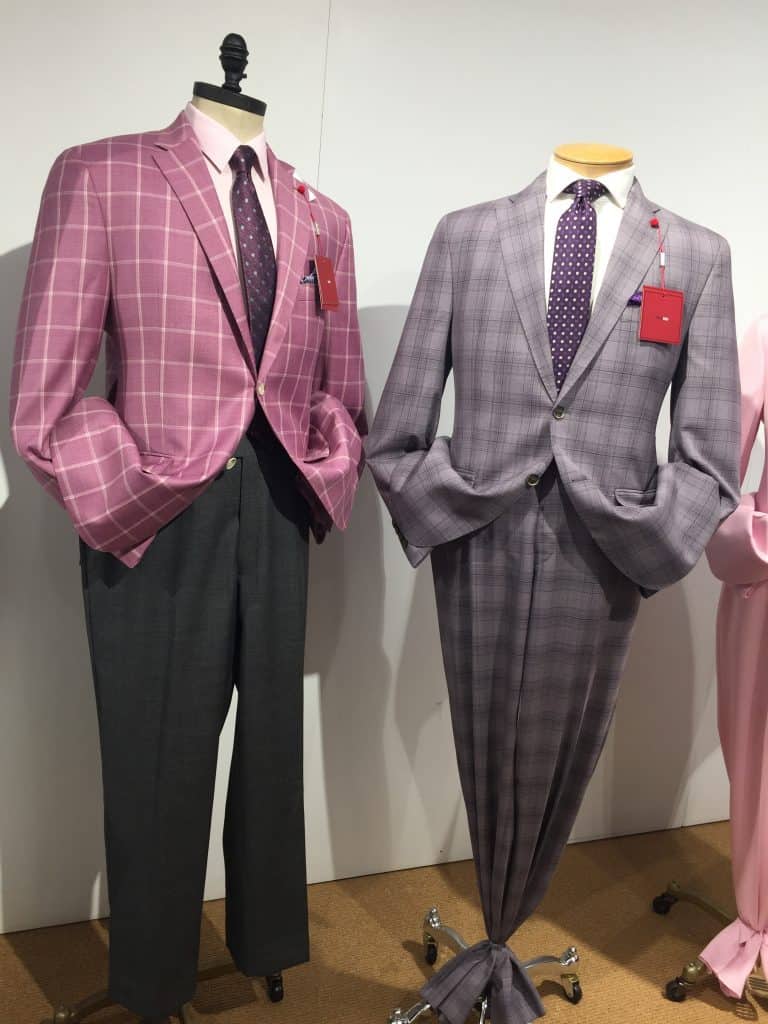 Definitely for upscale stores, gorgeous half-canvas suits by TailoRed that look like some very high-end Italian designers but at some unbelievable prices.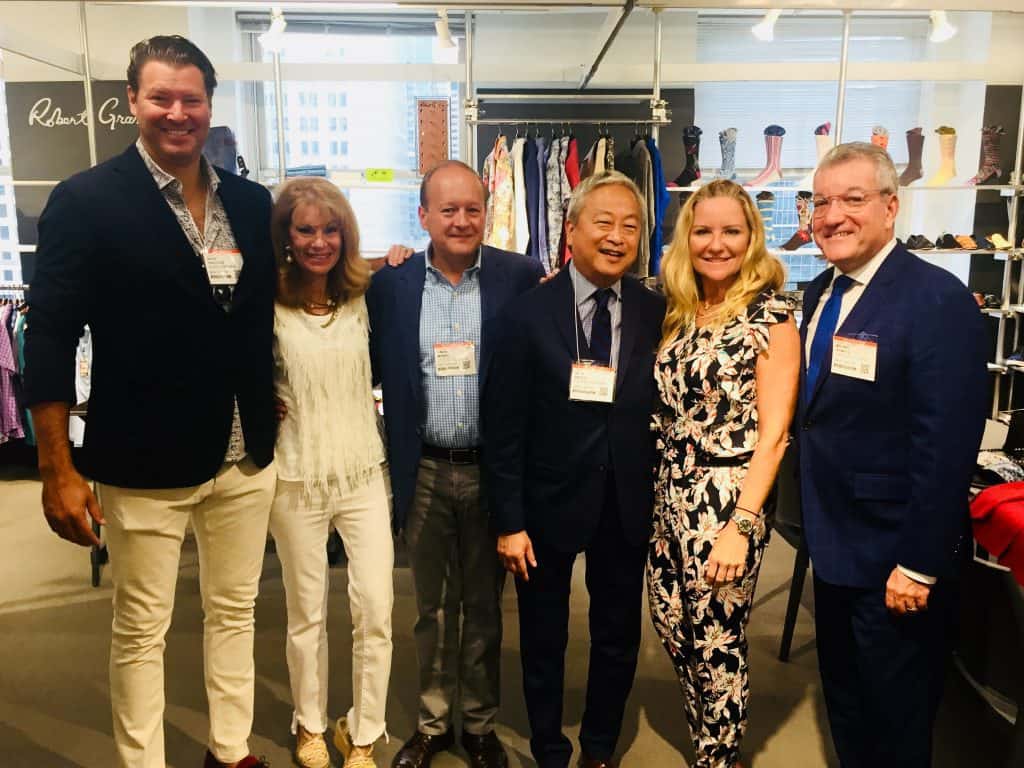 David Sweedler shared with us some of the many changes going on at Robert Graham. He, Andrew Berg and new designer Sean Chadwick are tweaking the brand aesthetic a bit younger and more approachable with their Modern Americana label, a slimmer fit shirt in toned-down patterns (but still with RG's signature attention to detail) at retails from $138 to $178. The R label too is in a state of transformation, with a more tailored fit and some innovative fabrics like printed linen ($298 retail for the shirts) and Italian knit blazers ($598). We love their new half-canvas sportscoats made in Canada of Biella fabrics (yes there actually are 165 steps that go into the making of these sportscoats!) and also their cool collection of socks with a truly luxurious hand (Peruvian pima cotton in both whimsical and classic designs, $28.50 retail).
And speaking of socks, Sage at Ace and Everett gave us some valuable insight into how to get into major stores as a new emerging brand. Apparently, according to this very smart young man, it takes of course a great product. (In this case, quality socks done three ways: cotton at $28 retail, merino at $34 and silk at $38, all with a unique point of view re: texture, color, packaging.) But more than just product, it takes a ton of hard work including constant travel (Sage has been to 45 U.S. states!) and an ability to educate and excite in-store sellers. Then there's the extra mile of offering exclusives to top stores which is why the fashion director at Bergdorf Goodman is now bringing the line into 12 Neiman Marcus doors. New for holiday '18, beautifully packaged gift boxes of three related socks per category.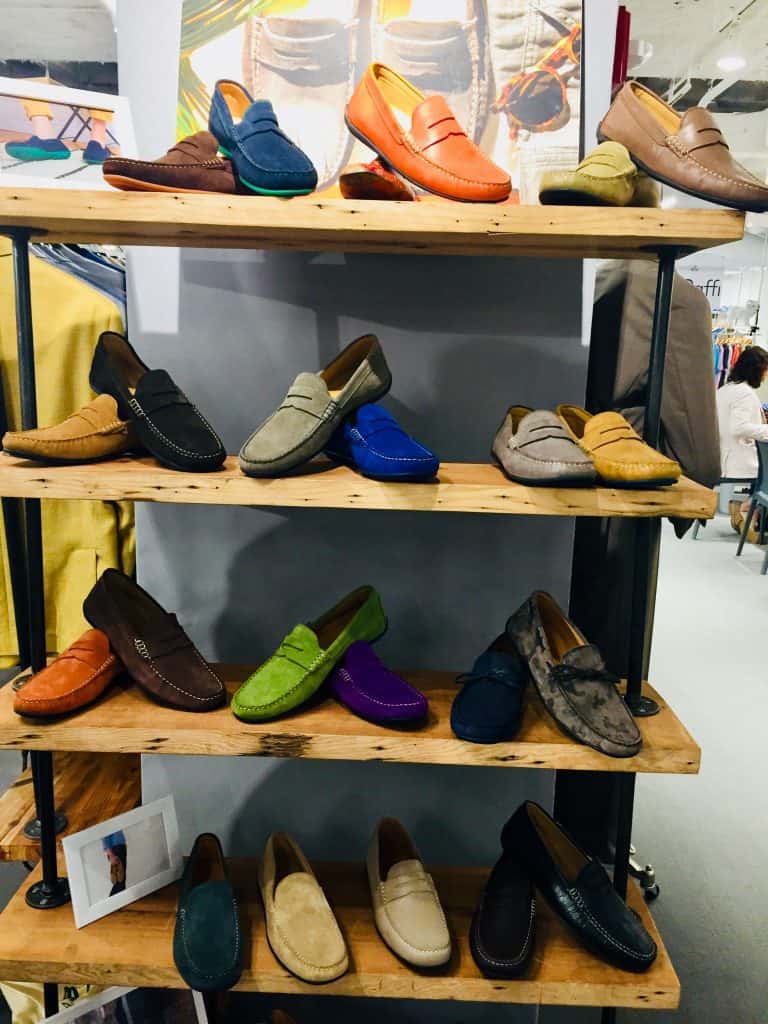 A very cool collection of comfortable fashion footwear, crafted and hand-stitched in Portugal, is Austen Heller. The leathers and suedes are all Italian; suggested retails are $195 and $225.
There's always one collection at every show that I fall in love with and this time it was We Norwegians. The line is pure merino wool that is incredibly lightweight, totally sustainable and eco-friendly. All yarns are made and colored in Italy using beeswax on the loom rather than silicon so it's chemical-free. (Unlike cotton, wool takes very little dye to color, Jana Singer explains to me.) Pricepoints average $99 for tees, $259 for sweaters. The line (men's and women's) is already in numerous upscale stores in the States after only three and a half years in business.