AAFA HONORS INDUSTRY LEADERS AT 2017 AMERICAN IMAGE AWARDS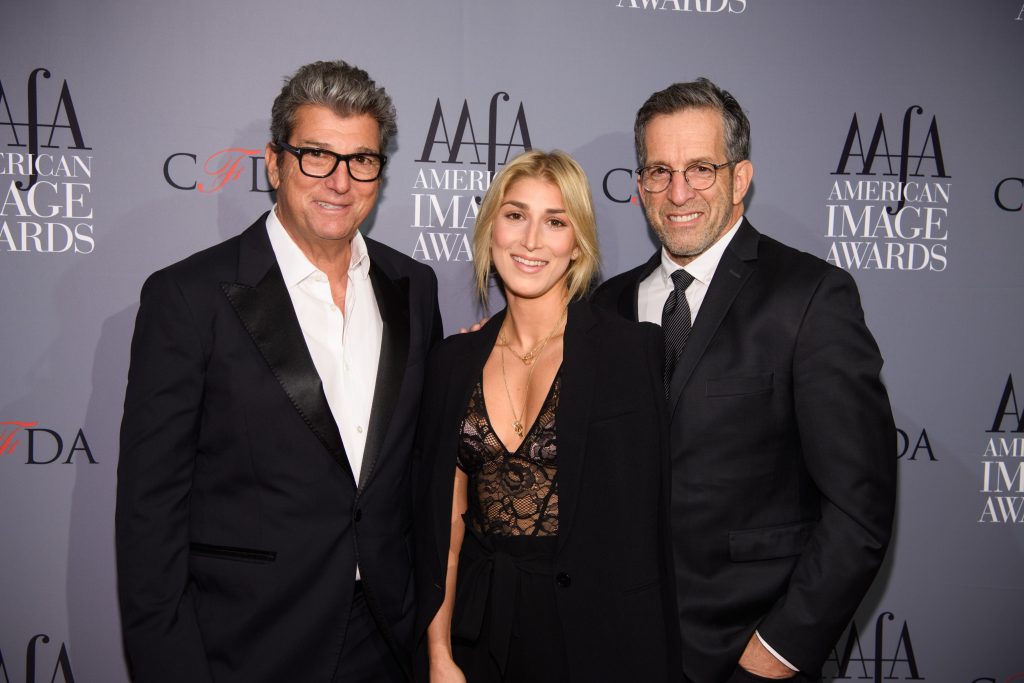 The American Apparel & Footwear Association welcomed retail and fashion executives last night at the 39th AAFA American Image Awards. Emceed by award-winning actor Alan Cumming (wearing a Nick Graham tux), the event celebrated innovation and leadership in the apparel and footwear industries. Held at historic 583 Park Avenue, the event benefited the Fashion Manufacturing Initiative, a CFDA program that connects fashion designers to local manufacturing.
And the honorees were: Andrew Rosen, founder and CEO of Theory (Person of the Year); Marc Fisher Footwear (Company of the Year), accepted by Marc Fisher and Susan Itzkowitz; Stuart Vevers of Coach, Inc. (Designer of the Year); Nick Graham (Fashion Maverick); and Ed Nardoza (Lifetime Achievement Award).
Highlights of the evening included Steven Kolb, CEO of CFDA, discussing the CFDA's important collaboration with NYC to strengthen local production, helped in large part by a $2.3 million grant. "Thanks to the AAFA and all those who attended tonight, the CFDA will be able to further expand the Fashion Manufacturing Initiative (FMI) and build a more extensive ecosystem of manufacturing throughout the entire city of New York," he said.
Nick Graham spoke poignantly about his theatrical marketing events over the years (including collaborations with Richard Branson, Buzz Aldrin and Bill Nye "the science guy"), designed to make fashion more fun. "People don't want product, they want experiences," he proclaimed, discussing the challenge of creating an emotional connection between people and fashion.
Marc Fisher and Susan Itzkowitz of Marc Fisher Footwear spoke of how they started the company in 2005 (although his family has been in the shoe business for almost 100 years) and grew it into a contemporary footwear powerhouse with licenses for numerous top brands. Fisher said he feels fortunate to have learned the business from his dad and that he now gets to work alongside his three children, which means he has three people telling him what to do.

Stuart Vevers of Coach Inc., described how he and his team transformed Coach "from classic to cool", while maintaining a uniquely American sensibility. "As luxury fashion designers, we need to distinguish our brand from the masses," he said. "Coach represents an independent spirit. As a company founded in New York City, I am constantly reminded that being different is good, that fashion is about standing out and taking creative risks. Our goal is to question everything: complacency is not an option."
Andrew Rosen, founder of Theory and nurturer of emerging talent, discussed his passion for design and for creating opportunities for the next generation of American fashion designers. He spoke of being a third generation manufacturer who virtually grew up in apparel factories and warehouses (his dad was the guy responsible for Calvin Klein jeans, which virtually ignited the entire designer jeans phenomenon…) He also spoke of his children, and how touched he is by their memories of watching his business grow, and their perceptions of how he's helped grow business for other designers. "My father and grandfather would have been proud to see me here tonight, and this award is in many ways a tribute to them," he said. "But success in the fashion world is not a birthright. In an industry as competitive as ours, if you don't understand how hard it is to get to the top, you'll never be able to stay there."
Ed Nardoza, former WWD editor-in-chief, was recognized for his lifetime of covering and supporting the fashion industry. His award was presented by iconic designer Norma Kamali who spoke of both his accomplishments and his integrity. "I feel too young for a Lifetime Achievement," he confided, "but perhaps I'm confusing youth with immaturity…" Displaying his trademark humility, he spoke of the challenges deciphering today's erratic retail environment that seems to have few paradigms. "What does it profit us to gain the advantages of technology but lose our souls in the process?" he asks, citing a 1960 quote by Cecil Beaton.
Representing more than 1,000 world famous name brands, the American Apparel & Footwear Association (AAFA) is the trusted public policy and political voice of the apparel and footwear industry, its management and shareholders, its four million U.S. workers, and its contribution of $361 billion in annual U.S. retail sales.