AAFA, K.I.D.S./FASHION DELIVERS CALL FOR DONATION OF NEW SOCKS TO HELP HOMELESS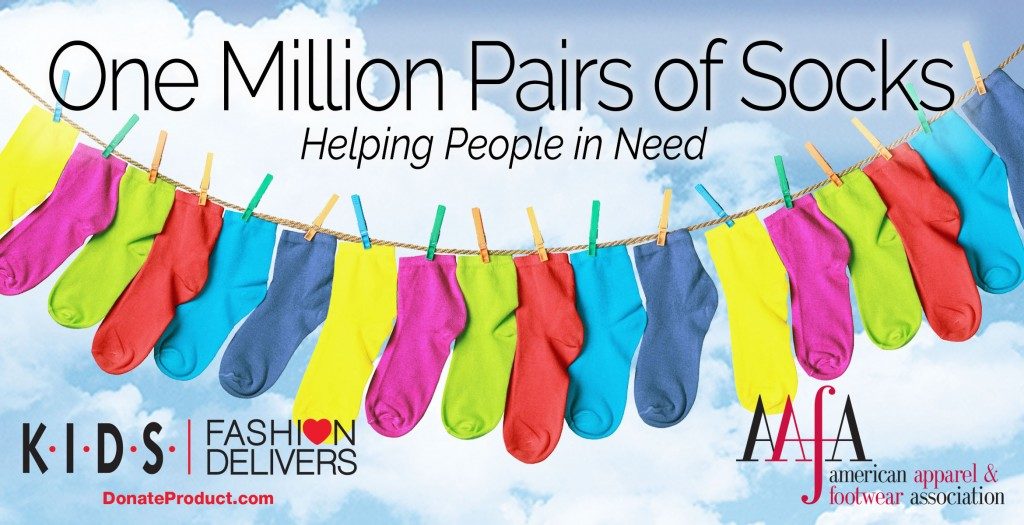 K.I.D.S./Fashion Delivers and the American Apparel & Footwear Association have teamed up to supply one million pairs of socks to the nation's homeless and poor in honor of World Homeless Day, which will be observed on October 10. The socks will be distributed at shelters throughout the country for individuals without a home or access to clean, new clothing. Donations will begin on October 10 and continue throughout the following 12 months.
The National Alliance to End Homelessness reports that in 2015, more than half a million Americans were identified as homeless – 63 percent of that total were individuals and 37 percent were people in families. According to agencies that support homeless and the needy, socks and underwear are among the most requested, non-consumable items because they must be purchased brand new, unlike coats that are regularly donated secondhand.
"AAFA is always enthusiastic to take on a unique opportunity," said Rick Helfenbein, president and CEO of AAFA. "When our legwear members challenged us to help raise one million pairs of socks for the homeless, the stakes were high but the potential impact even greater. Thinking that a warm pair of socks can make a difference with every person that we touch, AAFA is working hard to help make this program a huge success."
"Over the next few months, we will be distributing the socks as they are donated, supporting many communities nationwide in their efforts to help homeless and poverty-stricken people," added Lisa Gurwitch, president and CEO of K.I.D.S./Fashion Delivers. "In addition, donor companies will engage employees to visit local agencies and personally give socks to the people in need."
To date, the companies DSW Inc., GBG Socks, LLC/Planet Sox, Gold Medal International, No nonsense, Renfro Corporation, TTI Global Resources, and United Legwear & Apparel Co., among others, have combined to commit over 500,000 pairs of socks to people in need. AAFA and K.I.D.S./Fashion Delivers continue to seek donations from additional companies to reach the goal of one million pairs of socks.
Any company that is interested in donating new socks for this campaign, or needs further information, may email Merrie Keller at merrie@donateproduct.com, call 212-279-5325 or click here.