AILING ONLINE RETAILER JACKTHREADS TO CLOSE OPERATIONS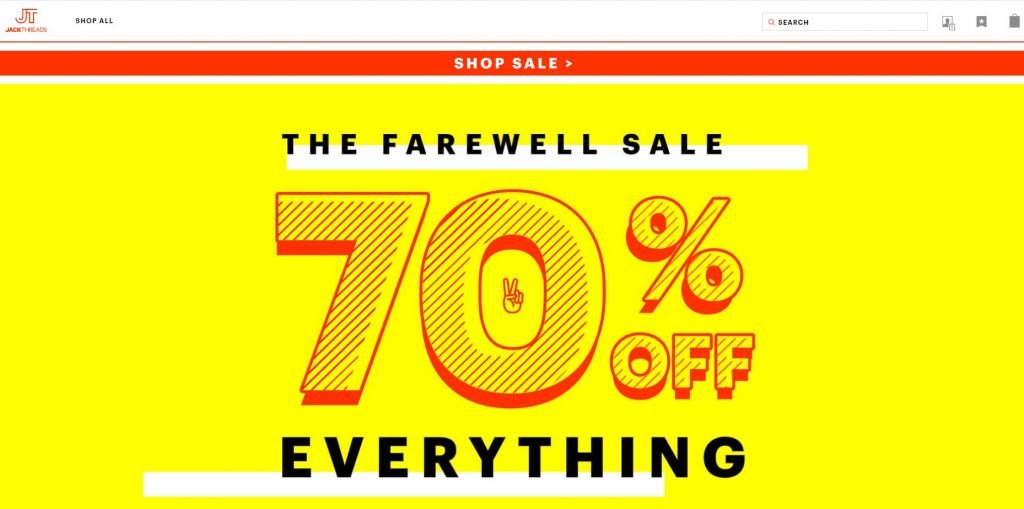 After laying off most of its staff early this year, online menswear retailer JackThreads looks like it has thrown in the towel entirely. The online men's apparel retailer is holding a "Farewell Sale," according to its website and an email sent to its customers, where everything is 70 percent off until this Friday, May 12. A request from MR for further details was not immediately returned.
Back in February the retailer cut its staff down to a skeleton crew with mass layoffs over a two week time period, and was in discussions to sell the company. The layoffs included much of the customer service staff as well as certain high-ranking employees, which caused several customer service-related complaints on social media.
Digital publishing company Thrillist Media had acquired JackThreads in 2010 as part of an attempt to fuse e-commerce with the rest of its lifestyle coverage, but the two split into separate companies in 2015 after raising $54 million in new funding.
Since the separation, multiple reports are claiming that it was the company's reckless spending and unusual customer benefits have contributed to the ailments of the retailer. Its newest program, TryOuts, let customers order clothes without paying for them, try them on and then only pay for the items they didn't return – ultimately affecting the retailer in a negative way.
Besides these new losses from TryOuts, customer complaints, canceled orders and overdue deliveries began taking their toll on customer service and long-term loyalty – ultimately causing the retailer's imminent demise.