ANTHONY URSO TO LAUNCH ATHLEISURE LINE THIS MONTH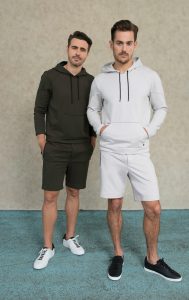 The Anthony Urso collection, an upscale line of athleisure wear, will launch online on Friday, September 29. Retail outlets will be announced at a later date.
The collection, which was developed by Chicago-based Anthony Urso and creative director Michelle Bourque, was born out of Urso's idea for a modern tracksuit. Designed and manufactured in New York, the collection features modern design elements, keen attention to fit and construction, and elevated comfort.
"The whole idea started with a simple dream of modernizing the classic tracksuit that I remember my Italian uncles wearing as a kid," said Urso, an entrepreneur who has been dabbling in fashion for the past 20 years.
Individual pieces will include modern tracksuits, cashmere separates, t-shirts, joggers, sweaters and outerwear. Prices will range from $125 to $500.