ATM ANTHONY THOMAS MELILLO OPENS FIRST RETAIL STORE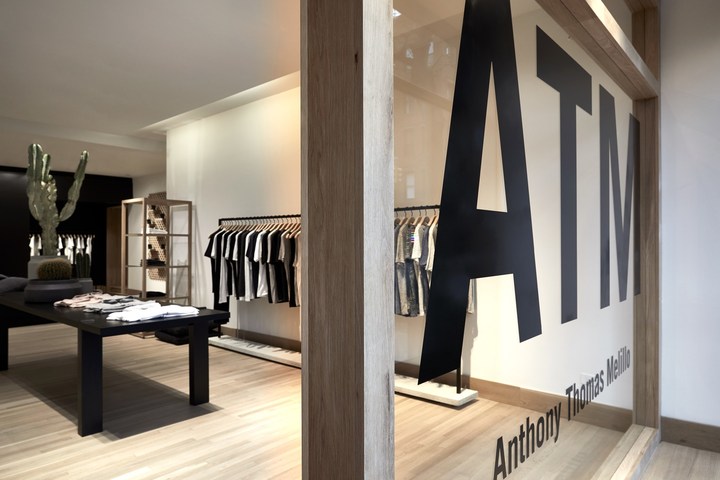 Luxury casual lifestyle collection ATM Anthony Thomas Melillo has opened its first retail store in New York City.
The store, located at 405 Bleecker Street, is designed to mirror the brand's relaxed style. Founder Anthony Thomas Melillo's direction for the space was to stay true to the brand's DNA and heritage, creating an environment that was minimal and welcoming by using natural elements.
The 1,200 square-foot space is designed to reflect the skeleton of an unfinished home and upon entering, customers will be led into the space trough a natural wooden frame façade representing a structure within a structure. All materials used throughout the space epitomize Melillo's minimalist approach to design – natural white oak is used for the flooring, trim work and shelving. Custom display racks are crafted from powdered blackened steel, and cement and black matte paint from Farrow & Ball decorates the back wall. A large lattice-like wooden installation floats on the wall at the rear of the store, serving as a focal point for the custom ATM candles made in Paris.
The store will feature a curated selection of ATM's men's and women's collections, in addition to items exclusively available in-store. ATM is introducing blankets made from luxurious Peruvian baby alpaca in white, grey and black, as well as custom candles in three scents.
"I always felt it was important to build on our strong visual DNA and allow our loyal customers to experience our world," said Melillo. "We had been wanting to have our own store for some time and it was a matter of finding the right location. Bleecker Street feels like home, the neighborhood has the same warmth and elegance we wanted to showcase in the store so it was a perfect fit for us."
This is ATM's first permanent retail location. Due to the brand's successful pop up in East Hampton last summer, ATM will be opening a second permanent store on Newton Lane in May 2017.