BEST SPECIALTY STORE: MILTONS THE STORE FOR MEN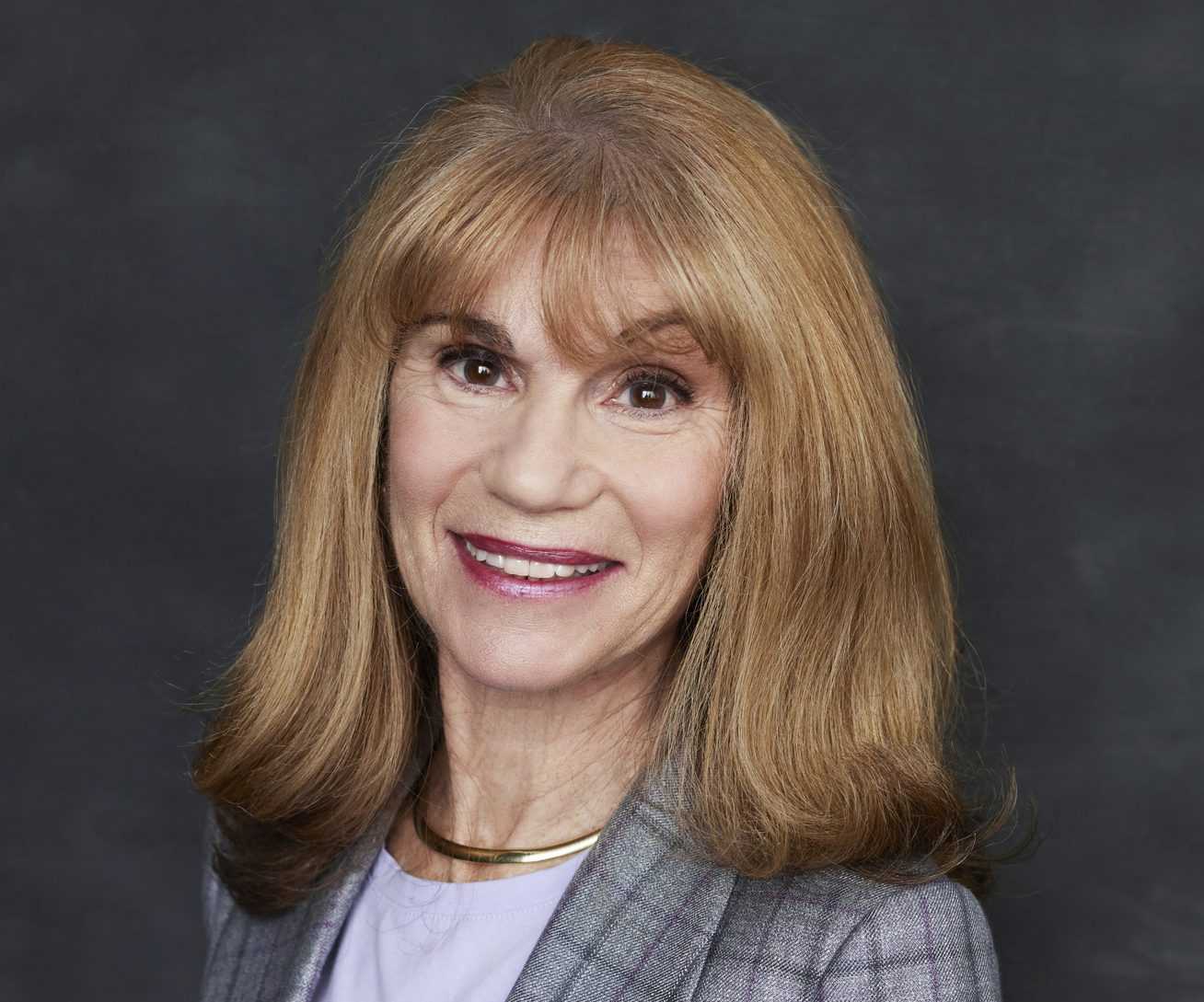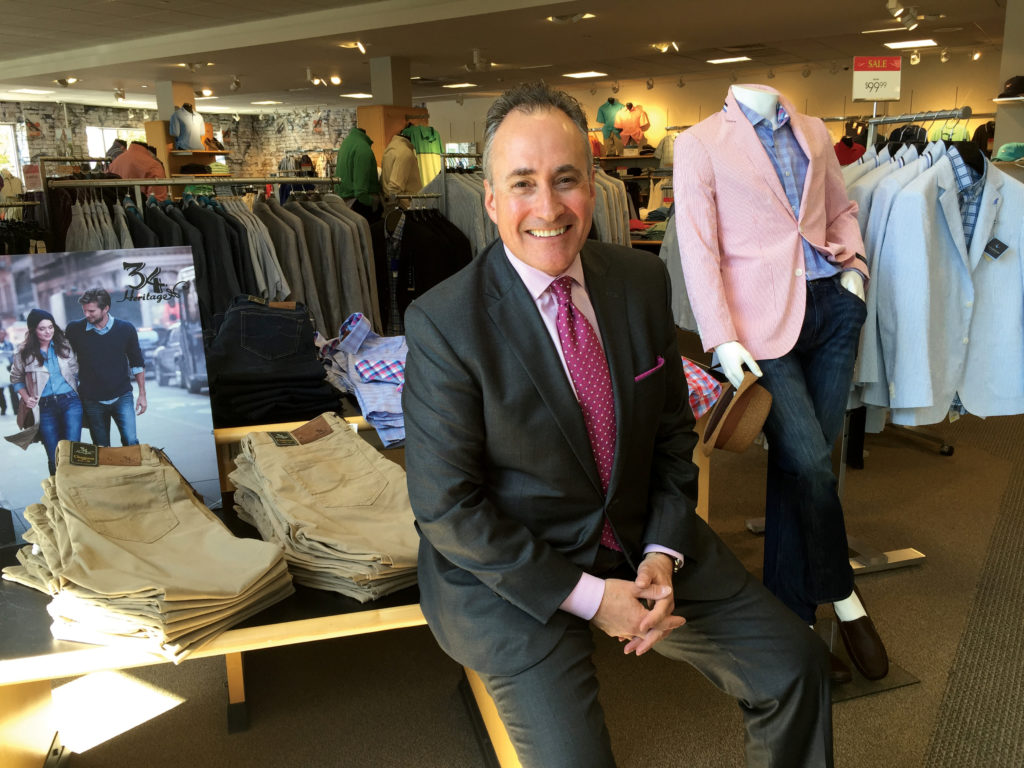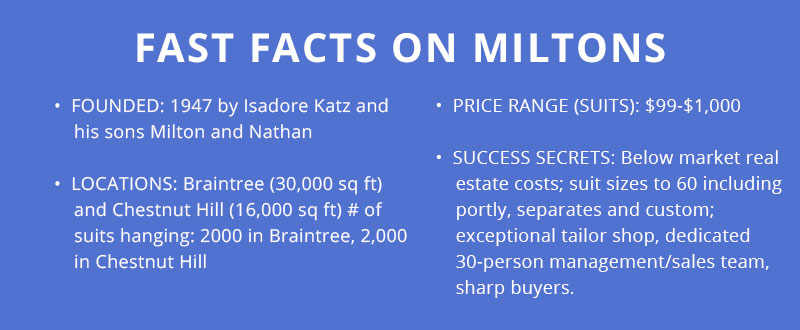 There are few menswear stores in the country as successful as Miltons and few with a mission as clearly defined. "You'll be as comfortable in our stores as you'll be in our clothes" reflects an emphasis on well-curated assortments, value price points, knowledgeable sellers, and an overall exceptional experience. The two Boston area stores feature a plethora of better brands (Boss, Barbour, Ballin, Calvin, Tommy, Ralph, Varvatos, David Donahue, Jack Victor, Ted Baker, Vineyard Vines, Tommy Bahama, Tailorbyrd, Circle of Gentlemen, MAC, Citizens, and many more), yet there's nothing intimidating about them, and not an ounce of arrogance in Miltons' owner Dana Katz, one of the most well-liked and well-respected guys in the industry.
For Katz is a merchant's merchant, known to be loyal to his vendors, but not to a fault. "The best testimony of true friendship is when we stay friends after we stop doing business together," he maintains. He lives and breathes the business, regularly shopping the market for great product based on a grid that's classic to contemporary, good/better/best. Always, he learns the particular nuances of each collection so that each line has a reason for being with minimal duplication on the selling floor (not easy with 4,000 suits!) Within tailored clothing, each brand represents a specific fit so that all body types are covered and the overall assortment is easily understandable to both sellers and customers.
Other clothing strategies: sportcoats are now merchandised in the front of the store away from suits, paired with all types sportswear. Tailored clothing now features suit separates (30 percent to total, replacing athletic fit) as well as nested suits. Portly models in separates have been incredibly successful and custom is a small but growing part of the business. "But we believe in inventory that turns," Katz insists. "We don't want anyone walking."

A bit of history: Dana's grandfather, Isadore Katz, emigrated from Russia and became a custom peddler of linens, sheets and towels. (Immigrants at that time were uncomfortable shopping at stores as they were often mocked for their broken English.) By 1947, after 25+ years of peddling, he decided to open a store in Quincy, with his sons Milton (who had just graduated from Northeastern) and Nathan.
"In the 1960s they ultimately noticed they were getting lots of customers from Brookline and Newton, so they opened a second store in Chestnut Hill. In 2000, a tragic fire decimated much of the space next to us right after we did a major renovation, so the future looked precarious. Fortunately, a local developer came up with a mixed-use plan featuring the first urban-size Wegmans, a medical office building, a Soul Cycle, specialty salad shop (Sweet Green) and craft pizza shops, etc. It's a young, energized shopping environment and business has been quite good."
This was not always the case however. "At one point in time, we were up to seven stores; we closed five of them," he admits. "My very wise father permitted me to make mistakes. I realize that's how one learns but I wish he hadn't let me make so many. Seriously though, once we realized that Braintree and Chestnut Hill were carrying the rest of the stores, the decision to close was simple. This was in the late 1990s and early 2000s. It was these tough choices that enabled us to focus and grow."

Clearly, his dad remains Dana's mentor and closest friend. (In fact, the phone rang from Jerusalem in the middle of our interview.) "My dad is an ardent Zionist: he first went to Israel in 1967, made some great friends there, and at age 59, he left the business and moved to Israel where he's had a wonderful life. I know he never regretted moving there with my mother. It was a very thoughtful way of executing a transition in a family business. He didn't hang over my shoulder, he didn't pass away, he was always there, just 5,000 miles away!"
Asked how business has changed in recent years, Katz is thoughtful. "Early on, success was 90 percent buying, about having the right product mix. Today, I'd say it's one third product, one third marketing, and one third creating the right team to deliver a memorable experience." Toward this end, Katz gets a little help from business consultant Eddie Binder from Apex Growth Strategies. "He immediately did a study of our top customers on why they shop in our stores," he says. "Yes, they like the product and the prices but even more, they like our people—both the sellers and the tailors—who they describe as 'knowledgeable' and 'interested'."
To keep the team engaged and improve communication, Katz has implemented Saturday morning meetings on the selling floor, weekly management meetings and an invaluable phone system (1-2-3 Line) where sellers call in (in real time) every missed sale and the reason for it.

"Eddie Binder has gotten us to function more effectively as a team," says Katz, who credits his key players for embracing the program. These include Bill Leva (who started at Miltons 31 years ago and just took over the role of CFO from his mother Grace), visual merchandise manager Greg Cash (who started 32 years ago and is responsible for executing presentation according to the OTB plan), and Brianne Dickson (who started five years ago as a department manager in Braintree, and now buys all categories except clothing and furnishings). Mark Sarkis, Cindy Swiman, Tim Gaines and Ryann Curran, all retail veterans, round out the store management team. "Our competitive advantage is people, not product," Katz insists. "If I gave you a couple of million dollars in OTB, you could duplicate our mix, but not our team."
To attract millennials, a goal of most menswear merchants these days, Katz believes that quality plus value trump brands. He is known to take keystone rather than excessive markups and to offer bonus incentives on entry level goods. "We're priced a bit under the competition," he explains without apologies. "We can do this based on real estate costs that are below market. As for BOGO's (buy one get one), we do them with only a few opening price brands. They're not for our Boss or Victor customers but they're an important part of our business and we don't try to hide it. In fact, our ads proclaim that if you don't need two suits, bring a friend!"
Katz also attracts millennials with a strong business in wedding suits. "Whether it's an opening price poly/rayon suit in French blue or light grey or a Hugo Boss fine wool tuxedo (we sell 95 percent suits and five percent tuxes), they come in with eight to 12 guys between 25 and 35 years old, then in the next six to 18 months, the guys in the wedding party are getting married and the business grows exponentially."
Footwear is also a healthy and growing business that was, until recently, leased. "I was worried that we couldn't make it profitable," Katz confides. "Shoes turn even more slowly than suits. But we've got some great brands (Mezlun, Johnston & Murphy, Clarks, Cole Haan) that are selling really well." A spectacular downstairs boys department with all the top brands is clearly a destination (as is a clearance area featuring post-season product from both stores.)

A definite highlight at Miltons: the fabulous full tailor shop in the Braintree store, where 95 percent of goods from both stores are altered. (Miltons has its own truck that transports between stores.) Here, we meet Tony Mazza, (a Miltons tailor since 1967!), David, Donna, Ellie, Palma and Alberto (who manages the shop and learned to sew in Spain from his dad). Katz explains that charging for alterations has not been a problem: customers appreciate paying for only what they need as opposed to inflated ticket prices upfront.
Few people know Katz better than his retail colleague Ken Giddon from Rothmans. "I talk to Dana a few times each week," says Giddon. "He is a friend, a mentor and a guiding light. He's also an amazing family man, balancing work with family in a seemingly effortless way. The only thing better than Dana is his wife and kids."
Bottom line, Miltons is a well-oiled machine run by an instinctive merchant who asks as many questions as he answers. "My father used to put our associates through a listening skills program since if they can't listen, selling skills won't help," he says. "I've found that in business, as in life, listening is more valuable than talking."