BIRDWELL BEACH BRITCHES DEBUTS NEW WATCH WITH WEISS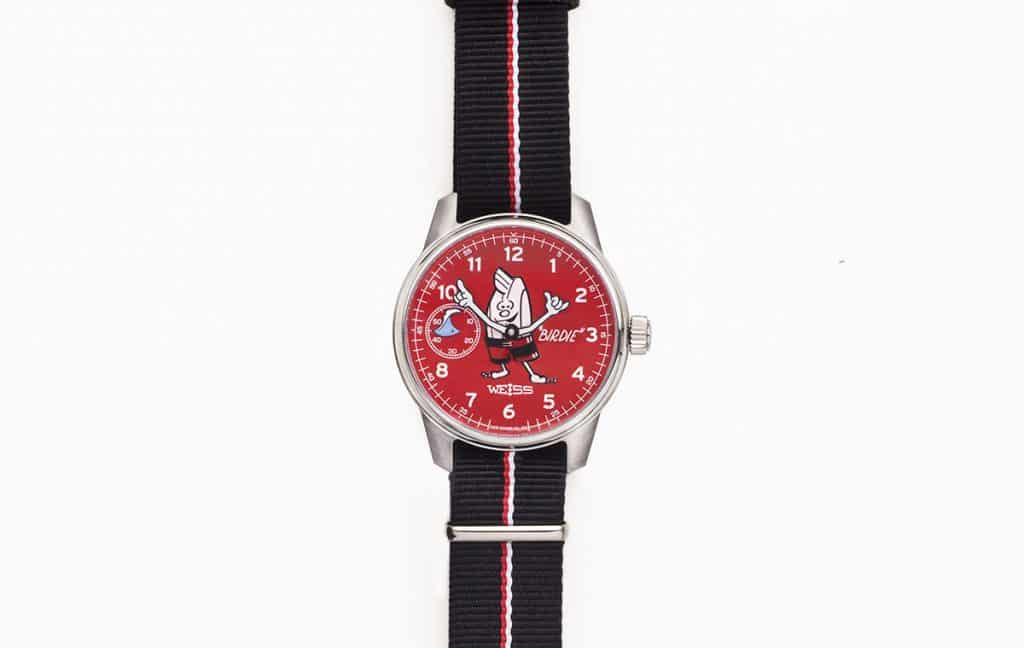 Southern California surf apparel brand Birdwell Beach Britches, a Southern California surf apparel brand and Los Angeles-based watchmaker Weiss have joined forces to create a collector's edition watch celebrating Birdwell's beloved mascot – 'Birdie.'
The watch features the original Birdie logo on the dial, designed in 1964 by graphic artist Mike Salisbury while working at Surfer magazine, and was created for diehard fans of the brand as the ultimate surf wear accessory.
Paying tribute to 1960's surf culture, the watch has a distinctive laidback California feel thanks to Birdie throwing a 'shaka,' the hang loose sign, to help distinguish between the hour and minute hand. Counting down the seconds at 9 o'clock is an endless wave, designed by Birdwell's creative director Natas Kaupas, an avid surfer himself. The watch comes on a nylon-striped NATO strap and the dial is available in red or white.
"As an avid watch collector, I admire brands like Weiss who are committed to designing, manufacturing and building timepieces by hand here in the U.S.," said Geoff Clawson, president of Birdwell. "It was an obvious choice to work with Cameron and his team to create this collector's edition, a product that will truly excite our fans."
"Growing up surfing in California I was certainly familiar with Birdwell as an iconic surf apparel brand," added Cameron Weiss, founder and master watchmaker. "We were thrilled to work with a company that has similar brand values and bring the spirit of California and the 'Birdie' watch to life."
The watch, which retails for $2,199, will be available for purchase on the Birdwell website and at the flagship retail store in Manhattan Beach later this spring.