BLOOD BROTHER "GETS RICH FAST" IN FALL '18 COLLECTION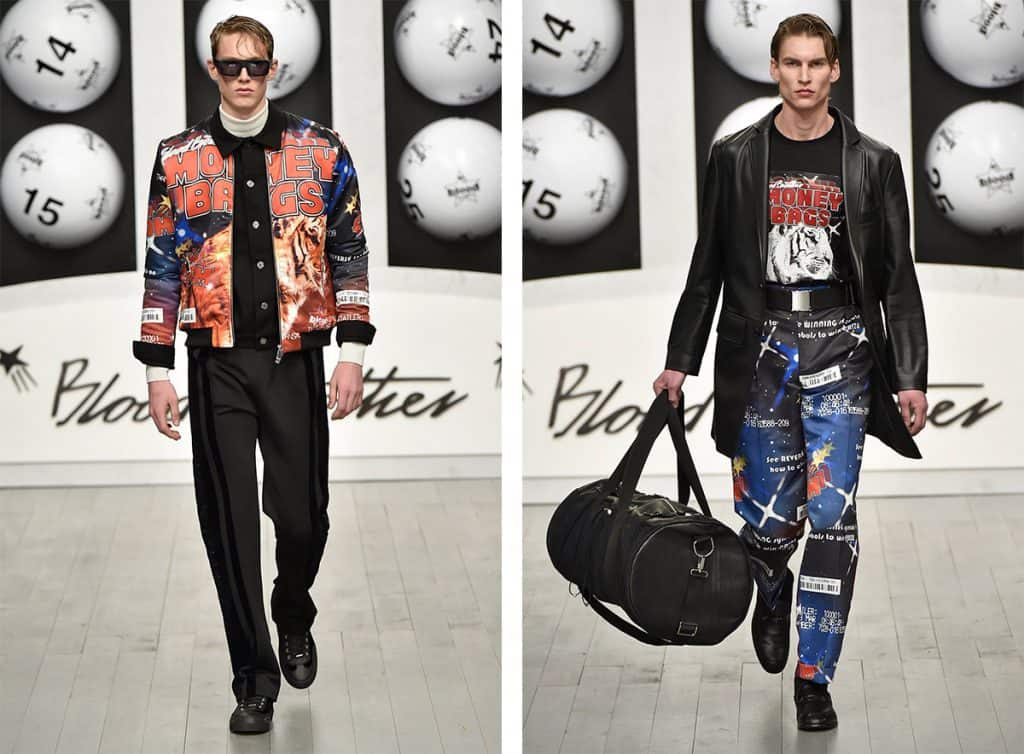 For autumn/winter '18 Blood Brother takes a look at the "Instant Win, Instant Lifestyle" promised to us by the omnipotent force that is Camelot and The National Lottery. Who hasn't dreamt of having that winning ticket? Pinning your hopes on those 7 simple yet elusive numbers… after all, IT COULD BE YOU!
Reflecting the 'loaded expectancy' of the current generation, the lottery provides a get-rich-quick escape plan in an era defined by instant gratification. Exploring the theme of quick wins and 'loadsamoney', Blood Brother looks at the sinister side of immediate excess. The vulgarity and overindulgence that comes with a huge windfall, blowing it all on monogrammed swimming pools, tricked-out custom motorbikes, and a helipad.
Graphic prints continue to be a key feature of the Blood Brother style, featuring scratch cards, player receipts and symbols of ostentatious success such as the 'Hot Tub Club' and 'Money Bags'. Satin suit pieces in retro jewel colors, featuring the ultimate extravagance – a pet tiger, paying homage to the depressing faded opulence of Las Vegas.
Taking inspiration from a lifestyle of excess, the collection references 80's ski wear, exotic animals and the ultimate 'new money' style icons – the gangsters. Diamond quilted puffers and ski suits in Rolex green and metallic gold give a nod to luxury Chesterfield sofas, whilst oversized ski silhouettes and chalet knits in chenille wool complete the après-ski look. The theme of garish luxury is realized in clashing animal faux furs and snakeskin prints that are in perfect contrast to the menacing simplicity of the leather 'gangster fit' coats. Repeat print Swarovski crystal embellishment across crisp white denim and luxurious tracksuits reflect the outlook of those with a penchant for life in the fast lane.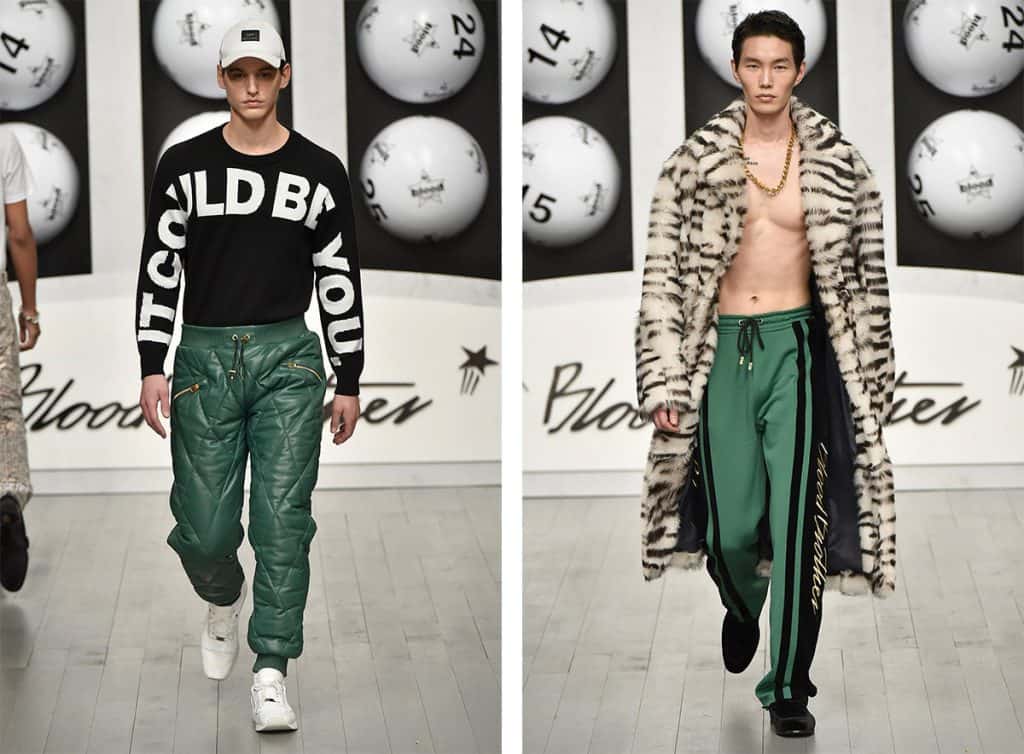 For autumn/winter '18 the collection features a new hybrid silhouette for the season, a technical merge of the classic Blood Brother tracksuit, with tailoring details including bungee cords and a zippable lapel for a sartorial streetwear aesthetic.
Blood Brother continued its line of accessories, updating the popular crossbody bag with drawstring pouch detailing and adding larger sizes of 'stash-cash' kit bags. Scarves, hats, and socks are all reimagined for the season in Sulphur yellows and knitted golds.
For a second season, Blood Brother has partnered with eyewear brand Cutler & Gross. This season's selection of glasses has been chosen from the archive collection with a focus on vintage frames in translucent and colored lenses for a retro feel.
Blood Brother has also worked exclusively alongside luxury international shoe brand Jimmy Choo, featuring four styles including fur-lined slip-ons and military-style boots in black patent leather in addition to soft leather trainers in fresh whites, deep burgundy, and black.