BOSS LOOKS TO CALIFORNIA AS INSPIRATION FOR SPRING '19 COLLECTION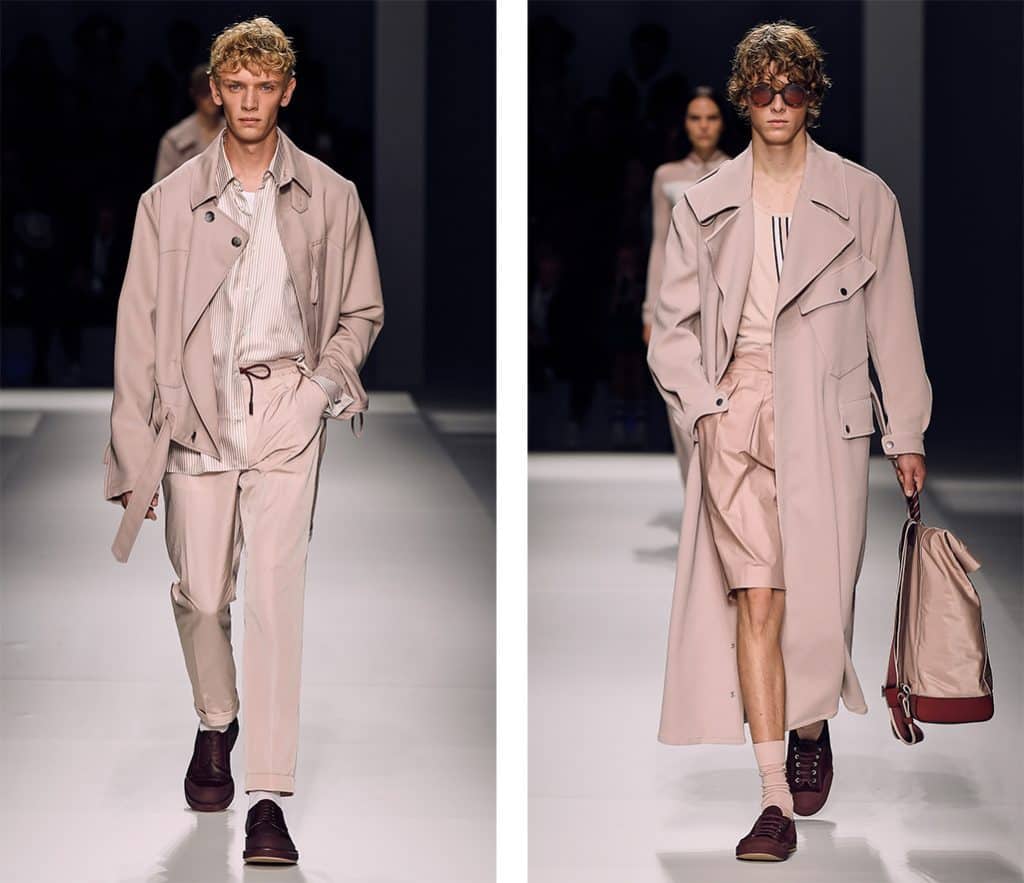 A California breeze blows into the Big Apple as the BOSS spring/summer 2019 collection makes its debut on the runway. For this show, BOSS menswear and womenswear are revealed together at New York Fashion Week for the first time.
This season, BOSS looks to California, taking inspiration from coastal cities and the modern houses overlooking the Pacific Ocean. This seamless overlap of beach and metropolitan life inspires a fresh new collection, as precision design gets a relaxed, surf-inspired vibe.
The color palette is cool and airy. Soft blush and pale blue are grounded by sartorial burgundy and navy, while full looks in white take the collection further into the summer. Light teal, orange and deep yellow bring in pops of rich color.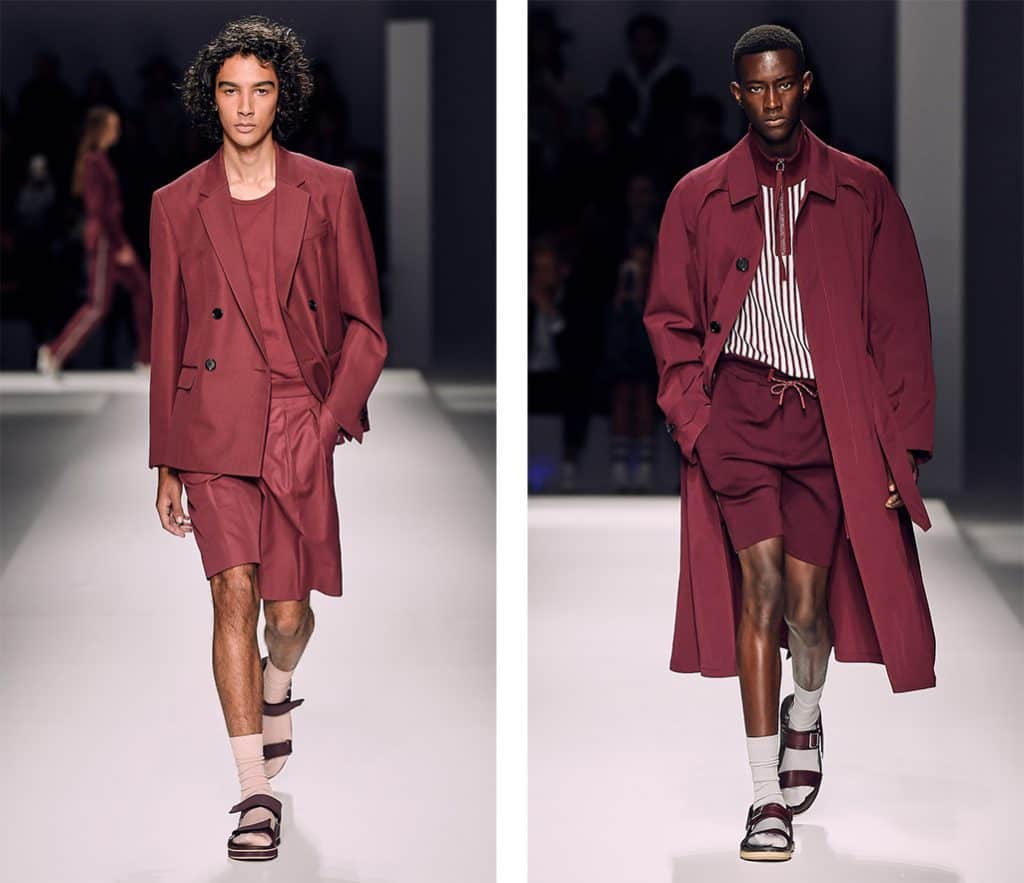 For both men and women, signature BOSS tailoring remains elegant and clean, but is relaxed for summer with softened structures, airy fabrics and easygoing textures. Suits are crafted from crinkled cotton and paper-touch cloth, while lightweight nylon coats and jackets have an unexpectedly crisp texture, as if exposed to sea spray. Precise pleats appear on beautifully light skirts; blouses and dresses are sharply cut but remain laid-back in fluid viscose-satin.
Even knitwear gets a summer treatment in the form of sweaters in almost transparent crinkled fabric and cropped silhouettes. Looking back at the metropolis, abstracted L.A. city maps bring vibrant pattern to satin dresses and nylon coats alike.
Further establishing a new BOSS code first introduced on last season's runway, sports tailoring continues to inform the designs. Looking to a sport synonymous with California, surfboard stripes are reimagined as appliqués on tailoring, dresses and outerwear. Sharp pants and blouses fasten with drawstrings, while hybrid outerwear styles perfectly blend sport and sartorialism: parkas are elevated in neoprene-like wool, and hooded jackets are cleanly tailored from glossy nylon.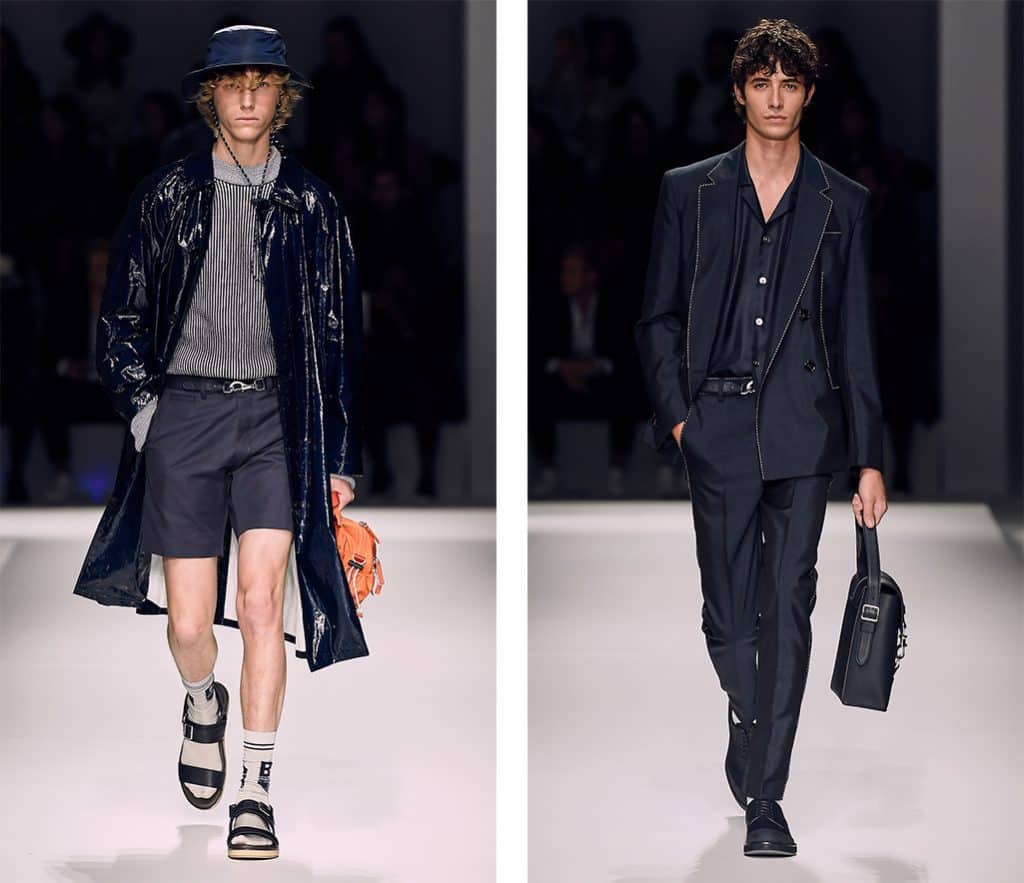 Expert workmanship and craft techniques are deployed throughout. Tailored jackets are crinkled by hand, a finish retained thanks to metallic fibers in the fabric; strips of nylon and leather are cut and hand-stitched as a patchwork on outerwear and dresses; suit jackets are kept modern and clean, using invisible edge-stitching. Taking an advanced approach to elegance, floaty parkas and shorts are crafted from technical fabric, tumbled for fluidity and lightness.
Accessories include bucket bags and pouch-like designs in super-soft leather, fastened with drawstrings. Men's looks are completed with rubberized sneakers and derby shoes, while eyelet-detail sandals for women effortlessly transition from seaside to city. In a final finish to the looks, wide-brim hats and colored sunglasses protect from the glare of the Californian sun.