CANALI OPENS NEW MADISON AVENUE FLAGSHIP STORE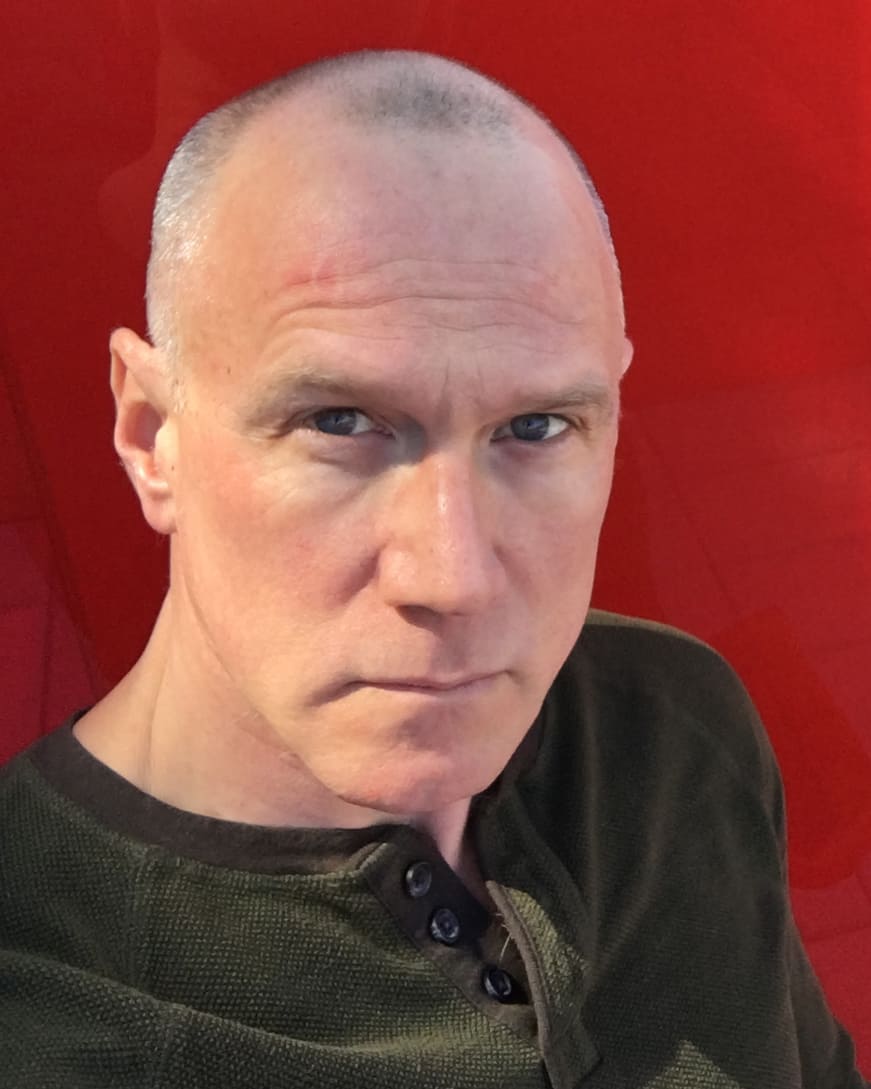 Canali has opened a new Madison Avenue flagship as part of the brand's ongoing retail expansion and transformation. The store features a more lifestyle-focused concept in both décor and merchandise, all with a touch of modern Italian menswear luxury.
ABOVE and all store images:
Christopher Payne/Esto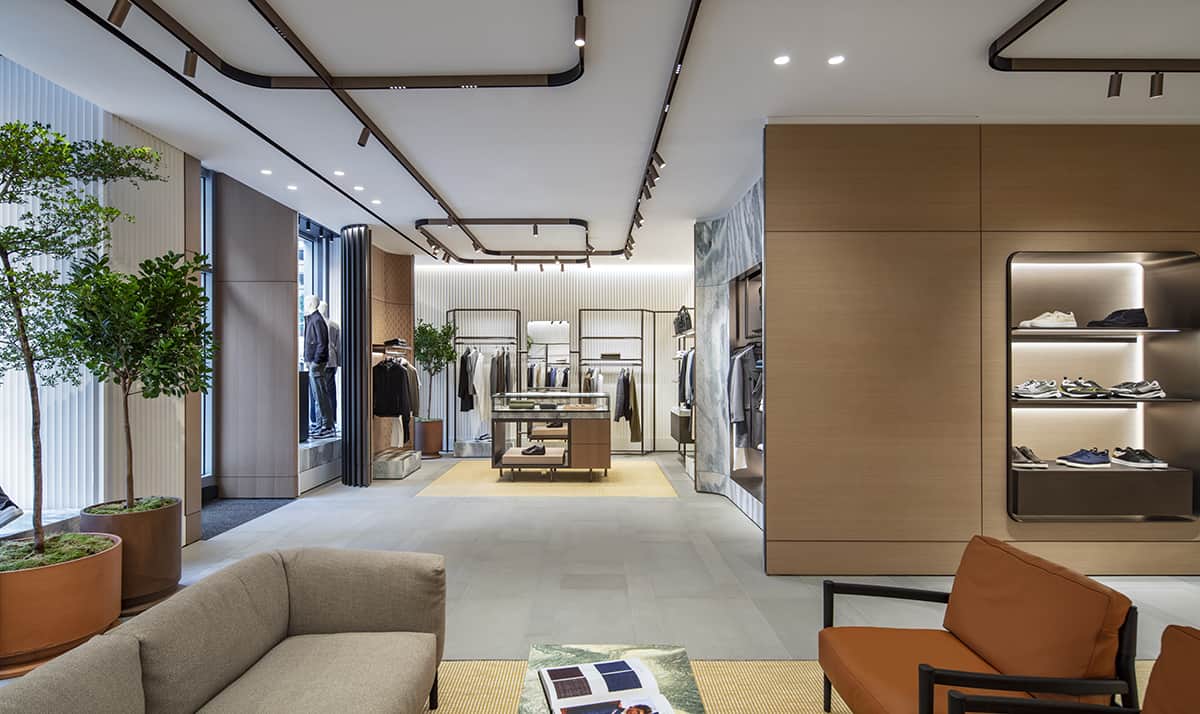 Developed in collaboration with design firm Park Associati, of Milan, the store was conceived as a hybrid space between a boutique and an elegant Milanese home. Beyond product displays, there is plenty of space for events and consumer experiences in alignment with a modern shopping experience, including room for art exhibitions, which the store plans to include on a regular basis (see below). Materials linked to traditional Italian architecture and applied craftsmanship are used throughout the space, analogous to the sartorial character of the brand. Cipollino marble — used as both a smooth display surface, as well as a scored, textured design device — is combined with Pietra Serena flooring, warm wooden walls (a brushed metal repeat application recalls the stitches of a sewn garment) and surfaces, as well as dark, brushed metal accents for a somewhat retro, mid-century aesthetic, but with a definitive 2020s reboot. An original lighting concept creates an artful, almost sculptural pattern on the ceiling, while softly illuminating the entire environment.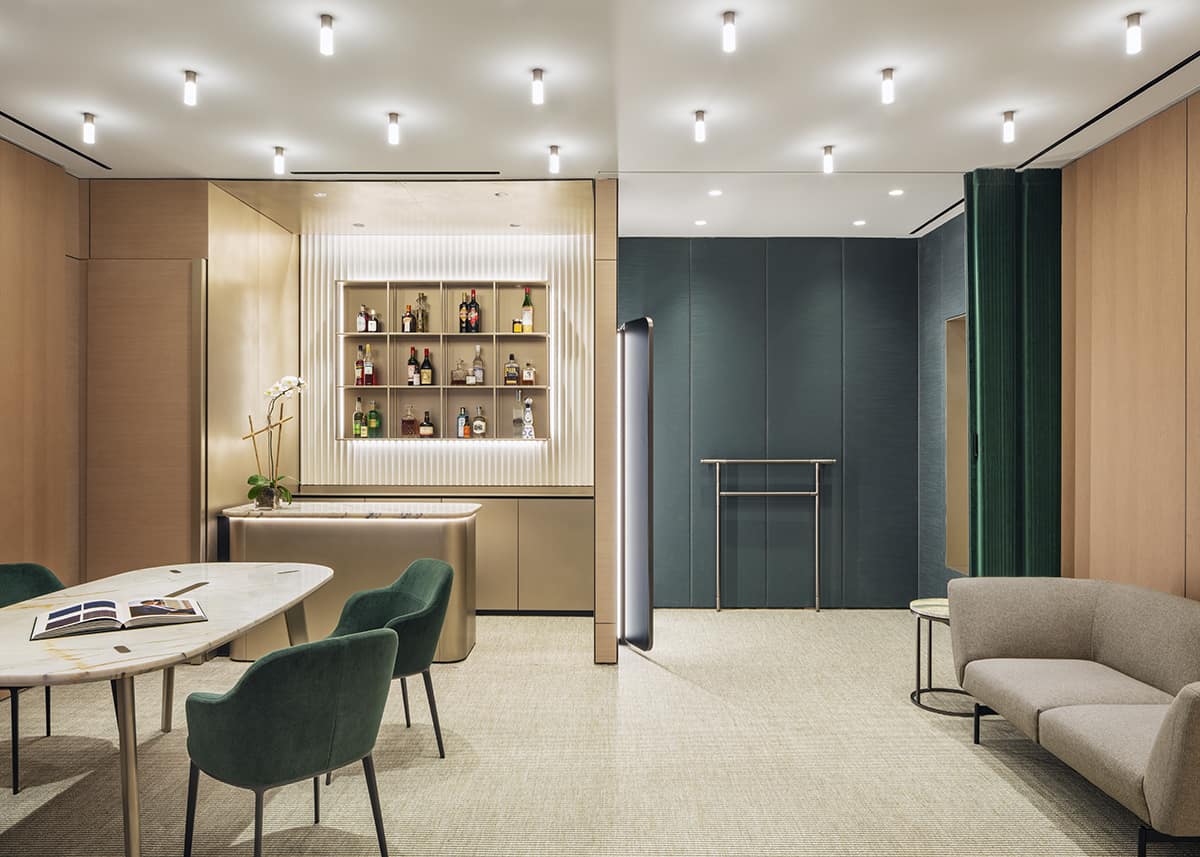 The store is merchandised with Canali's updated sportswear offerings to the fore, with tailored clothing moved towards the back of the space, reflecting the brand's renewed emphasis on creating a lifestyle collection (the entire store is on one floor as opposed to the bilevel space of its previous location). The entire presentation is wrapped around a sequestered central core which makes up the space dedicated to the Me by Canali custom apparel collection (which includes knitwear, outerwear, and leather) Generous dressing rooms and an enclosed cash-wrap desk complete the space to the rear of the store.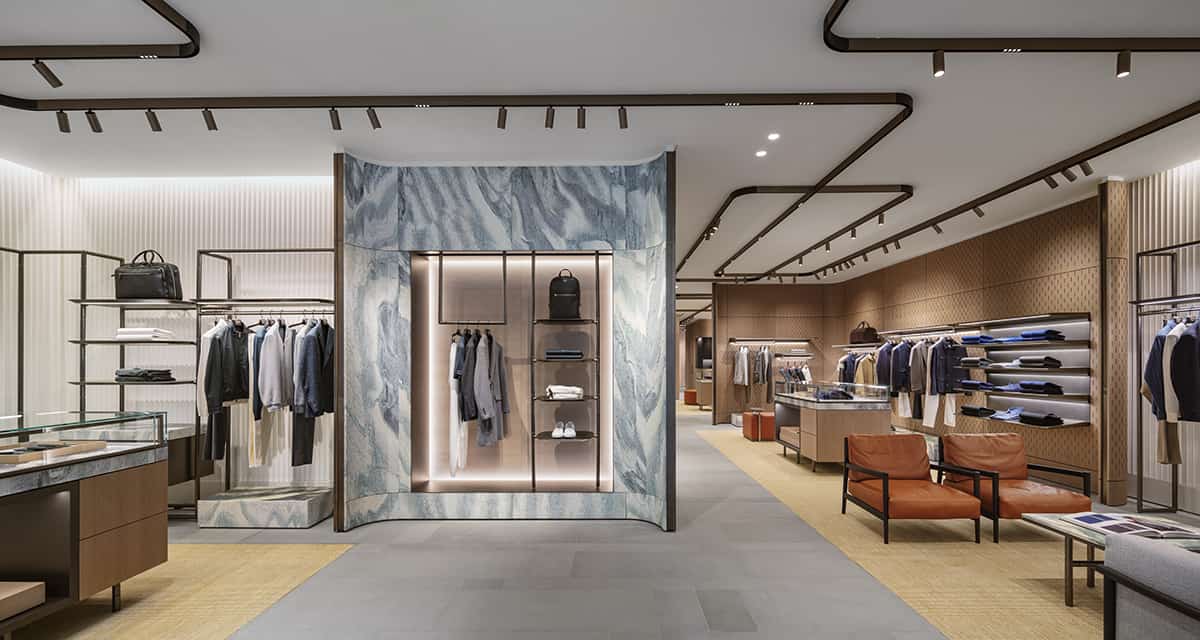 Geographically, the store sits much closer to the main intersection of 57th and Fifth than its previous locations, allowing for higher visibility and improved sightlines,  which CEO Stefano Canali credits with already increasing traffic in the store.
A Conversation With Stefano Canali
We got to sit with Canali for a few minutes on Tuesday in anticipation of the store's official launch which will be this evening (Wednesday, October 12th).
SC: We created this space to welcome our distinguished customers, so that they can relax, have a cocktail, and, of course be measured for the Me by Canali service. So it's secluded, but convenient
MR: Is Canali's shift into sportswear adding to business, or is it more reapportioning existing business?
SC: We see this as an addition. The tailored clothing has evolved dramatically over the past few years in shapes, weights, and construction. There is a jacket hanging here which has the shape of a traditional jacket, but if you look closely, you'll realize it's actually a knit, so it's quite a different construction. It feels like a sweater. We think this will be important for us going forward. Our new customers are noticing and appreciating our new sportswear and casual offerings, and we're also getting a good reaction from our wholesale accounts.
MR: Has Canali's business changed since the pandemic?
SC: We're seeing a resurgence in the need to dress up. Customers want to get out of their jumpers and joggers. They're sick and tired of the clothes they were wearing and are ready for something new. Some of them are getting married, they're getting back to work, so they are ready for something different.
MR: Did supply chain issues impact Canali? What about inflation?
SC: We have a very short supply chain. Our fabrics come from Biella and most of our clothes are made at our fully owned facility, and anything else is also made in Italy, within a small territory. We are one of the few brands that can claim that we are 100 percent from Italy, from design to production, for 89 years. That short supply chain also allowed us to react quickly to the post-pandemic pent-up demand, particularly in the North American markets. We are working closely with our suppliers to make sure that any price increases won't be so bad.
MR: What are the next steps? Are there more stores like this in the plan?
SC: We looked at this as the blending of a store with a modern Italian house. We'll be able to host events and experiences for our customers so they can fully engage with the brand. We can function as an art gallery, host wine-tasting events, and do whatever is consistent with the brand's DNA. We strongly believe that relationships and interactions are important. When we all had to meet on Zoom, it lacked the human touch. Meeting in person is more effective. Yes, this will be a template for our other stores across North American, as well as for shop-in-shops in other stores.
MR: Will we see that concept expressed in advertising, social media, etc.?
SC: Yes! The Fall/Winter 2022 campaign is called "Inner Beauty" and is about Canali's DNA: masculinity, positivity, and integrity. It's for a man that is sober, assertive, and calm. He's not afraid to show his emotions, but he's not weak. The campaign reflects real life and tells the story of a father and his son, a father and his daughter, and a man playing with his dog. It's very genuine.
[Editor's note: the campaign video is shot in Turin and features breathtaking Italian scenery, some endearing moments among the models (and one very sweet dog), and, of course, some gorgeous Canali clothes.]
The Art Of Goldschmied & Chiari
Canali will put that ability to create in-store experiences to the test right away at its official store opening party: The shop will be transformed into an art gallery for the evening featuring works by the Italian duo Goldschmied & Chiari.
The artworks define an immersive journey that takes the visitor from outside to inside the store, creating a dialogue with the style and uniqueness of the brand. The first installation signed by Goldschmied & Chiari is an elegant design on the windows of Madison Avenue, as an initial step towards the discovery of the three works set up inside.
The Goldschmied & Chiari body of work chosen by Canali for this project is named "Untitled Views" and is composed of precious and evocative mirrored works that welcome the public into an imaginative, fluid, colorful environment, where dream, vision, and landscape converge. They are vivid skies rendered by fumes that, through a careful action of photographic reproduction on mirrored glass surfaces, blend to create moving visions, where the viewer and the surrounding environment become part of the work itself.
The "Untitled Views" originate from a performative process in which the artists use colored and natural smokescreens, creating unique and fluid colors, which are later printed on mirrored glass. Through their work, the artists create an intimate dialogue between the viewer, the created smoky landscape, and the surrounding environment.
The works of Goldschmied & Chiari, which have been exhibited at the 59th Venice Biennale and at the Italian Embassy in Washington D.C. with a site-specific permanent installation, represent Italian artistic excellence. Through this collaboration, Canali becomes a supporting actor of contemporary Italian art investigating new horizons, exploring a cultural and artisanal tradition where fashion and art have always dialogued.
Made in Italy, craftsmanship, contrasts and dynamism, elegance and contemporary style, care for materials, values and tradition, innovation, and sustainability, are only some of the connecting points between Canali and the works of Goldschmied & Chiari.