CHRISTOPHER BAILEY TAKES RAINBOW-FILLED FINAL BOW AT BURBERRY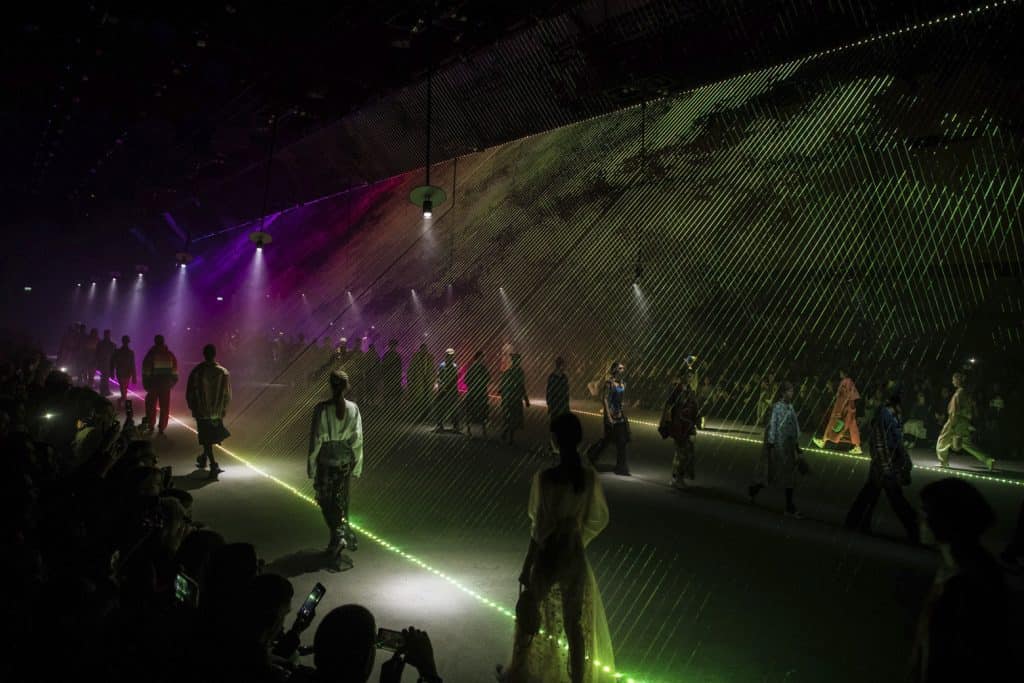 As part of his final Burberry show, president and chief creative officer Christopher Bailey aimed to champion LGBTQ+ communities and to promote diversity around the world.
The LGBTQ+ rainbow, an emblem for optimism and inclusiveness, featured prominently across Burberry's February 2018 collection, rooted in the introduction of a new Rainbow check.
"My final collection here at Burberry is dedicated to – and in support of – some of the best and brightest organizations supporting LGBTQ+ youth around the world," said Bailey. "There has never been a more important time to say that in our diversity lies our strength and our creativity."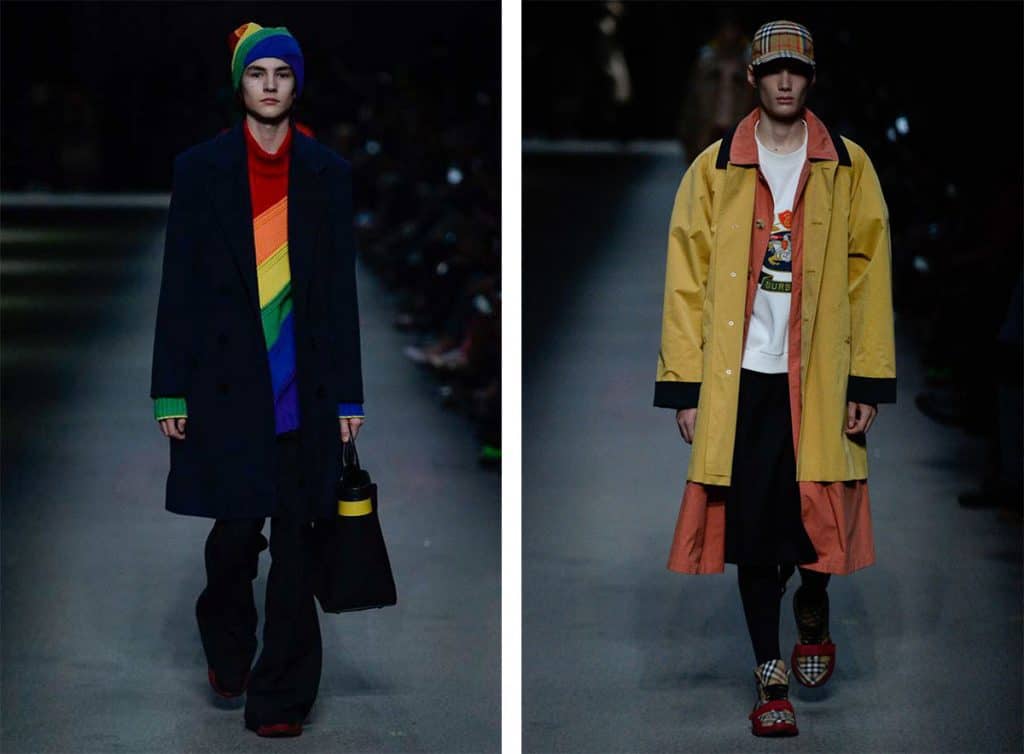 To solidify its support of LGBTQ+ communities, Burberry made donations to three charities – the Albert Kennedy Trust, the Trevor Project, and International Lesbian and Gay Alliance – all dedicated to broadening the awareness, mentoring and resources available around the world.
Additionally, Bailey collaborated with United Visual Artists (UVA) to reimagine its work 'Our Time' for the show. The installation, which investigates the subjective experience of the passing of time, served as the backdrop to the February 2018 show and was on special loan from the Museum of Old and New Art (MONA) in Australia. Bailey and UVA also designed a new original piece for the show's finale called 'Spectrum', an installation formed of rainbow colored lights and kaleidoscopic patterns.
Them, Condé Nast's next-generation platform devoted to the queer community, also unveiled a new video and photo shoot captured by Alasdair McLellan featuring real-life couples wearing the latest collection.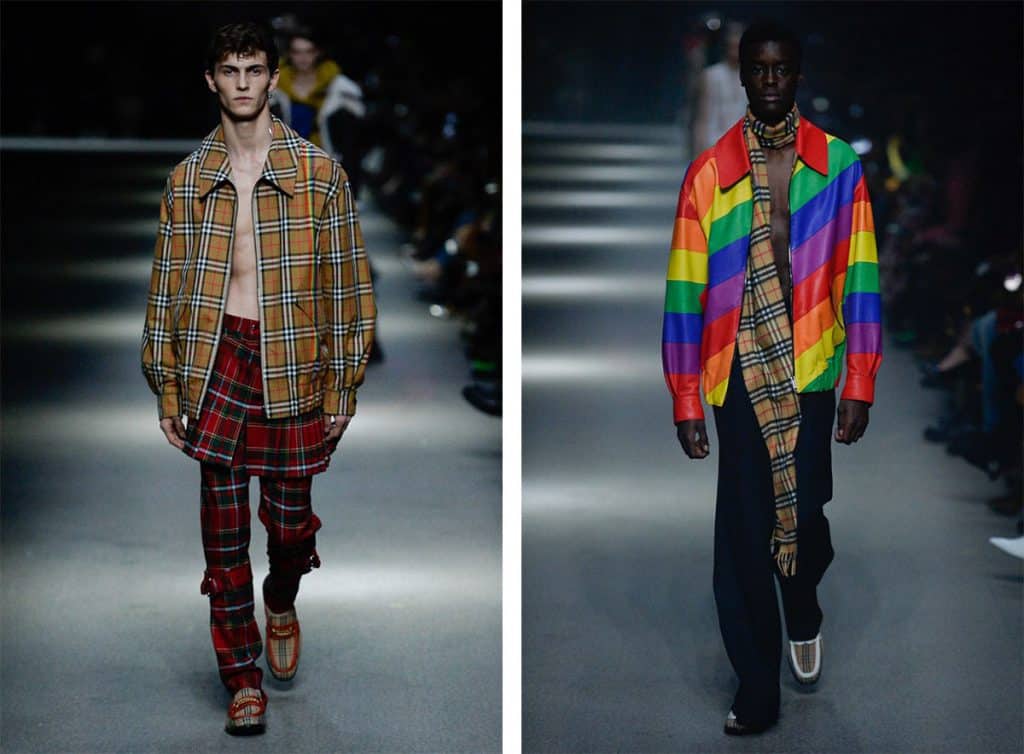 "We are very proud to be working alongside Phillip and Them – a platform which shows real integrity and commitment to championing the wonderfully diverse culture we live in today," added Bailey. "The values and authenticity with which they showcase the voices and perspectives of these communities are genuinely inspiring."
A capsule collection of reissued pieces from the brand's archive, re-released as part of the February 2018 runway collection, and featuring the rainbow check, were available to purchase immediately following the show. The capsule was available to purchase through "Show to Door", an immediate around-the-clock London delivery service from Farfetch for 24 hours after Burberry's February 2018 Show. Dover Street Market and Browns Shoreditch in London, Isetan in Tokyo, Antonia in Milan and The Store at Soho House Berlin are also stocking the capsule collection for a limited time only.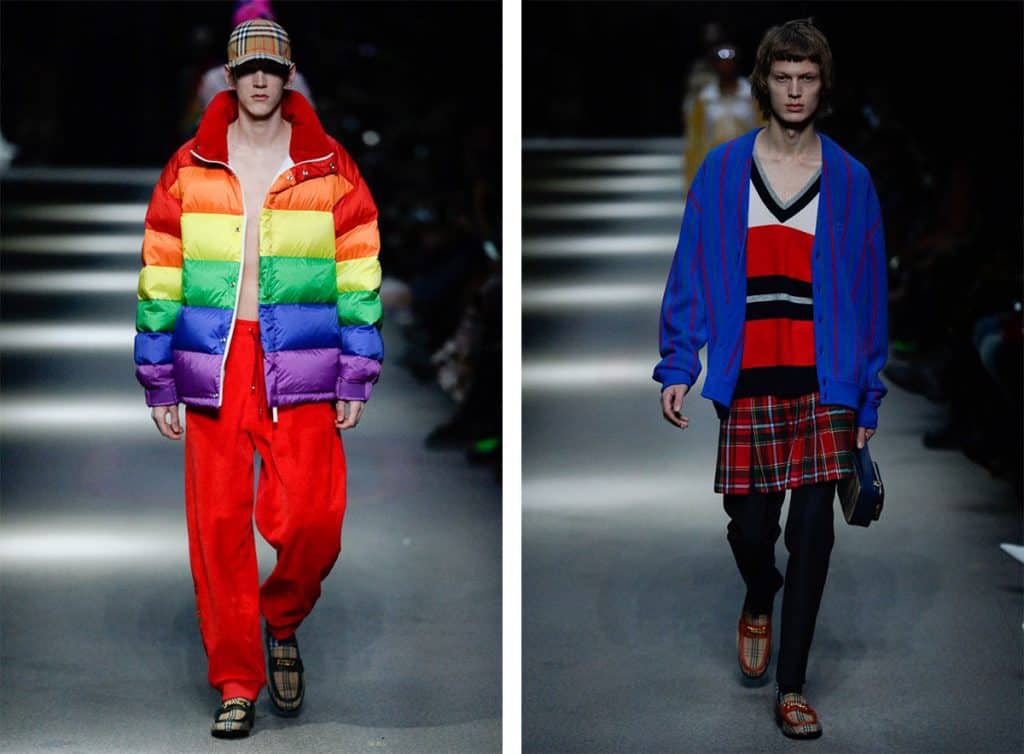 To mark Burberry's long-standing relationship with music, a dedicated playlist is available on Apple Music, featuring over 200 tracks that have defined some of the brand's most memorable moments over the last 17 years. '17 Years of Soundtracks' includes the soundtracks to previous runway shows and exclusive interviews with some of Burberry's most notable musical collaborators, including Tom Odell, James Bay, and Paloma Faith.
Burberry also collaborated with Snapchat to create a new rainbow-themed Snapchat lens for the platform, giving users the chance to wear the rainbow check cap that featured in the show. The lens is accessible via a unique snapcode, which is live for 90 days from Friday, February 16.
Watch the full show below.