WHY THE DEATH OF THE SHOPPING MALL HAS BEEN GREATLY EXAGGERATED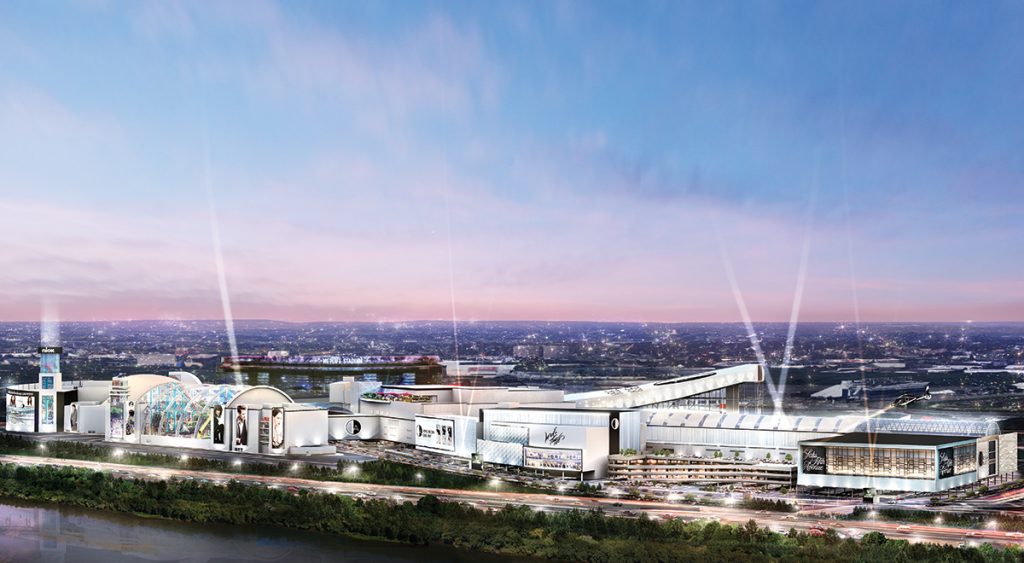 At a time when retail at every level is striving to reinvent itself, the traditional shopping mall, whether large or small, urban or suburban, is facing an even more uncertain future. According to the real estate research firm Reis, the national retail vacancy rate ticked up to 10 percent by the second quarter of 2017, which has affected the survival of many malls.
Moreover, Moody's Investors Service reports that nationally, there are now a higher number of retailers with debt ratings of Caa or lower (meaning poor standing and high credit risk) than during the rockiest months of the Great Recession. And it's not just underfunded upstarts or legacy deadwood that have raised Moody's eyebrows. Such household names as Neiman Marcus, Macy's, JC Penney and Sears, all of which anchor various malls, have announced plans to shutter numerous locations in the coming months.
That's not necessarily a bad thing, say experts. If the American shopping mall is to flourish, innovators must put a plan in place to cull the worst performers and shore up the foundational business in places that can still drive demand.
But even if some traditional malls may be on the brink of extinction, shopping centers will still be part of the American landscape. A recent report by global real estate agency Transwestern finds that those retail centers that exhibit the best demographics, which include per capita income and population density, will be most capable of managing the secular shift in how goods are sold and purchased in the 21st century. As Nick Hernandez, the firm's managing director for retail, states: "For the most part, malls are attracting new tenants through strategic marketing and property enhancements."
For example, North American Properties bought Atlantic Station in Atlanta, Georgia back in 2011, when it was struggling to hold on. Managing partner Mark Toro, a self-proclaimed re-urbanization zealot, trademarked the job title "Experience Maker" and hired a handful of employees whose entire job was to create unique retail experiences at Atlantic Station. Soon, events such as concerts, Mother's Mornings Out, yoga classes and U.S.T.A tennis tournaments were casting a wider net, demographically speaking. In early 2016, Toro's company sold Atlantic Station for double its investment price.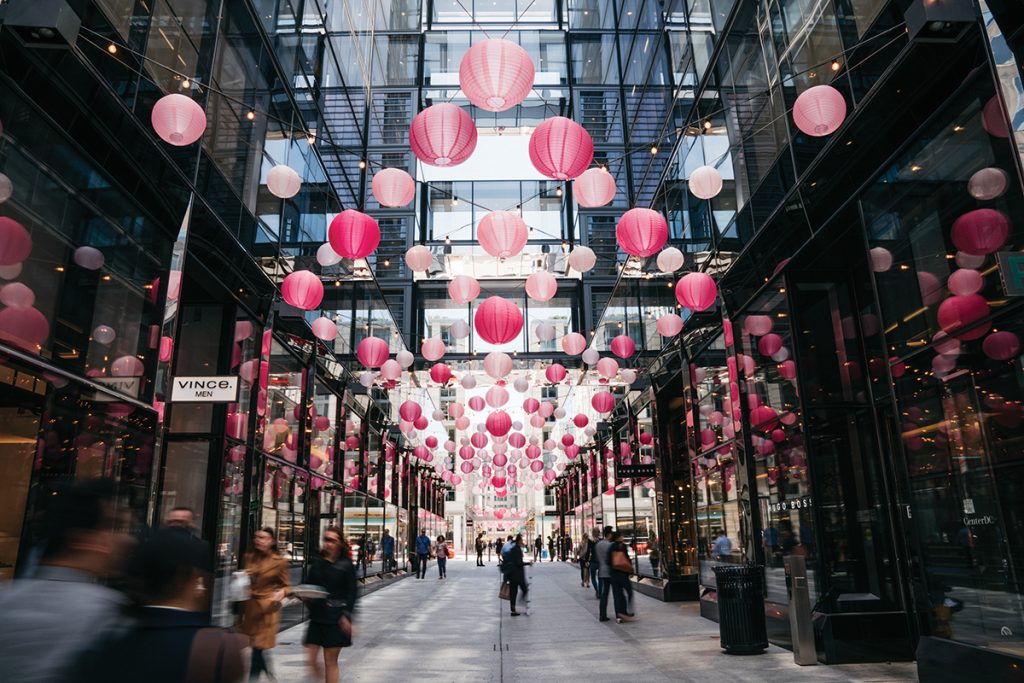 LIVING THE GOOD LIFESTYLE
In 2017, however, consumers are most interested in lifestyle-friendly, developments which are all carefully curated and deeply invested in "experiences" as much as "things." Indeed, Paula Rosenblum, co-founder and retail analyst at RSR Research, says she believes future shopping centers will be driven by the demands of millennials and members of Generation Z behind them, who are more likely to spend money on entertainment rather than just clothing. "Malls are going to become more of a destination, not just for shopping but for activities and experiences," she says.
That's the hope of the developers of the American Dream Mall, the retail, tourist and entertainment destination scheduled to open in the New Jersey Meadowlands in 2019. The three-million-square-foot mall will not only house 450 stores, including Primark, Century 21, Saks Fifth Avenue and Lord & Taylor, but will host numerous amenities such as an indoor DreamWorks Water Park, a 16-story Big Snow Indoor Ski & Snow Park, a 1,500-seat performing arts theater, a 285-foot tall Observation Wheel, luxury movie theaters by Cinemax, a 70,000-square-foot Sea Life Aquarium & Lego Discovery Center, an NHL-sized ice rink and an 18-hole miniature golf course.
In New York's Battery Park Center, Brookfield Place caters to a wide swath of neighborhood residents, tourists, as well as the thousands of workers who are employed by such mega-companies as American Express and Bank of America. This diverse cross-section of consumers can spend their time buying (or looking at) some of the world's most luxurious fashion brands, including Gucci, Hermes and Ermenegildo Zegna (not to mention that there are two separate Saks Fifth Avenue stores). In addition, dining options abound, from the French mega-market Le District to upscale eateries like Del Frisco's Grille to Hudson Eats, which may be one of the country's most sophisticated food courts. You can also lounge outdoors during the summer, skate during the winter, and listen to music or watch performances all year long.
As Ron Friedman, a retail expert and partner at the accounting and advisory firm Marcum, LLP, notes: "You're going to see a future where you'll be living at the mall."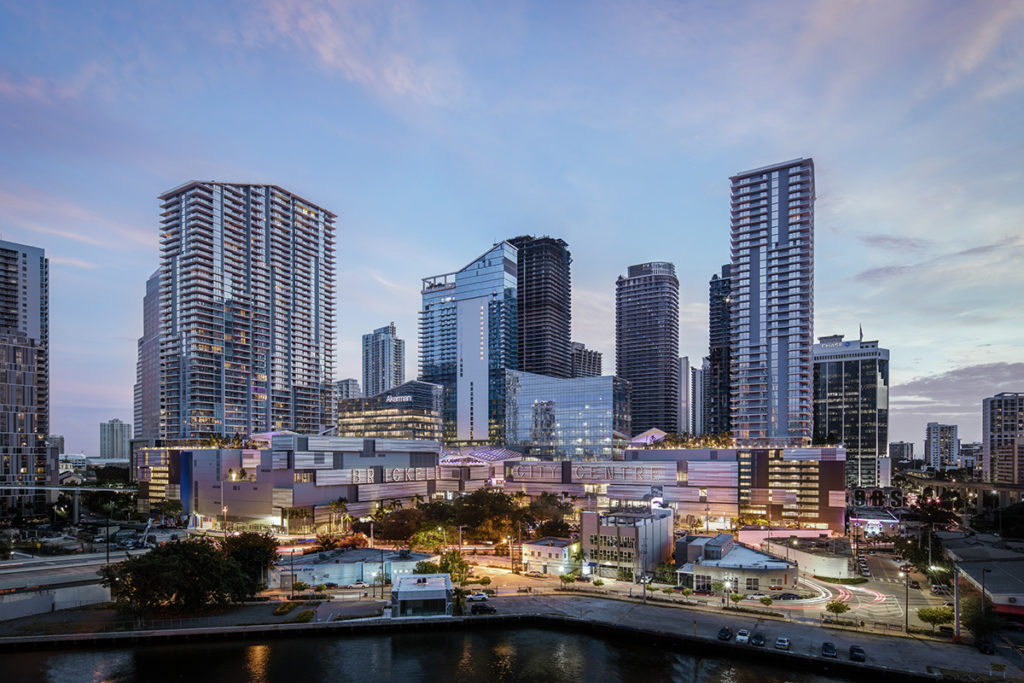 MIXING IT UP
Meanwhile, mixed-use developments are all the rage. Take the recently opened retail center at Brickell City Centre in Miami, Florida. The nine-acre property (which cost over $1 billion to build) features an extensive three-level, open-air retail center with half-a-million-square-feet of high fashion, dining and entertainment, dozens of high-end shops and the country's first CMX movie theater. Still to come is Miami's first Italian food hall, which will take up three floors of the project. Meanwhile, the project's two other completed towers include two 390-unit luxury condominium residences, two class-A office buildings, and the Brickell City Centre's flagship hotel, EAST, Miami.
"Brickell City Centre is a destination in and of itself – with the hotel, cinema, and other attractions creating an environment where shoppers want to stay longer and make a day out of their visit," said Debora Overholt, vice president of retail at Swire Properties.
Another good example of the mixed-use trend is CityCenterDC, an open-air development incorporating retail, dining, residences (both rentals and condos) and office space, located in our nation's capital. CityCenterDC delivers, on an impressive a 10-plus acre parcel, the street-activated urban center that the city was seeking. Not surprisingly, it has been successful, with footfall reaching double – and even triple — initial expectations.
Says Timothy R. Lowery, CityCenterDC's general manager: "Consumers have myriad shopping choices today. There are pop-up shops, online, what have you, and they just want a more elevated experience at the brick-and-mortar level. We've created one that is repositioned to be more exciting, fun and aesthetically pleasing."
That's one reason Bob Green, chief merchandising officer of Paul Stuart, opened the company's two-level, 10,000-square-foot shop at CityCenterDC in the spring of 2015, making the menswear stalwart one of the earliest retail tenants in the center. "We were drawn by the multi-use concept, as well as by the clear thinking and completely modern approach that we perceived to be in place early on," he says. "So far, we are very pleased with our decision. We have been solidly ahead of projection both in terms of sales and, significantly, in foot traffic."
Bigger isn't always better, though. California-based menswear brand Robert Talbott maintains several street-level storefront locations, along with shops at the open-air Fashion Island in Newport Beach, Highland Park Village in Dallas, and The Shops Buckhead in Atlanta.
"Being a family-owned American brand, we want to be in locations that are quaint, with a little more character, a little less cookie cutter, and where there is a sense of community," says John McManus, the company's GMM. "The enclosed mall is not for us; open-air or freestanding street stores are more on brand for us, because customers today say, 'My shopping is in my hand', we need to offer some new experiences to bring them to brick-and-mortar."
TRAIN YOURSELF TO SHOP HERE
As with all of real estate, the idea of "location, location, location" remains paramount, because daily foot traffic is still the lifeblood for any traditional mall or mixed-use space. And in some cases, it has proven simpler to bring the water to the horse. Case in point, the successful expansion of retail at airports and train stations, which have become their own form of indoor malls.
At many of these transportation centers, the options have matured well beyond just the reliable bookstore, magazine/sundries outlet and shoeshine stand of yore to include branches of nationally-known retailers including Brooks Brothers, H&M, Jos. A Bank and more.
Perhaps the strongest example of this shop-on-the-go trend is the Oculus, which opened in 2016 within NYC's World Trade Center transportation hub (one of international mall developer Westfield's portfolio of 35 malls). The Oculus creates a seamless connection between PATH trains to New Jersey, 11 subway lines and a Hudson River ferry terminal, and serves an estimated 60,000 neighborhood residents and 300,000 daily commuters.
As a result, this highly targeted audience can now take advantage of shops featuring more than 100 fashion, beauty, lifestyle and technology brands – including Cole Haan, John Varvatos, and Turnbull & Asser — across 365,000-square-feet of retail space. In addition, the Oculus features restaurant concepts, rotating art exhibits, cultural events and entertainment.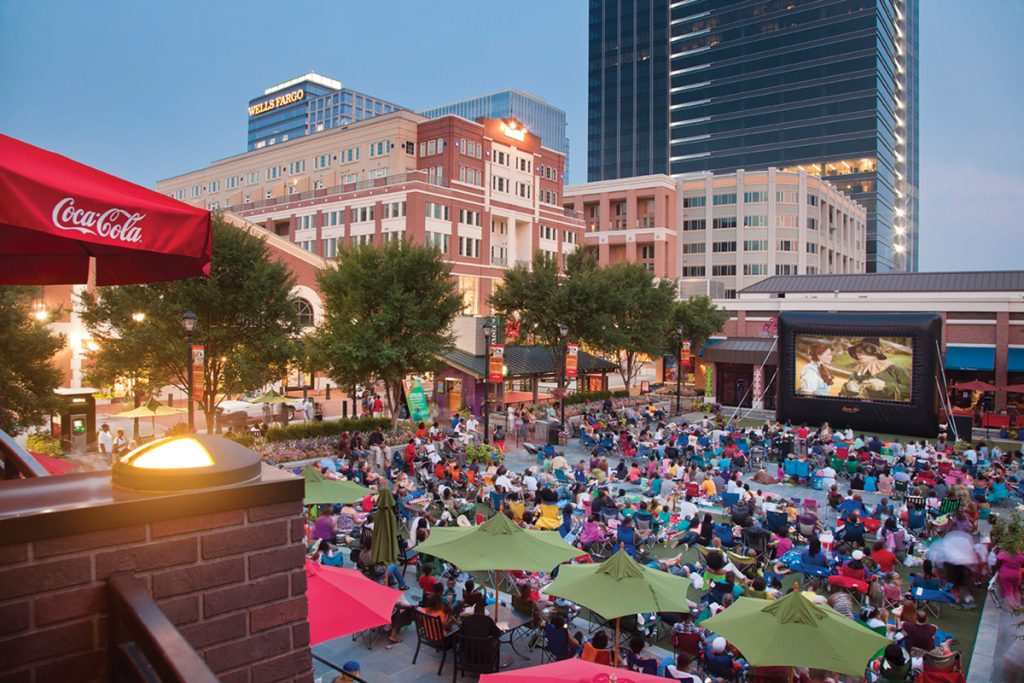 OUTLETS ARE DEFINITELY IN
On the other end of the spectrum from luxury-based retail centers is the outlet mall, where over the past five years, sales have doubled to about $50 billion, according to Green Street Advisors. Some experts say that increase shows that shoppers are looking for experiences like the bargain-hunting thrill that outlets provide, and that these consumers tend to spend more time at these malls shopping (in part, by going to more stores on each visit), and come back more frequently, since new bargains are available on an almost daily basis.
That would explain why Simon Property Group's Premium Outlet division also continues to expand, both within the U.S. and internationally, and places great emphasis on the look of its malls. "Our primary focus continues to be in our physical product to enhance our guests' experience. Nothing is more important to us," says CEO David Simon.
In the end, Rosenblum thinks that many gloomy forecasts about the future of the American mall overstate the problem, and expects that lower-tier shopping centers in particular will bear the brunt of the blow, while more upscale retail centers will still thrive.
Respected commercial realtor Joan Siegel, president of New York's Siegel Consultants, is on the same proverbial page. She believes that malls are simply going through a necessary period of adjustment. "The publicity surrounding 'the end of the mall' has been overdone," she notes.
Perhaps, like Mark Twain's passing, the death of the shopping mall really has been greatly exaggerated.