FAHERTY FAMILY FUN AT PRINCE STREET STORE OPENING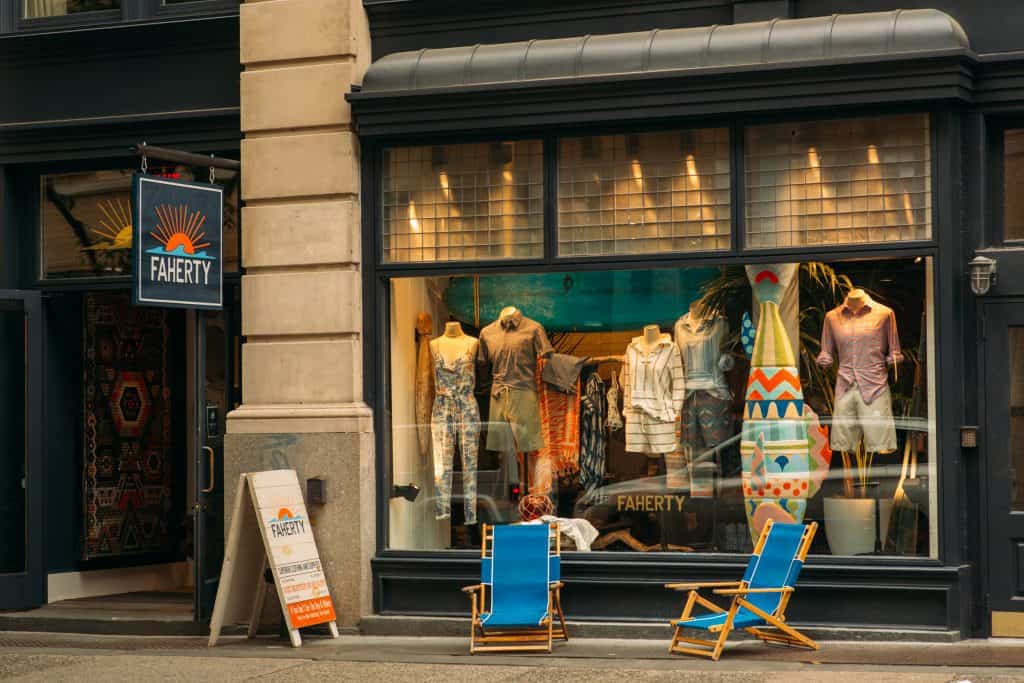 On Tuesday, June 26, New York-based lifestyle brand Faherty celebrated the opening of their new flagship store, an expansive 1,800-square-foot location at 133 Prince Street. The new location replaces their original, 350-square-foot New York store on Thompson Street, which had also housed the brand's offices in a loft above the shop.
A true example of a family business. the brand was founded five years ago by twin brothers Mike and Alex Faherty. Kerry Faherty, Alex's wife, is the brand's president, and their mom Ninie Norris helps both design and build the stores, making sure that each pays homage to the neighborhood in which they reside. For the Prince Street store, Norris put artisinal paint-splattered wallpaper in the fitting room, while a large wooden mobile by artist Abel Macia greeted customers as they enter the store, all reminding people that before it became a retail mecca, Soho was once an enclave for New York artists.

In keeping with the Faherty vibe, the opening felt more like a low-key family party as industry insiders and friends milled around while children ran around exploring the store. (The youngest Faherty, Riggs, age 4 months, had the right idea and was carried around as he mingled with the crowd bestowing smiles on everyone.)
There were Yeti coolers filled with cans of LaCroix water, Bridge Lane wine and Saturday's beer, an empanada bar provided by local eatery Empanada Mama, and scoops of homemade ice cream by Jen's Ice Creams. Indeed, one saw many of the young guests enjoying this sweet treat while sitting in the beach chairs on Prince Street.