FAHERTY TO RELOCATE SOHO STORE, SETS SIGHTS ON GROWTH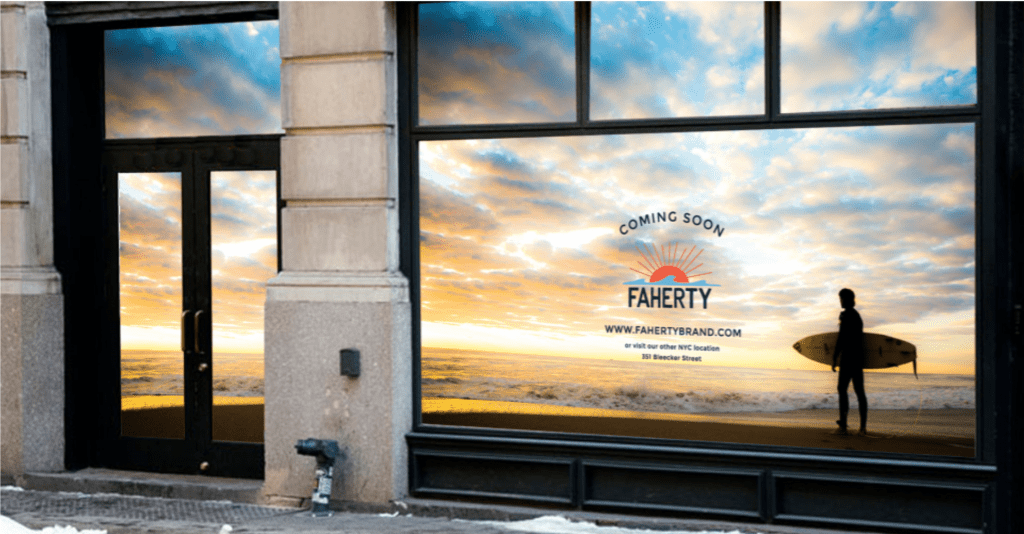 This May, the popular casual lifestyle fashion brand Faherty will close its first retail location on Thompson Street and open a larger flagship store on Prince Street in the bustling SoHo neighborhood of New York City.
Faherty, which moved company headquarters last year from the loft of its Thompson Street store to an office space in Tribeca, will open a new 1,800 square-foot store at 131 Prince Street in mid-May. Faherty family friend Ryan Lawson will return for his sixth collaboration with the company to co-design the space with the founders' mother Ninie Norris.
The location will carry over the cool beach house aesthetic seen in the brand's other five locations. The large, single-level store offers an open floor plan, custom white oak shelf built-ins, classic tiki fixtures, three dressing rooms, and a gathering area with soft seating for patrons to enjoy. Visual media artist Abel Macias, who was commissioned for several mural projects in Faherty's California and Nantucket stores, will install a large, transportable art mobile to greet customers and anchor the front of the store. Unique antiques and decorative collectibles will be artfully layered throughout the space and lend a familial warmth to match the brand's relaxed style.
"A year into launching this brand, we opened our first Faherty shop in 350 square-feet on Thompson Street in SoHo," said Kerry Faherty, president of Faherty. "For the past 4 years, we also housed our entire team in the loft above it, such that it served both as store and headquarters. For years as a customer, when you walked in you could hear us yelling at each other across the room about designs, production, and the website. The store on Thompson Street has long had a special place in our heart, but we're excited to graduate to a bigger store on Prince Street that can showcase more of our product line and lifestyle. A huge part of our heart lies in SoHo, the local restaurants, and the coffee shops, and so we're thrilled to not be venturing too far away from the local community we've come to know so well."
Identical twins Alex and Mike Faherty launched their namesake brand in 2013, after leaving corporate positions in private equity and designing at Ralph Lauren, respectively. Growing up on the beaches of Spring Lake, NJ, the two surf enthusiasts dreamt of designing a stylish, comfortable, high-quality clothing line that would complement their love for outdoor adventures. Since the successful debut of their first eco-friendly swimwear collection, the brothers have successfully elevated the "beachwear" category with a refined level of timeless style, premium fabric quality, and superior construction.
Over the past five years, the brand's robust wholesale business and bi-coastal retail expansion have fostered substantial business growth and industry recognition within the casual-luxe clothing market.
After its first year of business, Faherty brought in nearly a million dollars in revenue and continued to double in revenue year over year. The brand turned profitable at the end of 2017, bringing in more than $15 million in revenue. Last year, the business saw an unprecedented 5x e-commerce growth during Black Friday sales.
Since launching Faherty has grown a healthy wholesale business, selling in large retailers like Barneys and Nordstrom, specialty doors including the Forum Group (Mitchells, Richards, Oak Hall), Stag and Fred Segal, and expanding internationally with Mr. Porter, Matches Fashion, and Calexico MAN. Total retail sales through the brand's wholesale partner network are expected to exceed $18 million in 2018.
"Five years ago, my twin brother Alex and I quit our jobs to launch the brand," Mike Faherty told MR. "Crammed into a tiny design studio in Union Square, we dreamed of one day having our own store where we could showcase our clothes, meet customers, and hang with friends. We opened up our first store a year later on Thompson Street and made the upstairs our headquarters.  We soon opened five other stores in some of our favorite cities across the country, but the SoHo neighborhood is truly our home, filled with our favorite restaurants, coffee shops, and juice places. As we celebrate our 5 year anniversary of the brand, we're excited to make the move from our first ever Thompson St. store to a bigger store on Prince Street. The eccentric and beachy feel of the shop will remain the same, but we have more room to feature our full men's and women's collections, tell the story of who we are as a brand and what we believe in, and to host more events. We couldn't think of a better way to celebrate our anniversary than the opening of a new and bigger space in our local community."