FASHION SHOW LAS VEGAS ADDS NEW PUBLIC ART DISPLAYS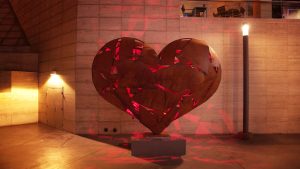 Las Vegas' shopping center Fashion Show Las Vegas has added some new public art for visitors to enjoy.
Golden Rainbow, created by artist Yvette Mattern, beams seven rays of laser light representing the color spectrum – red, orange, yellow, green, blue, indigo and violet – up into the city of Las Vegas from the rooftop of Fashion Show. The immense outdoor laser installation is visible for up to 35 miles, making it viewable to thousands of Las Vegas locals and tourists alike from dusk to dawn for a limited-time.
In addition, two new pieces of art have been added to the Fashion show's plaza as part of its rotating collection: Heartfulness, designed by Katy Boynton, is a 12×15-foot steel replica of a heart that has been repeatedly broken and pieced back together; while  InSpire is a series of huge, geometric laser-cut 3-D sculptures. Indoors, Fashion Show has also introduced CUBE, a fully immersive pop-up photo box exhibition
"Adding visual art such as Global Rainbow and the new sculpture garden to Fashion Show is one way we are innovating and elevating the shopping experience," stated the center's Senior General Manager Jim Heilmann. "Nationwide, we are seeing that customers appreciate continued integration of entertainment, culture and arts to their shopping and dining experiences. It creates a relevancy and uniqueness to the customer's visit and we are thrilled to be able to work with local partners and one-of-a-kind artists such as Yvette Mattern to deliver added beauty, meaning and fun, here at Fashion Show."