Fashion Week: The David Hart show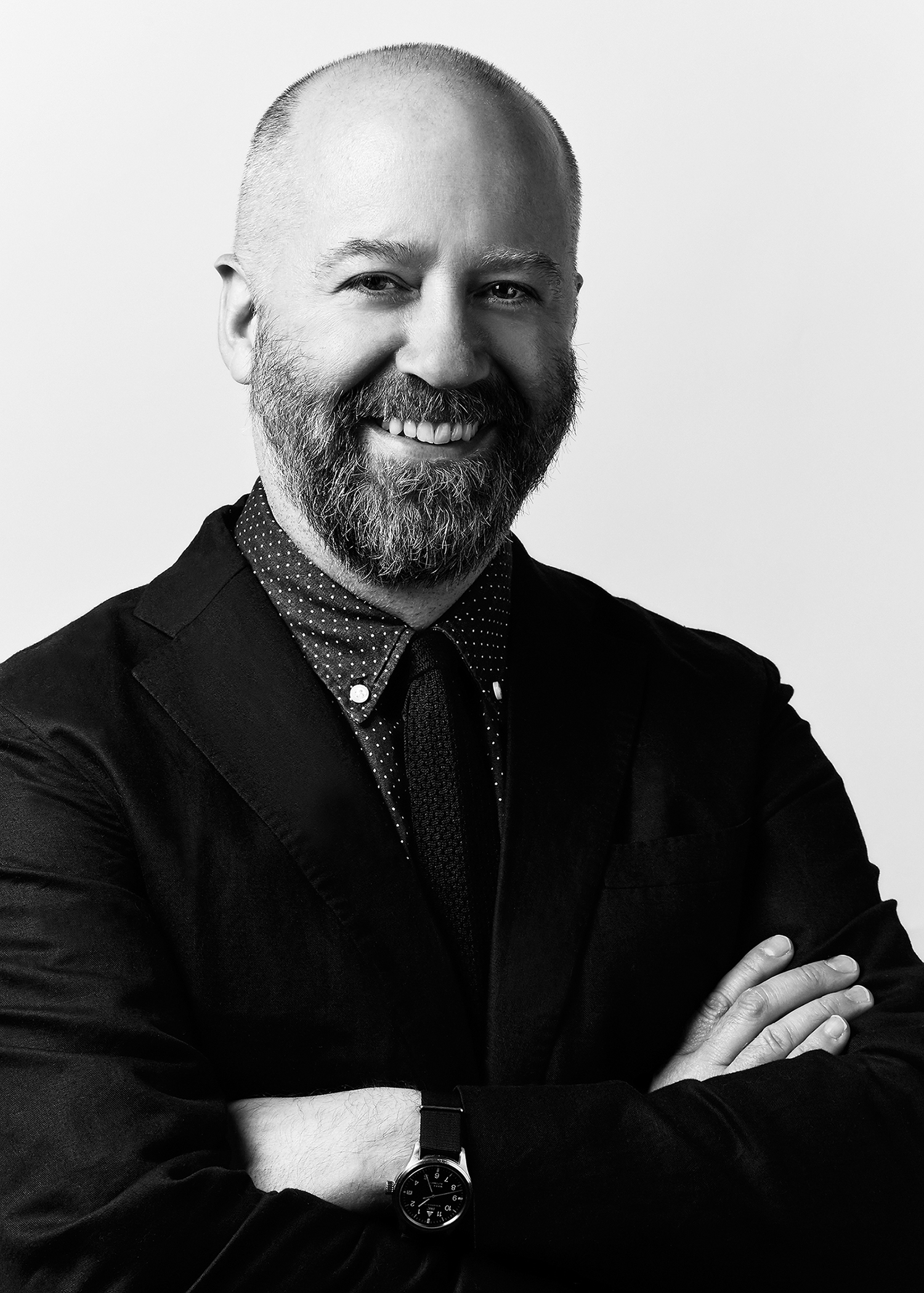 Neckwear designer David Hart held his first fashion week show this season with a runway presentation at the top floor of New Museum on the Bowery in Manhattan.
This full collection is a big step for Hart, who expanded from ties and pocket squares to socks last year. Most of the collection, which includes tailored clothing and dress shirts, is made in America, the notable exceptions being sweaters (Ireland) and gloves (Italy). The collection features collaborations with Moscot eye wear, Walk-Over shoes, Rod Keenan hats and Sermoneta gloves.
The intimate afternoon runway show on the seventh floor gallery at the New Museum began fashionably late as various industry VIPs filtered in. There were no theatrics in the white, windowed gallery, just music and refreshingly retro clothes styled with mixed plaids, lots of tweed and pops of color (orange leather driving gloves in chest pockets, blue leather shoes, tinted lenses). Some standout pieces were the orange Donegal herringbone tweed jacket, the emerald green shantung dinner jacket and the bright wool Donegal Irish fisherman sweaters.
All photos by Rob Melone
"I was inspired by secret agents and spies from the late '50s and 1960s and how television and media took such a tense period in history—the space race, international espionage, global paranoia and the Cold War—and glamorized it, putting it all into every living room in America," Hart told me. His style is more Man from U.N.C.L.E. than James Bond.
"I'm really excited about the mohair," Hart continued. "I think it's a great day into evening look and it feels new again. It tailors up so well and it doesn't wrinkle much. I'm also excited about the cumberbunds for black tie. I'd like guys to think of it more as a tailored accessory than associating it with a bad date to prom. We're doing them out of a beautiful English silk satin with a hidden ticket pocket. These are the things that men can add to their wardrobes that are really special. I love the oversized top coats, especially the plaid one. I was looking at pictures of the Beatles when they came to Washington, D.C. wearing slim suits and big, oversized top coats—it's a really cool look. For the sweaters, we fixed the spec on some of the traditional Donegal County fisherman sweaters in Ireland and did them in different colors."
The full collection, like his neckwear (which average $125 retail), is aimed at luxury retailers. Saks Fifth Avenue and Bloomingdale's both currently carry his ties, as do United Arrows, Abahouse and Journal Standard in Japan. Hart hopes those and others pick up the rest of the collection.
"We're trying to stay under $2,000 for everything," Hart said. "The most expensive pieces in the collection are the top coats and the three-piece suits, which are coming in at $2,199. Most suits are $1,895 and sport coats are $1,325. Dress shirts are $225 and the knitwear, sourced in Ireland, range from $399 to $475. Trousers will be $550."