HAPPY SOCKS CELEBRATES 10 YEARS, FOCUSES ON U.S. EXPANSION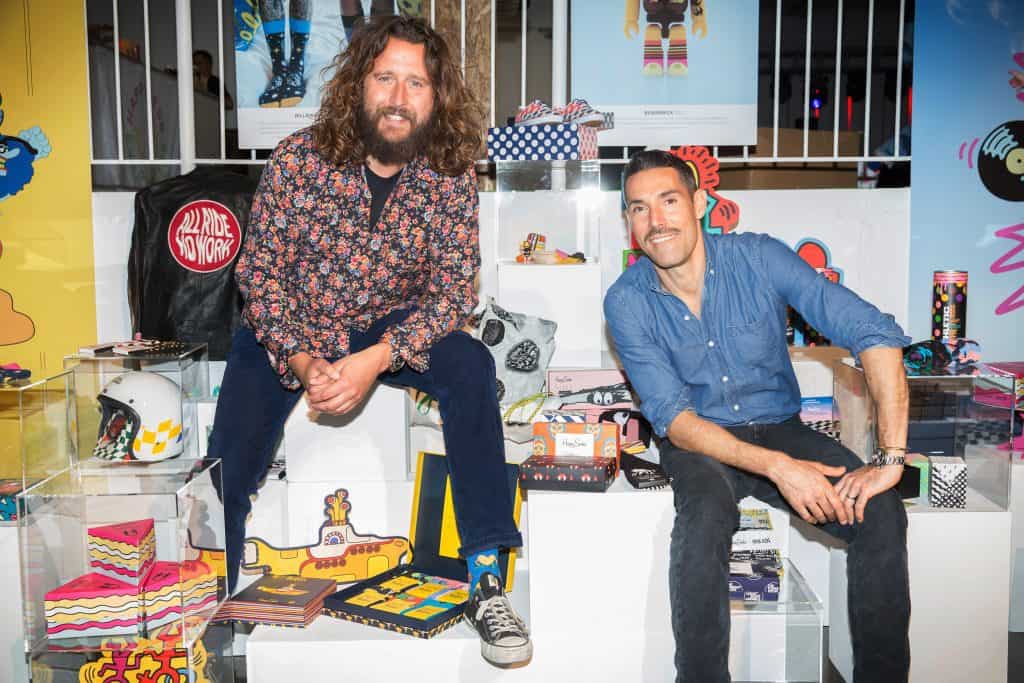 Happy Socks' founders Viktor Tell and Mikael Söderlindh celebrated 10 years of spreading happiness and color around the world at 14th Street Garage in Manhattan on Thursday, April 26. Part exhibition, part birthday bash, this event was much more than just a party.
Highlighting iconic moments from the past 10 years, the exhibition featured imagery and product from Happy Socks' collaborations with industry shaping artists and icons. Top collaborations featured included Iris Apfel, Ellen Von Unwerth, David LaChapelle and André Saraiva – retailers including Barneys New York, Opening Ceremony and Colette – top brands including Adidas, Pharrell's BBC, Robert Rodriguez and Giles Deacon – and musicians such as Snoop Dogg, A$AP Rocky, Miike Snow, The Beatles and Steve Aoki. The most recent collaboration on display was Keith Haring for spring/summer '18.
DJs Axel Boman, Working Women, and Lloydski provided the soundtrack for guests to peruse the exhibit to, while sipping the evening's signature frozen margaritas. Notable guests for the evening included Andrew Warren, Elly Mayday, Jordun Love, Adam Eli, Margie Plus, Peter Brant, and Tatiana Price.

"We have a such a strong brand globally and we feel that now is the time to enhance sales here in the U.S. as well as strengthen our own retail footprint in this country," Söderlindh told
MR
before the party kicked off on Thursday. "Our plan is to open six more shops here in the U.S. this year. We will start with NY and LA and work our way inward as we determine the best locations."
Söderlindh added: "Wholesale is still a strong piece for us, but we are taking it back a little bit to focus more on the premium retailers and less off-price."
Since launching in 2008, Happy Socks has sold more than 40 million pairs of socks to customers, distributing its colorful, playfully patterned styles to 90 countries and 12,000 retailers worldwide. To mark this moment, the brand has released a special 10th anniversary collection. The limited-edition box includes 10 pairs of iconic Happy Socks (a pair has been chosen from each of the 10 years since Happy Socks' inception), as well as the specially designed 10th anniversary sock.