HICKEY FREEMAN LAUNCHES HEROES & LEADERS CAMPAIGN AIMED AT SUPPORTING AMERICA'S VETERANS
American luxury tailoring brand Hickey Freeman has launched its Heroes & Leaders campaign, which celebrates veterans of the Iraq and Afghanistan war.
The campaign's communication goal is to create awareness that the strong skills and character that veterans develop in service make them very successful in the workforce upon return. The campaign seeks to help change attitudes and false perceptions and encourage American employers to hire veterans.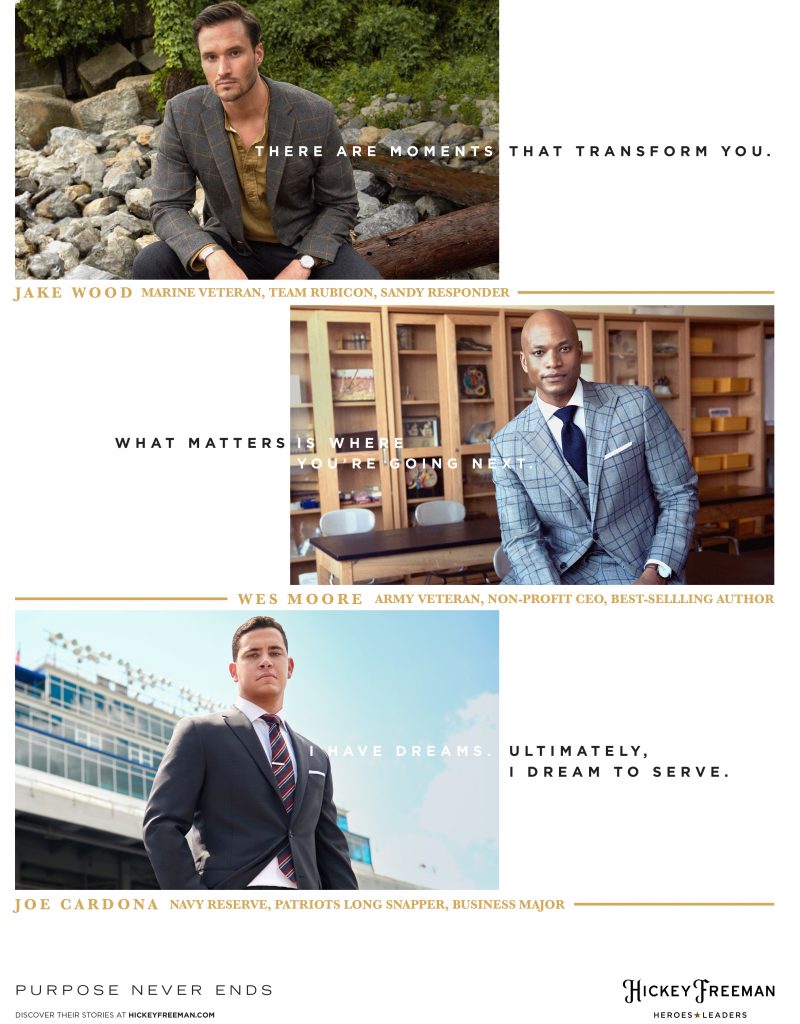 The campaign profiles veterans representing a range of lifestyles and professions. The campaign is created in a series of intimate personal stories portrayed in stills and video told through a dynamic digital media campaign.
Featured veterans include Wes Moore, best-selling author and CEO of Robin Hood; Jake Wood, Founder of Team Rubicon; Joe Cardona, New England Patriots/NFL and active Navy Reserve as well as current HFTC employee; Cutting and Made-To-Measure specialist Jacob Sipple; and Sunny Li, Investment Banker and Veterans on Wall Street (VOWS) hire at Citi bank.
Along with the campaign, Hickey Freeman launched its Corporate Social Responsibility (CSR) program. Under which a new Fellowship program was created to foster a paid internship program. Along with this initiative is a Community Service Group, which focuses on employee volunteerism and fundraising on supporting veterans and their families in the Rochester community. And, most importantly, a new initiative was created to give suits to Veterans on Wall Street (VOWS) and veterans career readiness organization Four Block.
To celebrate the campaign and the new Hickey Freeman store at 501 Madison, a reception was held on Thursday, September 7 that invited leaders in the business community who are supporters of the veterans' cause.
Photos by Lars Niki / Getty Images
Three of the brand's campaign vets, Wes Moore, Sunny Li, and Dominic Fumusa were in attendance. Moore hosted the evening along with Stephen Granovsky, chief executive officer of LMAG and Hickey Freeman Tailored Clothing, and Suni Harford, head of investments at UBS.
Additionally, Hickey Freeman used the opportunity to help drive donations to Team Rubicon – founded by one of its campaign vets – to support their incredible efforts in Houston in the wake of Hurricane Harvey. Ten percent of all sales during the event and through the weekend were donated to Team Rubicon. Also, awareness will be created to donate directly by texting the word HARVEY to 87872 (TRUSA).