How to Stay Fit in Las Vegas
It is by no means easy to stay healthy in Las Vegas, at least for me it isn't: I'm out of my routine, surrounded by temptation, eating gluttonous dinners with loads of free booze. So while no one can be perfect in Sin City, there are plenty of ways to try to be mindful about our health. Here are some ways I'm going to attempt it this season.
No Excuses
If you're worried you can't get your workout session in, think again. The Fitist Collection has teamed with the Cosmopolitan Hotel to offer a series of fitness classes from some of my favorite boutique brands like Barry's Bootcamp, SLT, Tracy Anderson's Method, and Yoga for Bad People. Tracy Anderson's Method (February 9 to February 16) and Yoga for Bad People (February 17 to February 22) are holding classes during men's market week. Both companies are offering three classes a day (two in the morning and one in the evening), so you can get your workout in before or after you hit the trade shows.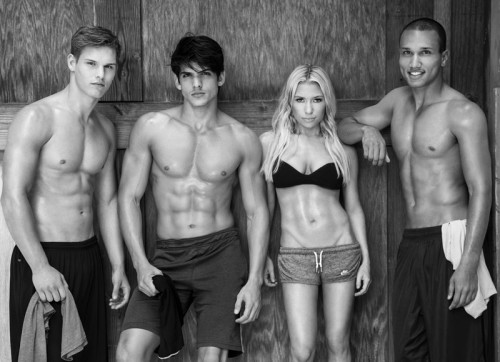 Tracy Anderson whips stars like Gwyneth Paltrow, Jennifer Lopez, Robert Downey Jr. and Matthew McConaughey into shape by working the "accessory muscles," rather than the major muscle groups because, she says, it will make your body stronger and tighter.
Yoga for Bad People, founded by NYC-based yoga instructors Katelin Sisson and Heather Lilleston, is one of the coolest yoga retreat companies around. I can speak from experience when I say that Heather's classes will leave you sweaty and sound. What's more, all guests who attend the Fitist series will receive $25 off any 50- or 80-minute spa service within 48 hours of class participation at Sahra Spa and Hammam. For more info, go to the Cosmopolitan's website.
Clean and Green

Eating Healthy in Las Vegas is no easy feat! Luckily, Juice Farm opened up shop on the 1st floor in the Palazzo and a second location in the Venetian. I love starting my mornings with The Whitney (Parsley, Spinach, Kale, Banana, Whole Grain Oats, Walnuts, Dates, Hemp Protein, Cinnamon, and Almond Mylk). It's green and powered with protein, keeping me focused and energized till lunch. They also offer cold-pressed juices and Wellness shots. Another one of my Vegas essentials is the Defense Shot (Apple, Lemon, Ginger, Oil of Oregano, Cayenne, and Apple Cider Vinegar) to help strengthen the immune system and ward off colds.
Counting Steps…and Sheep

With all the buzz in the market about innovations in wearable tech, what better place than the Las Vegas trade shows to try out the latest activity tracker? With the amount we walk out there, it'd be fun to see how many miles we're actually accumulating. If you don't have one already, pick up the latest in wearable tech with a Fitbit, Nike Fuel Band or Jambone. In addition to steps, they'll track your caloric intake and sleep cycle.