HUNTSMAN TAKES SAVILE ROW ACROSS THE U.S. WITH AIRSTREAM TOUR
In celebration of its expansion in New York, Savile Row tailor Huntsman is bringing its bespoke services to clients across the U.S. with its newly refurbished Airstream RV. With plans to visit cities such as Boston, Chicago, Dallas, Los Angeles, San Francisco and Napa Valley, the iconic 1980's original Airstream has received a full Savile Row-style bespoke treatment by Timeless Travel Trailers.
"I have long had a hankering for the timeless American trailers," said Pierre Lagrange, owner and chairman of Huntsman. "I was fascinated by their design. So, after purchasing historic Savile row tailor, Huntsman, I was quick to find the perfect excuse to combine Huntsman's bespoke tweeds with the silver-aluminium caravans."
Setting off on its journey this month, the iconic and fully restored 1980's original Airstream boasts a design that brings American-retro and British style together harmoniously. The chrome exterior, sheltered by the Huntsman red claret awning, has a vinyl stripe in a bespoke tweed design for Interior designer Robert Couturier. Inside, you will find tweed lined walls, enhanced by richly grained woods, antlers, copper and iron, bringing a bit of the tailor's London home to the American Roads.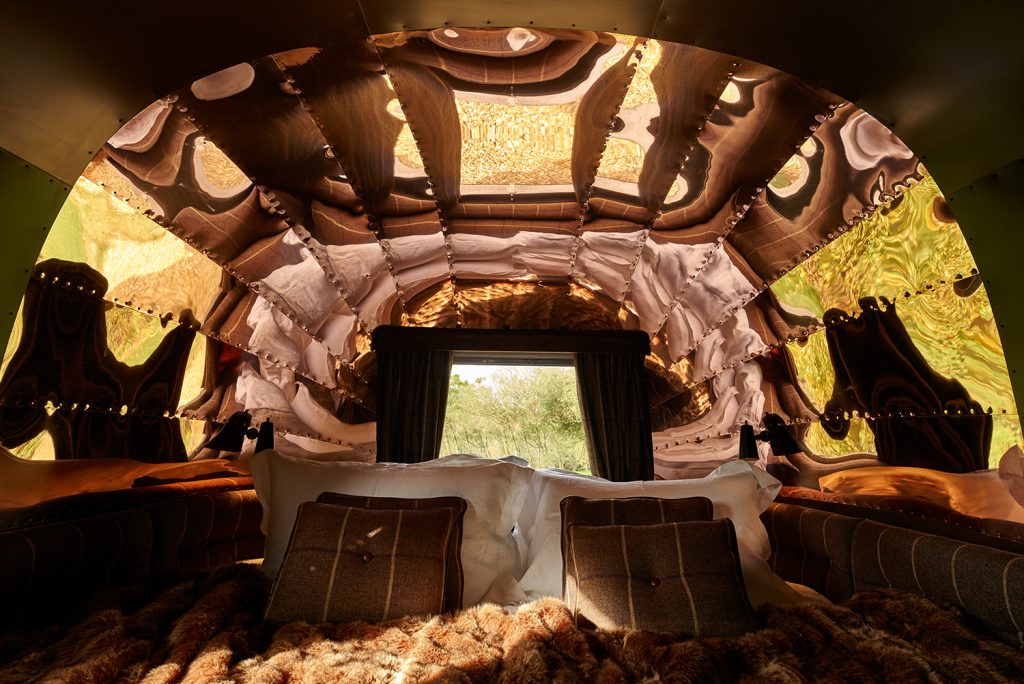 A nod to classic cars and to Huntsman's British heritage, the Airstream not only comes stocked with vintage-automobile-inspired designs including an ultra-luxe leather driving jacket created for Bentley.
The Airstream's bedroom area has been entirely adapted to act as a fully equipped fitting room including a triptych mirror. Here, clients will experience an appointment with one of Huntsman's expert cutters, who will start by taking measurements and sketching their vision of a design tailored to your body and tastes.