HURLEY UNVEILS NEW SWIMWEAR PRODUCTS FOR SUMMER '17
Surf brand Hurley has unveiled its new men's summer '17 line, which features everything from boardshorts to a new series of products that elevates the land-to-sea crossover category. These products, which were designed with input by world-champion surfer Rob Machado, retail from $65 to $100.
The Hurley Phantom Hyperweave Motion incorporates Hurley's new Hyperweave Waistband—a single-layer panel of four-way-stretch fabric engineered with tunnels that house rigid mag wires to stabilize the waistband on the body. It stretches, reacts and moves with the athlete, but when pulled horizontally it locks out, anchoring the shorts to the waist. This technology also reduces bulk by 50 percent and weight by 30 percent than the traditional boardshort, while the shorter 18-inch inseam length lands just above your knee, staying out of the way while you surf.
The Hurley Alpha Trainer's uses a lightweight, quick-drying and breathable rip stop fabric that cuts out bulk will boosting performance, durability and comfort in and out of the water. The sewn waistband has a tunneled drawchord, while multiple zippered water-friendly meshpockets keep small items secure.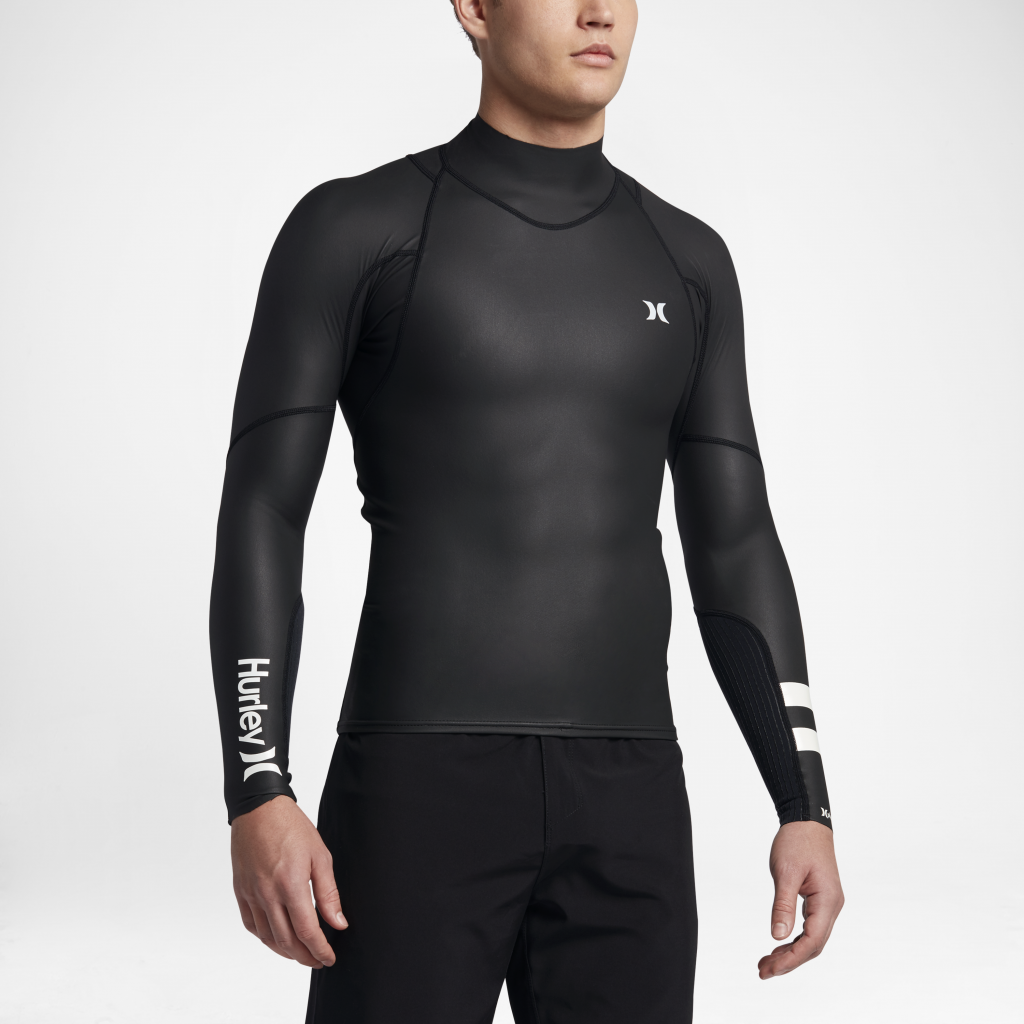 The Hurley Phantom Windskin is made from ultra-thin half-milimeter smoothskin neoprene. This second-skin-like material is 100-percent wind- and UV-proof, while the exterior has zero water absorption to minimize wind chill.
Hurley's Fleece collection bookends their activewear by providing solutions for protection, warmth and comfort for before and after water-based activities. The Hurley Therma Protect Zip features Nike's Therma-FIT technology throughout the garment, which increases insulation and has a durable water-repellant finish for protection from the elements. The Therma Protect Plus offers enhanced protection and more warmth without adding weight. Finally, the Hurley ThermaProtect Max has a three-layer, bonded rip stop outer shell with DWR laminated to Nike's Therma-FIT sphere material inside layer.
Hurley is sold in its own retail stores and specialty surf  and swim shops. Portions of the line are also available at Macy's, Nordstrom, and Nike.com.