INSIDE THE INNER CIRCLE AT PEERLESS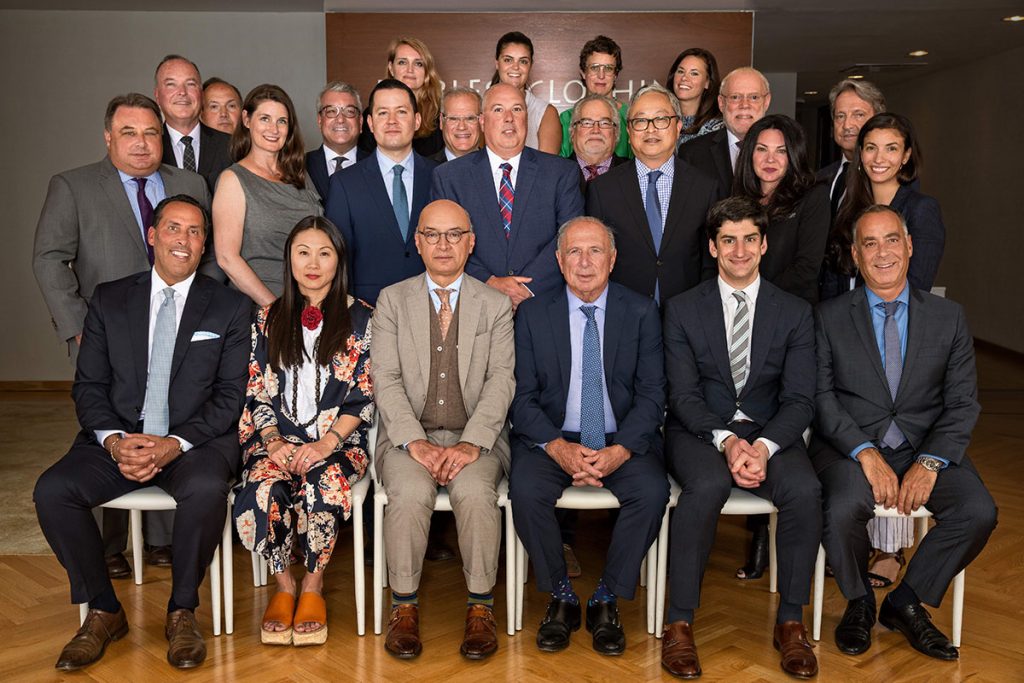 While many marvel at a unique corporate culture that some consider as much a cult as a company, Ronny Wurtzburger's inner circle describes Peerless Clothing as a family. To figure out how this eclectic group grew to dominate the moderate clothing business, acquire virtually every great designer and celebrity license in the business, and have tons of fun in the process, we gathered together a few longtime Peerless associates (most of whom started working there when they were practically kids). Here are parts of our conversation with them:
Q: What have you learned from Ronny, and what's his most endearing trait?
JASON HOCHMAN: Ronny hired me when I was 18 (as a favor to my father's friend who wanted to find me a job) and 31 years later, everything I am is thanks to Ronny. He taught me life. He taught me how to make a deal, how to make dinner reservations (insist on a round table!), how to treat people, how to have fun! To me, he's the godfather.
ANDI COHEN: I was working at the showroom next door and Ronny hired me as a secretary. He didn't talk to me for the first few weeks because he couldn't remember my name (he eventually wrote it on a piece of paper and taped it to his wall). Then when we finally got Dillard's as an account, Ronny gave me a try in sales, where I am today, 22 years later. Ronny's most notable trait: he has the biggest heart. If you ever need help, he's there for you like that! And he's so smart: so many of the decisions I make are based on the mantra "What would Ronny do?"
STEVEN FLICK: I was a buyer at Lord & Taylor and Ronny once told me that if I ever wanted to change sides, I should call him. So one Monday I came up to the Peerless showroom, asked for Ronny, and overheard him tell the receptionist that he didn't have an appointment with Lord & Taylor. I explained that I just quit my job and asked when I could start. There was no empty desk in the showroom so Ronny let me move into his office (facing the wall so he wouldn't have to look at me), and here I am, all these years later… What I mostly learned from Ronny: the art of the deal, how to never leave anything on the table. But I also learned about compassion, about what really matters in life.
JOHN ENOCHTY: Ronny is indeed the master of menswear: master dealmaker, master salesman, master swatch picker, master leader of both Peerless clothing and the men's clothing industry. He has the uncanny ability to foresee market trends, act on them quickly, and keep the marketplace buzzing. His enthusiasm, dedication and drive know no bounds and his personality shines through in any situation. Whether it's the stock guy on the clothing floor or the department store CEO, Ronny can make each feel like he's the most important person in the world. He is also a great humanitarian who gives so much of his time and energy to help those in need.
DOUGLAS RAICEK: First three things that come to mind for me about what makes Ronny so special: Compassion: Ronny is willing to go so far out of his way to help those around him. He treats friends and employees like family. Optimism: Ronny is never satisfied with what he has accomplished. There is always room to grow and room to improve. Ronny is a master at turning a problem into an opportunity. Charm: Ronny has the gift of getting a laugh for saying something that would get anyone else a punch in the face.
MINDY SHULMAN: I'm lucky to have Ronny not only as a mentor and boss, but also as a dad. In both roles he has taught me to be strong, do my best work and speak up for myself. He's instilled in me a tremendous work ethic, always teaching by example. Drive is key in life: be the first one in the office and the last to leave. Most importantly, Ronny is special because he makes everyone around him feel important. And he'll go out on a limb to help anyone he knows. He works harder than anyone but has time for everyone.
RICH WURTZBURGER: He loves his work: it's his passion and his hobby. He's always thinking about business and his customers always come first. What I've learned: Second place is for losers. Make it happen. Always be ready to call an audible.
SUZANNE ANDERSON: He's one of the last true merchants left in our industry. He's the most savvy business person I know, yet he also understands product and what newness is needed to drive sales. He's always willing to take a risk if he believes in something. And when he gets excited about something new, there's no stopping him. He'll call every store president, VP, GMM, DMM and buyer to share his new passion. I've learned from Ronny to have tough skin. Learn to forgive and move on.
ANNA FERREIRA: What makes Ronny tick is his ability to connect with people. He loves his showrooms full of customers, and he goes from one to the other greeting everyone and making jokes. He's a tornado of energy that enlivens any room he enters.
CLAIRE SAAD: I've worked with Ronny for 27 years and I've learned everything from him. We're very different: his strengths are my weaknesses and vice versa, so we depend on each other and we've learned how to deal with each other through good times and bad. He is the warmest, most genuine person I know and a total softie: his heart goes out to anyone who needs him. If I had a problem, I know he'd be on the first flight to Montreal to help me.
LORI PULICHINO: Although I'm relatively new here (SVP for HSM and Todd Snyder), I've come to know a man of great love, enthusiasm and respect. Ronny has an amazing eye for detail, a wonderful way to make a collection tell an individual story, and a real sense of what it takes to get the job done. You can see it in how his eyes light up during a line presentation, by the pile of tear sheets he brings to spark inspiration, and by the impromptu meetings in our lobby, bringing together total strangers. The incredible talent that walks through our doors also speaks to Ronny's fantastic way with people: from Joe Namath tossing a football down the hallway to Pedro Martinez signing baseballs in Ronny's office, John Varvatos reviewing his line, Todd Snyder pushing a trunk down the hallway and always the best buyers from the best stores in the world, all coming to meet with Ronny at Peerless. There's no one like Ronny anywhere else in the industry: of this I am sure.
TONY NARDI: Ronny is the Energizer Bunny: his work ethic puts younger co-workers to shame. He's incredibly passionate about men's tailored clothing, always looking ahead and coming up with fresh ideas. There's never a dull moment with Ronny: he's always joking, always fun to be around. He's also a bit crazy: relentless about getting more business and very much a perfectionist. But mostly, Ronny is a man with huge heart. Peerless will never be the same without him.
JIM PETRINO: His talents are too many to pick just one. His essential message: work should be fun! If life is a game, Ronny's certainly won.
Q: Any specific anecdotes that reflect Ronny's unique character?
JASON: He's incredibly smart and intuitive. Whenever I'm on the road and call in, if I try to BS him, he knows immediately.
STEVEN: He's all about family. When I first started at Peerless sharing an office with Ronny, Rich came in with a phone bill and wanted to know who made the 45-minute call. No one admitted to it so Ronny dialed the number and got an answering machine. I freaked out: it was my mother! Ronny admonished me, noting that 45 minutes during work hours is excessive; why not make shorter, more frequent calls? But at some level, I knew he respected me for caring about family, for that's what Ronny is all about. He's also about the independent store merchants. As much as Ronny wants the 10,000 units, he really wants the one.
RICH: One time I had a customer who kept asking to return 12 tuxedos. The customer asked four times and we said no each time. So when he asked a fifth time, Ronny threw him out of the office, all pissed off. When the guy was outside the office, Ronny said to me, "I don't need his crap for a few thousand dollars of business!" I told him we did almost $2 million with them last year. Ronny quickly opens the front door, and yells to the customer to come back, he was only kidding, and of course he'll take back the tuxedos. It's all about the order.
JASON: The first sales call that Ronny sent me on was to April Marcus. He didn't tell me that the buyer was his father.
ANDI: If ever he gets a call from someone dealing with cancer, even if it's a friend of a friend, someone he doesn't even know, he stops whatever he's doing to take the call.
PAT CARUSO: We sometimes make clothing for celebrities and once we were asked to rush out six suits for a celebrity shoot in an impossibly short time. Of course I said no we couldn't do it and then 10 minutes later I got a call from Ronny. I asked him if he was calling about the six suits and he said no, just calling to compliment you on how nice the samples have been coming in. He went on to ask about my family and my plans for the weekend and before I knew it, I had agreed to make the suits. Ronny has a way with words: he can charm you into doing the impossible. He is one in a million: a man with great vision, passion and charisma.
SUZANNE: Ronny started as my softball coach in 7th grade and now he's my business coach and my life coach. He gives me advice on how to manage my team and work with colleagues but he's also the first person I turn to for advice on family matters, problems with my children, college advice for my teenager, etc.
JOHN ENOCHTY: Years ago I was asked to do a eulogy for a dear friend who died at 51, leaving a husband and three children. Not being a good public speaker and still in shock from her death, I was terrified. So I turned to Ronny—the one person I knew who could give me good advice. He calmed me down, looked me straight in the eye and told me I was going to be just fine. He told me not to worry about how I'd look up there and just concentrate on what I wanted to say about my friend. "Don't worry if you break down and get emotional: that's normal." Just before I got up on stage, I took a swig of whiskey and thought about Ronny: I got through it just fine!
Q: Could you describe the corporate culture at Peerless?
STEVEN AND JASON: No.
RICH: Childish, immature and hilarious…but highly motivated, extremely productive and enormously successful. It's perfect for a sitcom on cable TV.
LORI PULICHINO: The team here is a family, first and foremost. Most of those I work with consider Ronny a second father and it's easy to see why. Loyalty and family are the hallmarks of how Ronny manages his people. While he asks a lot of us, it's never anything impossible to deliver. He'll tell you to go for something outside your comfort zone and then will add "Don't worry: I have your back…" And when the work is done, there's time off for all of us to spend with our families. Giving back to the community is another important piece of life with Ronny at Peerless. I'd never been to so many charity events! It's wonderful to know that our hard work not only puts food on the table at home, but also helps support great causes like Ronald McDonald House, education and cancer research.
MINDY: Ronny manages the office with a work hard, play hard mentality. Expect to find workers in the office late at night (Ronny's motto: "second place is for someone else") but also expect a football to come whizzing by you in the hallway outside the showroom.
SUZANNE: Ronny is one of the toughest people to work for: he's incredibly demanding and has no filter. He's also one of the most loyal and caring people I know. There's nothing he wouldn't do for someone on the team. He treats us like his children: he'll argue, yell and scream until something is done right but he'll also laugh, cry and hug when you need it the most.