JEFFREY FASHION CARES CELEBRATES 15 YEARS OF ANNUAL CHARITY EVENT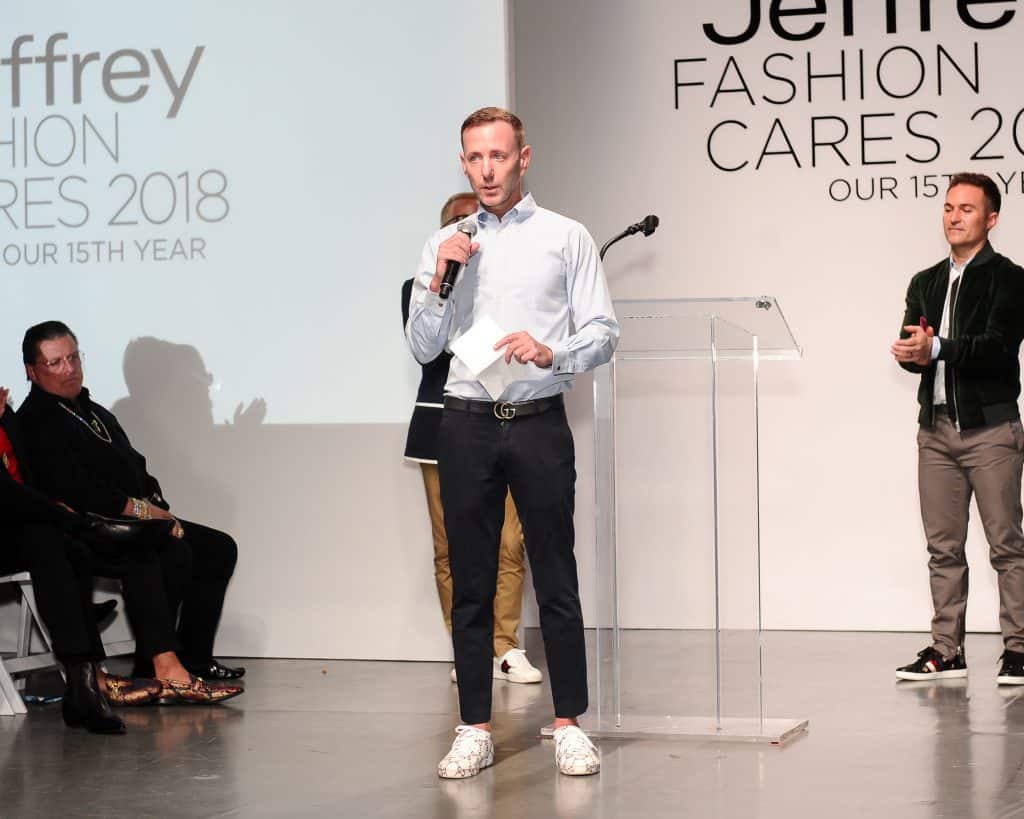 The 15th annual Jeffrey Fashion Cares charity fundraiser, which is designed to heighten awareness of people living with HIV/AIDS and support the LGBT community, was held on Wednesday, April 11 at the Intrepid Sea, Air & Space Museum in New York City.
The event, which included a cocktail party, live and silent auctions, and a men's fashion show, benefitted three worthy charities: the Elton John AIDS Foundation, Hetrick-Martin Institute and Lambda Legal; it raised over $800,000 (in part thanks to a $100,000 donation for chief sponsor Nordstrom) for these non-profit organizations.
Among the more than 600 attendees were retailers Pete Nordstrom and Andrew Mitchell-Namdar, former and current "Queer Eye for the Straight Guy" stars Carson Kressley, Tan France and Antoni Porowski, and Tony and Grammy Award winner Benj Pasek ("Dear Evan Hansen").

Jeffrey Kalinsky, the evening's host and creator, was humble in his remarks. "Fifteen years later we still have so much to fight for, and I am grateful to the legions of men and women who have supported and continue to support this event, and I am so grateful to be shining a light on the challenges and victories of the transgender movement this year," he said.
"This is event is a lot of fun, but it is not easy to put on, and I have to think all the volunteers –this is an all-volunteer event – from my co-chairs to my colleagues at Jeffrey  to the 40 or so major male models who donated their time when they could be making lots of money to all the people who work tirelessly for our three beneficiaries. It's not easy in this world to say 'I will' and these people say it every day."
Also on hand was the evening's honoree, Staff Sergeant Catherine Schmid, a 12-year U.S. Army veteran and transgendered soldier, who accepted the Jeffrey Fashion Cares Community Leadership Award on behalf of all the plaintiffs in the lawsuit challenging the current Trump Administration ban against transgender individuals serving in the military. "I can be given many labels; transwoman, wife, parent, but the one I am proudest of, and which I've fought the hardest for, is American soldier," she said.

Tony- and Emmy Award-winning actress and human rights activist Judith Light ("Transparent") served as the evening's host. She told
MR
she was in awe of Schmid. "I think what she has done is beyond brave; she did not have take on this cause, and that takes enormous courage. This event could not be more timely, since for the past two years, we have seen the darker side of our society emerge when it comes to the rights of minorities, the LGBTQ community and others. A true ugliness in America has been unleashed."
Light, who was dressed for the event by Kalinsky in Prada, also spoke to MR about the importance of fashion. "Fashion absolutely matters. It's about so much more than what clothes I choose to put on in the morning, but what it's about how we relate to each other. What I decide to wear tells you who I am. Fashion really is a subject of great substance, and we don't talk enough about it."