JOHN ELLIOTT BRINGS A LITTLE BIT OF L.A. TO NYC FOR HIS SPRING '19 RUNWAY SHOW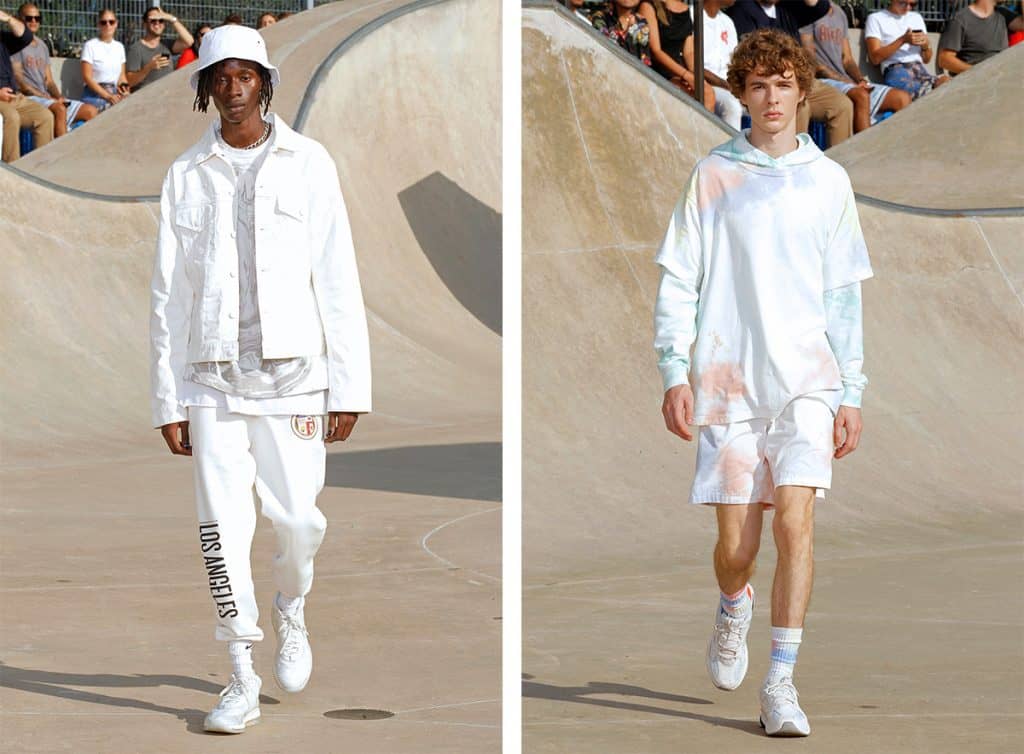 Los Angeles-based designer John Elliott unveiled his spring/summer 2019 men's and women's collection at the Pier 62 Skatepark in New York City on Thursday, September 6. This season marks the designer's first fully developed womenswear lineup, and the first time he has shown outdoors.
For his 13th season, Elliott considered the things he knows and loves about his home city: hardy but vibrant bougainvillea flowers that function, in particular, as scenic plantings on freeway dividers; the reflection and sparkle of light hitting customized classic cars, particularly old Chevrolets known as "Scrapers," which nods to L.A.'s car culture; textiles or blankets that one might throw in the bed of their truck before heading to the skatepark or the beach; oil-slicks glimmering atop puddles in the not-so-common Southern Californian rain; and faded sun spots on certain pieces, as if they were propped for too long in the window of a Venice Beach vintage shop.
This is Elliott's Los Angeles—it's not overdone or spotlit, but rather, lived-in, neighborhood-crossing, peripatetic, and representative of a tangible, contained world within a city's borders. As he sees it, there are few places like it.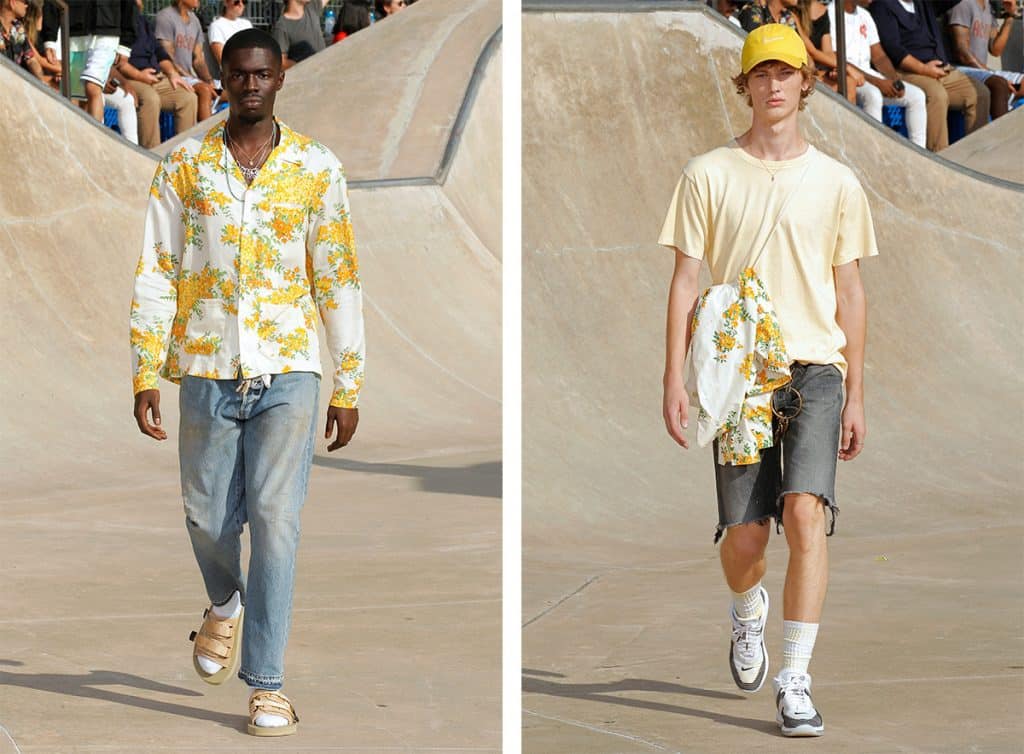 Those bougainvillea petals appear as prints on shorts and bowling shirts, where the oil-slicks are reimagined through a unique marble dying application on French terry crewnecks—the process requires laying the garment into the dye, and then air drying it so the whorls stick. "Tropical skittle" ombré coloring features on basketball shorts and skirts, and outerwear is a key focus—especially with transparent nylon jackets, treated to mimic a car's paint-job in that there's a slight shimmer when the sun hits them. Elliott is also introducing socks, many of which feature a similar oil-mimicking marbleized dye.
Spring also contains a number of collaborations. The LeBron James x Nike x John Elliott Icon sneaker returns, including two unreleased color ways: all-white and all-black. Nike will also reveal a brand new womenswear model: the Blazer Rebel, available exclusively through johnelliott.co later this month. Ongoing collaborations include partnerships with Blackmeans on leather (highlights here include ivory and cobalt vests and jackets made of painted, coated calf that are meant to crack with age—this season is also the first time that Blackmeans is working with Elliott on womenswear) and Suicoke on sandals, while a new link-up, with the Japanese jewelry label M.A.R.S., sees wallet chains with serpent-like key rings, earrings, and necklaces made of 14K gold with jade and onyx.
Elliott will also tease another collaboration—one with the city of Los Angeles, which has lent its support to the label. Tees, handheld fans and ponchos feature the city's official government seal; more product will be introduced over time.