JOSEPH ABBOUD EXPLORES THE DARKER SIDE OF MENSWEAR FOR 30TH ANNIVERSARY COLLECTION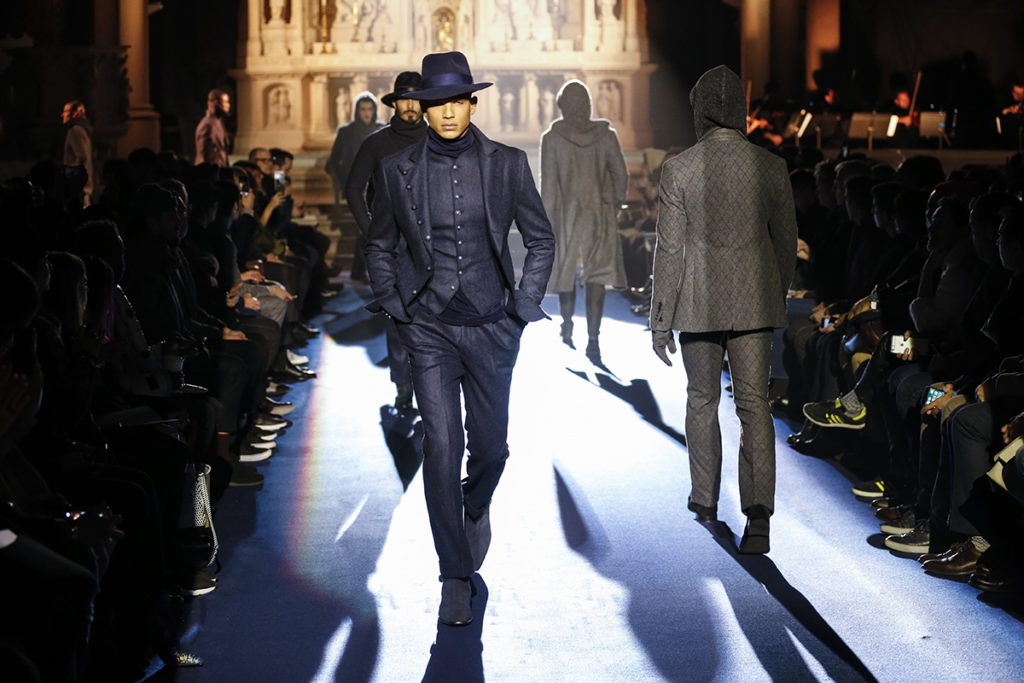 Today marked the official start of New York Fashion Week: Men's and the start of a celebratory year for Joseph Abboud; the brand kicked-off its 30th anniversary with a dark and mysterious fall 2017 collection at a deconsecrated church in Manhattan.  With a heady air that conjures the mood of Edgar Allan Poe's "The Raven," this cinematic offering of 50 looks draws upon the concept of American Gothic, emphasizing dramatic silhouettes, saturated colors, and sumptuous textures.
The dark color palette began with black, dark gray, aubergine, madder green and stain glass blue, later evolving into ivory and alabaster. Rich jacquards, opulent brocades, knit herringbones, quilted leather, and water-stained velvet were seen throughout. Layering, too, is a focus, with a casual approach to cashmere turtlenecks and luxurious knits.
"I wanted to have fun with it," says Abboud of his ultra-dramatic fashion production, where even the string orchestra musicians were elegantly attired in Joseph Abboud suits and turtlenecks. "I realize the fashion was dark: because of my background in literature, my references were Oscar Wilde, Edgar Allan Poe, Dorian Gray… This was the darker side of Joseph Abboud; I wanted to show my range."

Abboud notes that more than anything else, his fashion shows are testimony to the talented artisans at his New Bedford factory. "New Bedford is not known as a glamorous city but to me, it's the most glamorous place in the world. There's nothing I love more than sitting with Sal Mellace over a pizza and analyzing the finesse of a shoulder, the exact placement of the buttons. The factory's capabilities are unlimited: if you look at the coats in the fashion show, they were fitted at the waist and then flared from the waist down to create some drama. I've been working with Sal for 30 years and there's nothing he and his team can't do."
Abboud also confides that his custom suit business for Tailored Brands is through the roof. "We sold 49,000 custom suits this year, also testimony to the talents of our artisans. Men are now buying tailored clothing because they want to, not because they have to. And Men's Wearhouse has established a leadership position re: how men dress." As for the impact of the fashion shows on what the 700 stores actually sell, Abboud is adamant. "There's a definite diffusion effect," hi insists. "For example, we hadn't planned on doing velvet eveningwear in Men's Wearhouse last fall but when Scott Norris saw the fashion presentation, he loved it! So we bought some of the same fabrics: it did really well in about 200 MW stores. So for me, the fashion show is a laboratory: it pushes us to be better so we never rest on our laurels."