LANDS END OPENS FIRST NEW STORE IN 2018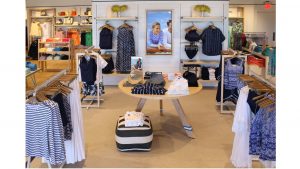 National retailer Lands End has opened a 5,000-square-foot store in Kildeer, Illinois, the first of four to six stores that the company plans to open in 2018.
This new store features the latest casual clothing and accessories for women and men, including dresses, shorts, dress shirts and the new Sunrise Swim Collection. In addition, the store features a dedicated digital shopping lounge, complete with comfortable chairs, catalogs, a phone connected to the company's call center, computers, a touchscreen kiosk, that makes it easy for customers to shop the company's entire assortment online.
The shop's clean lines make it inviting for customers to navigate the store and find exactly what they need. The bold Lands' End colors, true navy and white, provide a classic backdrop to the modern shopping experience. Moreover, the store's layout features cleverly designed "rooms" that separate and define clothing categories, making for a more intimate shopping experience in the large space.
To tell the Lands' End story, visual displays feature seasonal, iconic items such as duffels and outerwear, along with the product's history and features. New digital signage will showcase multimedia content such as photos, videos and social media.
"Kildeer is a great location and we are thrilled to be bringing the Lands' End brand to life with our new store opening," said Jerome Griffith, the retailer's CEO and president. "We can't wait for the Kildeer community to experience the quality, value, service and style that is the heritage of our brand."