LINDER EXPLORES WHAT IT MEANS TO GROW UP HOMOSEXUAL IN NEWEST COLLECTION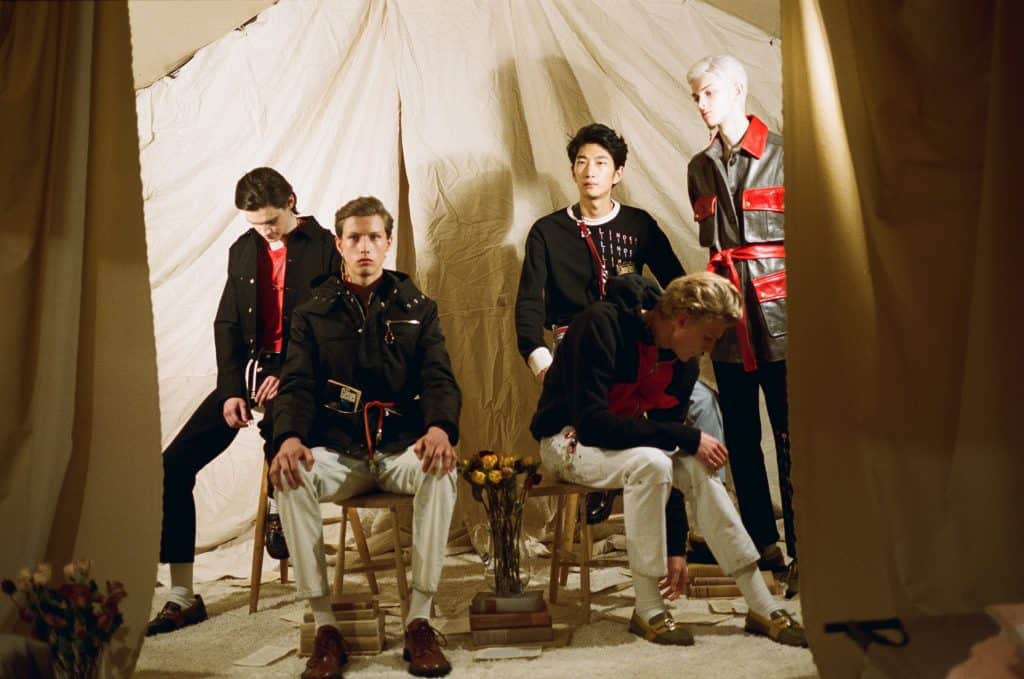 For fall, Linder's Kirk Millar debuted his newest men's collection at a special presentation during NYFW: Men's at The Standard, High Line in the Meatpacking District on Monday, February 5.
The roots of the brand's newest collection are the personal, and common, experiences of growing up homosexual, still considered by many a deviance of social norms, and the conformity in masculinity that is extreme in military culture.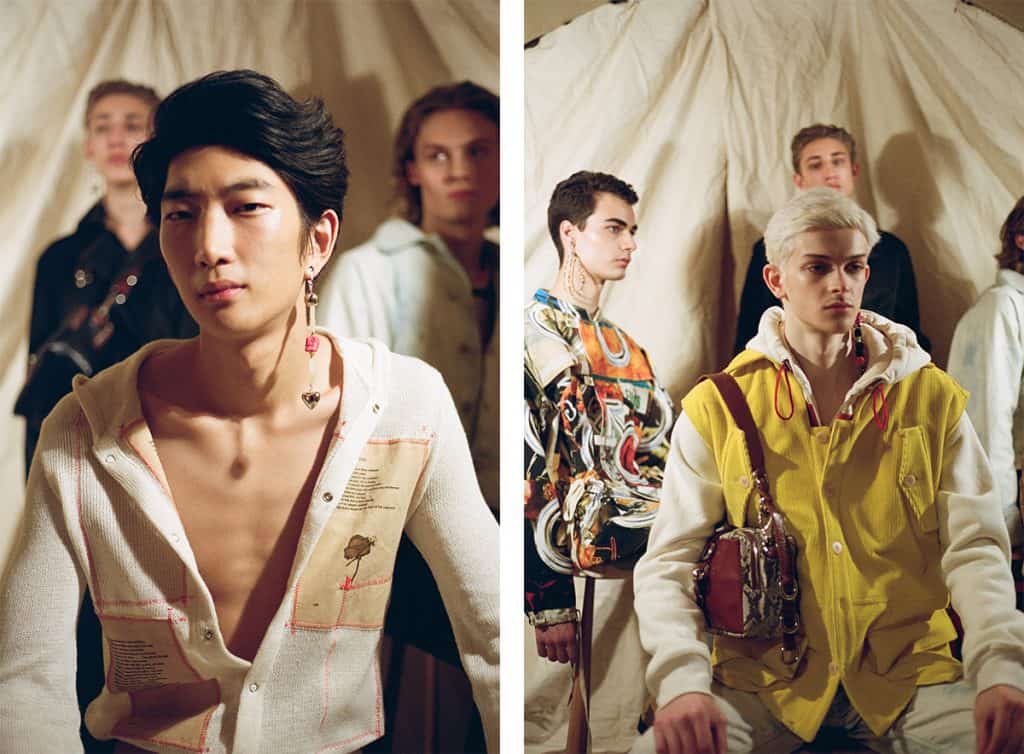 Fall/winter '18 examines the pressure young homosexual men feel to fit within our culture's idea of what makes a man, i.e. toughness, aggression, physical strength, etc. The exterior appearance of a bleached out palette, cut in traditional military silhouettes guards interior garments, reveal a rich color range which evokes stereotypes of 'femininity', but more importantly represents the intense inner life of a homosexual male that is painstakingly hidden from the outside, masked and suppressed by the pressure to appear masculine.
The garments are lined with pages from heroic poets and authors who discussed homosexuality at times when it was outlawed: Cavafy, Crane, Whitman, et al. The male symbol is placed around the garments in the form of hardware, jewelry, and print, as a display of the romantic love for other men, as a badge to wear proudly. Crocodile shoes are a reference to Stilitano, the emotionally distant love object of Jean Genet, whose garments he lovingly and carefully describes in "A Thief's Journal".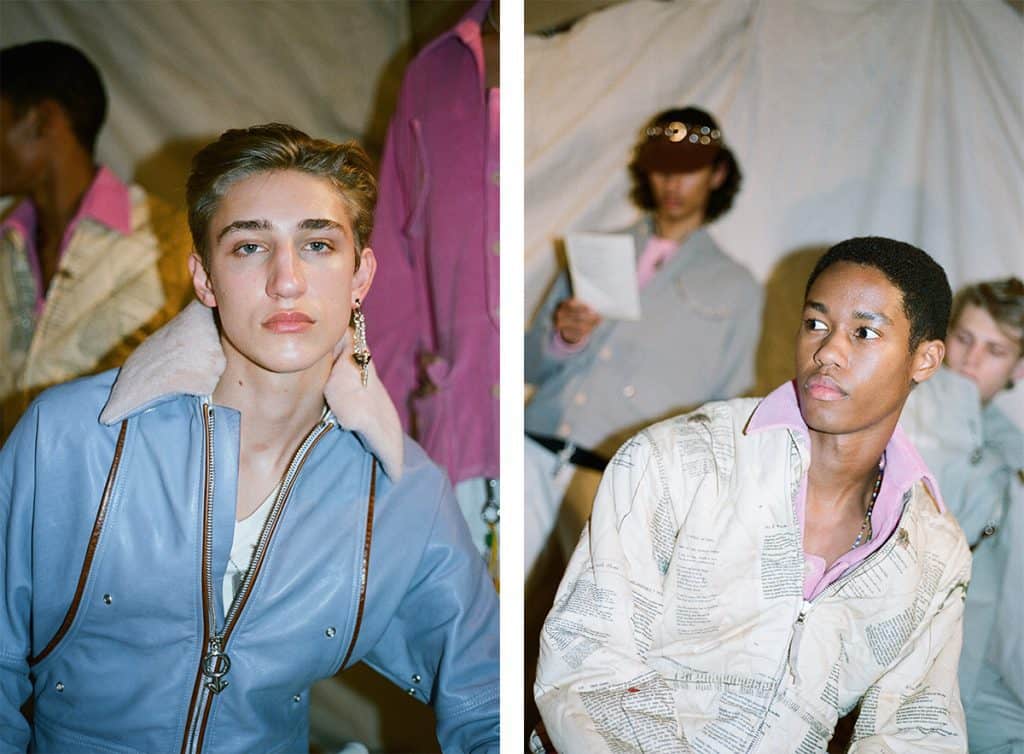 A Vaseline jar is turned into a military watch — a nod to Genet's description of his feelings of abjection while in prison, and the redemption that came from not only owning his truth, but putting it on a pedestal: after the guard finds Vaseline in his pocket and displays it among the other sneering prisoners, the author inwardly pledges devotion to the jar, the symbol of his true but collectively rejected self.
Electric extension cord belts are warped, with only "male" ends to tie and dangle together. The outerwear in bold colors represent the truth asking to be revealed, and eventually finding its way outside the shell of forced masculinity and into the world; acceptance. The collection is one that hopes others find much pride, love, and affection layered in its seams.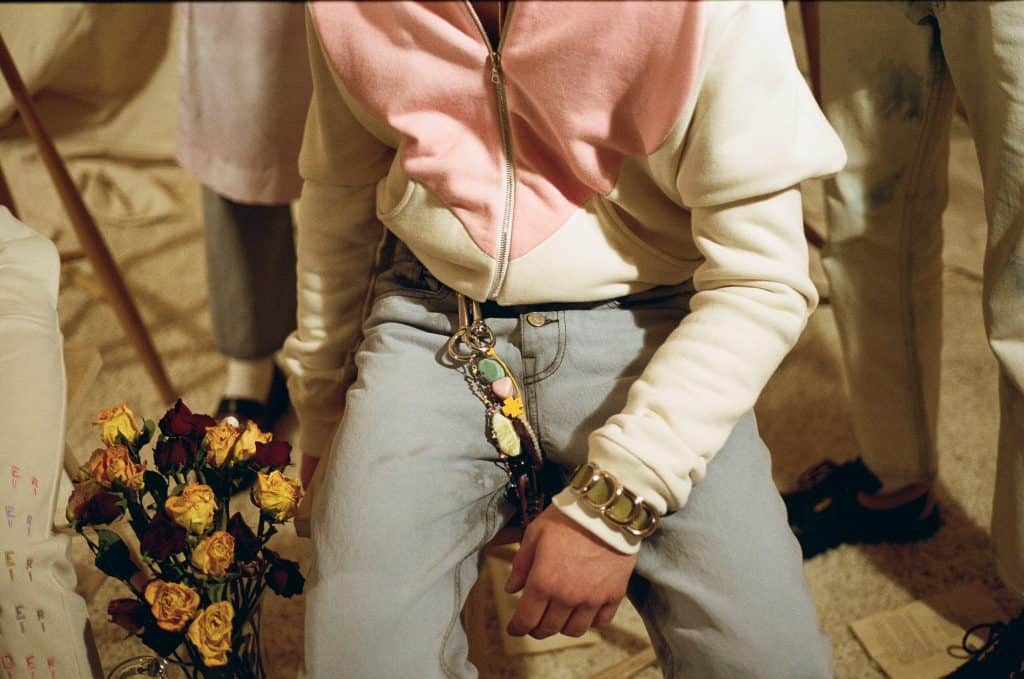 Photos by Will Foster