LUCCHESE BOOTMAKER CELEBRATES 140TH ANNIVERSARY WITH EXCLUSIVE BOOT LAUNCH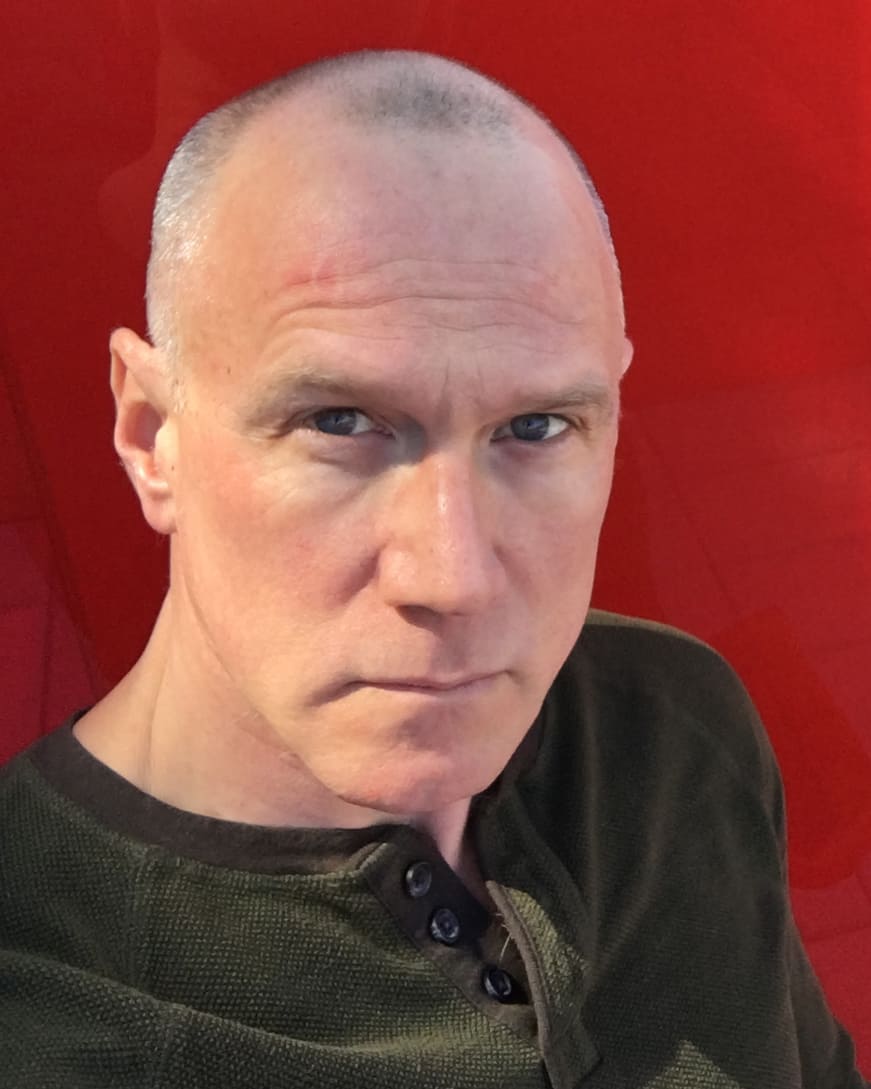 Texas-based brand Lucchese Bootmaker celebrated its 140th Anniversary on last week on November 9th, third-generation Sam Lucchese's 100th birthday. This milestone marks a commemoration of much more than the brand's longevity. It honors Lucchese's history as an American-made, Texas brand, as a steward of American Western lifestyle, and as a dedicated proponent of craftsmanship.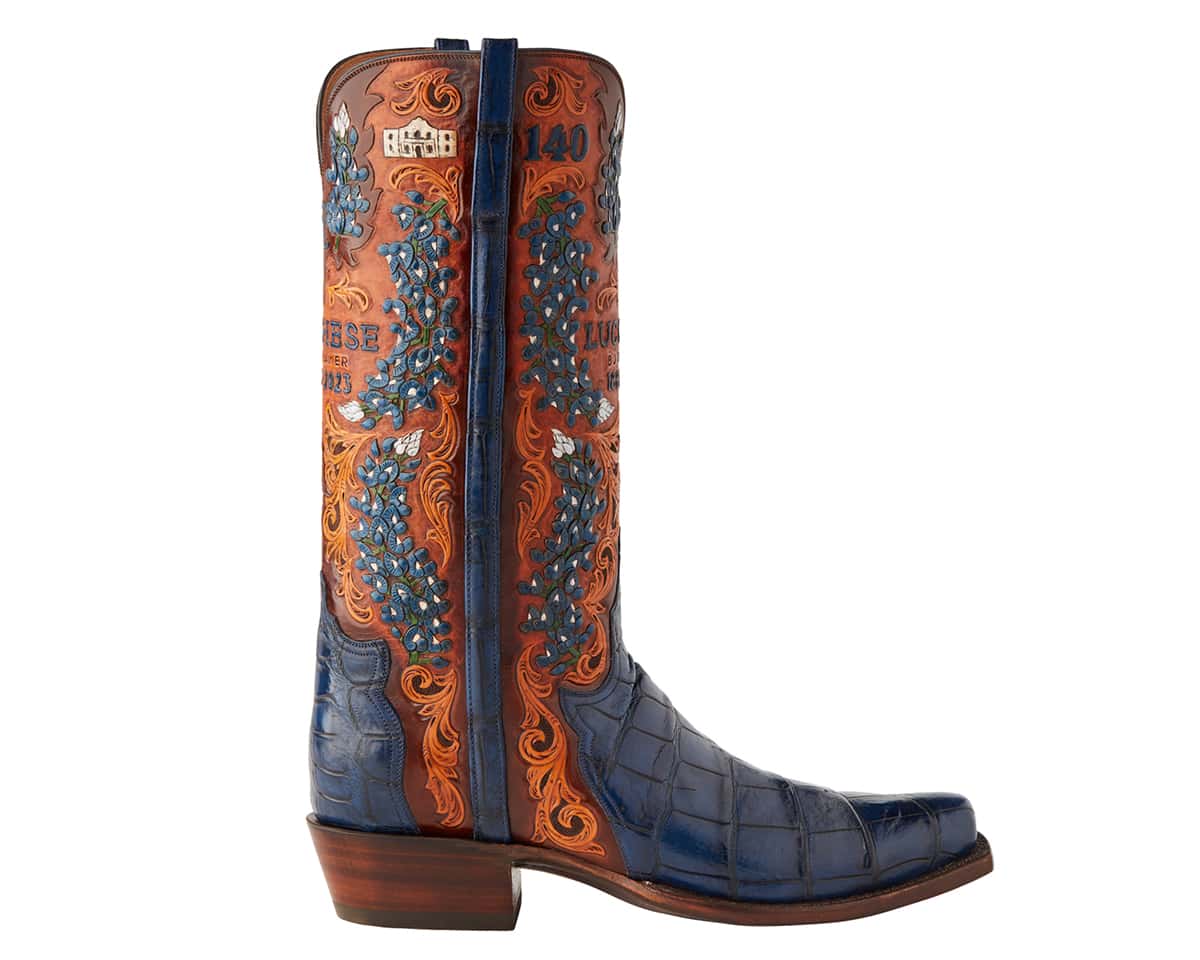 To celebrate, Lucchese is releasing an exclusive and limited-run collector's edition 140th Anniversary boot, The Bluebonnet, which has been several months in the making and is priced at $15,995. Only 140 of these made-to-order boots will be available, and customers will only have until the end of 2023 to reserve their special pair. The Bluebonnet is a thoughtful and intentional love letter to the brand's history, attention to detail, and its origins in the Lone Star State. The vamp of The Bluebonnet is wrapped in Giant American Alligator, hand-stained a rich bluebonnet blue uniquely created for these boots. Around the unique silhouette of the boot are hand-tooled images of the Alamo, in honor of Lucchese's founding in San Antonio; a scripted "140" to note the milestone anniversary; and bluebonnets, Texas' state flower, surrounding the Lucchese logo and the brand's active years of 1883 to 2023. Because of the level of detail that Lucchese dedicates itself to, the hand-tooling alone takes over 80 hours per pair of boots, before they are even assembled.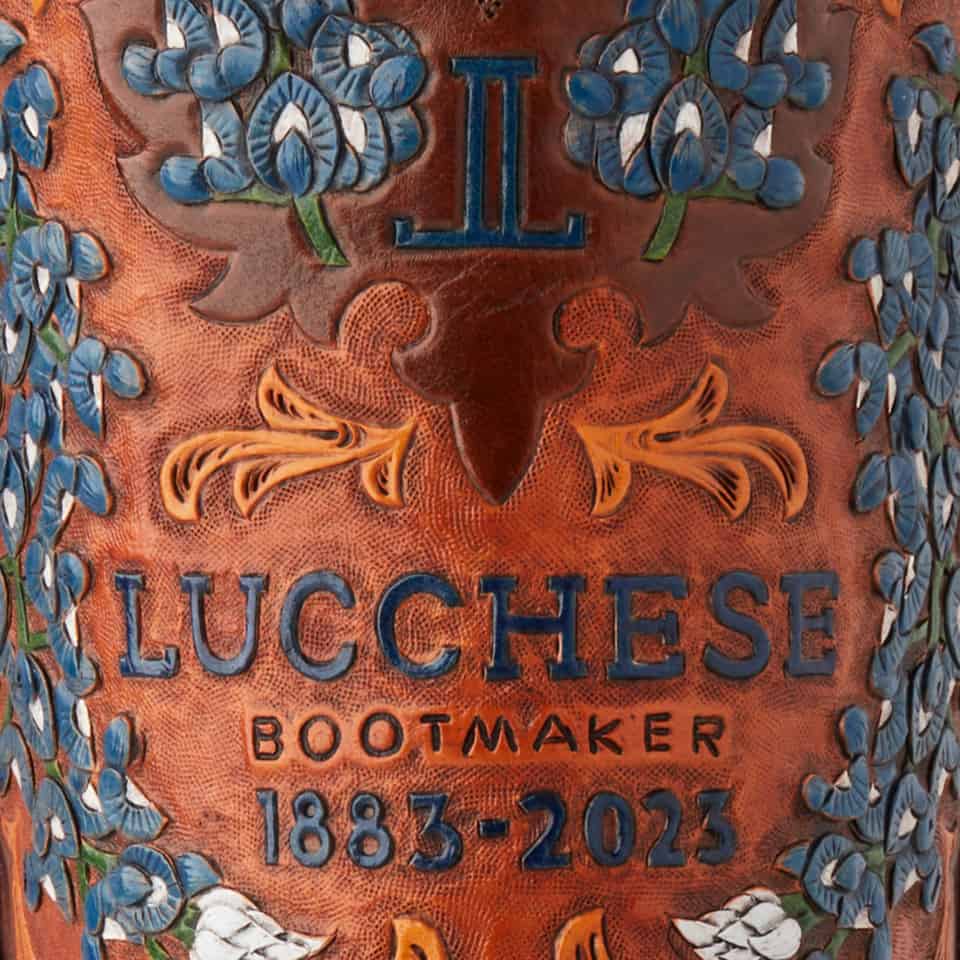 "Craftsmanship is what defines Lucchese, and our appreciation for even the most minute details is what sets us apart from anyone else," says Trey Gilmore, Director of Product Development and Men's Design. "You can see these truths are proven in all our products, but this 140th-anniversary boot is a deep celebration of these qualities and pillars of who we are."
With each purchase of the exclusive pair of boots, buyers will receive a commemorative leather boot bag with Lucchese's limited-run 140th Anniversary logo and a packet of bluebonnet seeds, so they can take another piece of Texas home with them. Each boot will also come with a certificate of authenticity, marking which pair of boots the purchaser received out of all 140 in the lineup.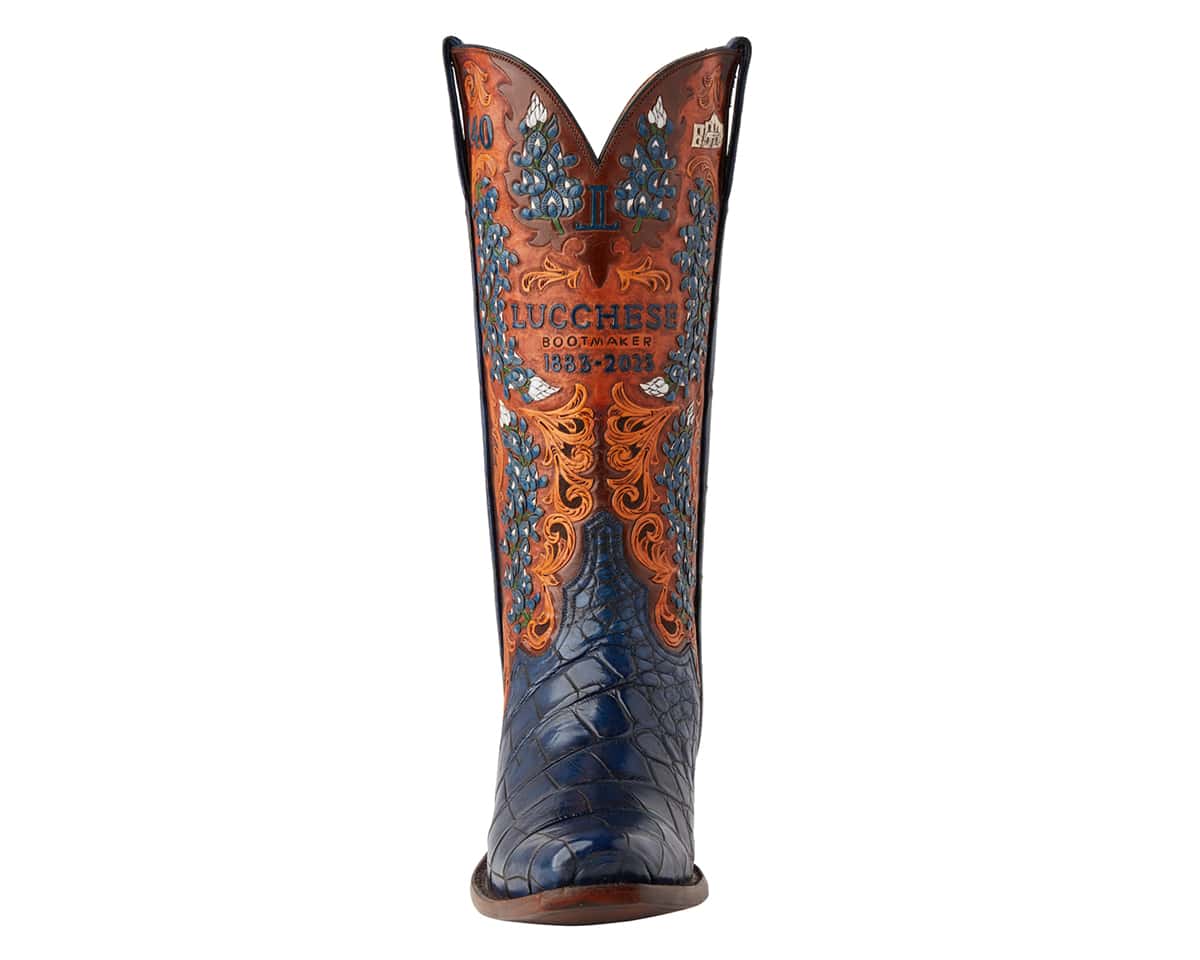 Beyond recent trend reports in the fashion industry, the business of the cowboy boot has been an ongoing operation for over a century. With 140 years of tailored skillfulness and artistry under its belt, Lucchese is not only continually sharpening its expertise and resonating with new and veteran fans of Western fashion but also maintaining a strong dedication and emphasis on craftsmanship and heritage within all of its products.
"Most, if not all, companies in today's world would argue that there is always a value add when it comes to innovation, but at Lucchese, we appreciate innovation in a different way," says Doug Kindy, President. "For the last 140 years, we have invested in our bootmakers and their craft to ensure their growth as craftsmen. This is so that we can not only continue along a path of distinguished excellence but also honor what it means to be a luxury artisan."
Lucchese prides itself on being a Texas-based brand and honoring the American West since 1883. Founded in San Antonio in 1883, the company is now headquartered in Dallas, and the brand's beloved boots are brought to life at its own manufacturing facility located in the cowboy boot capital of the world, El Paso, Texas.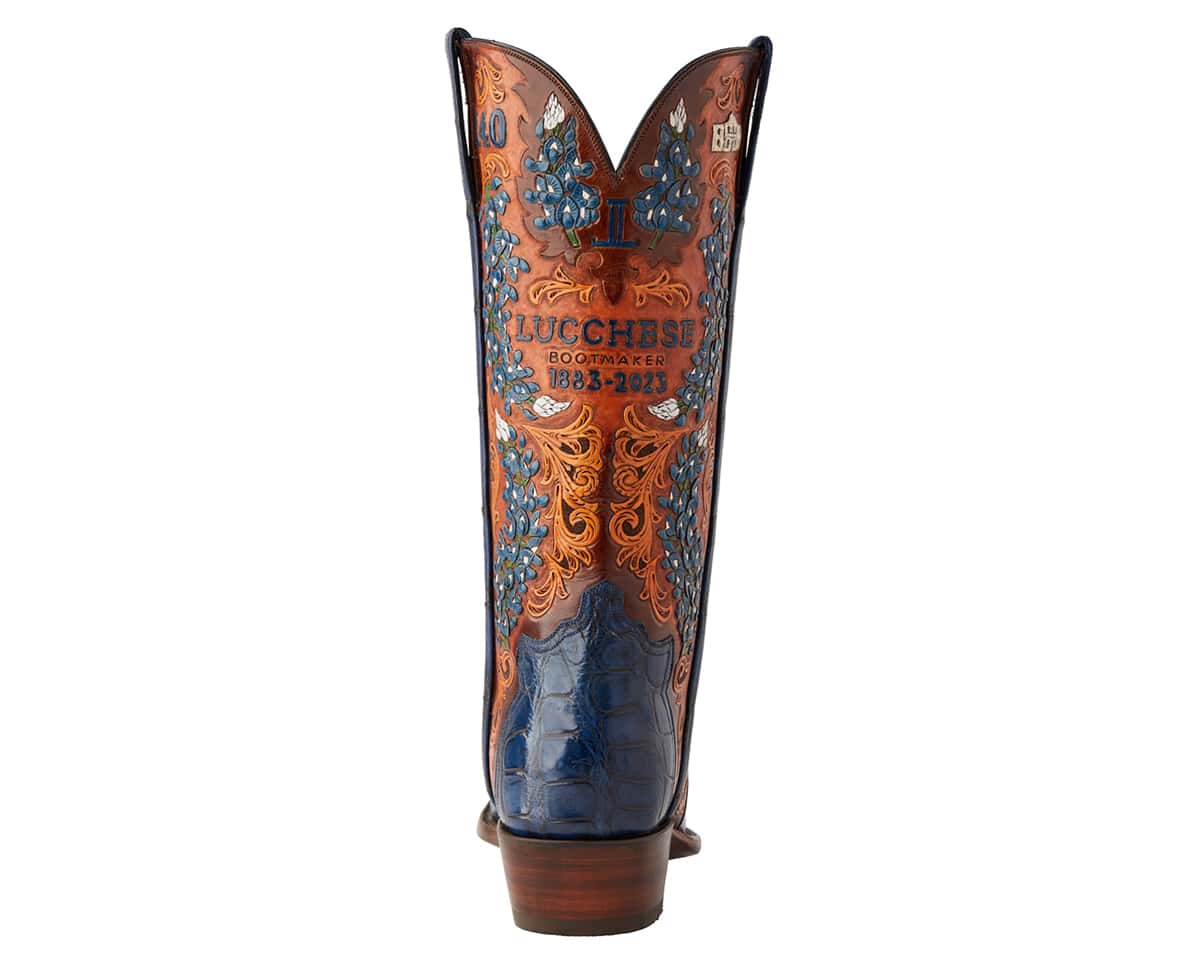 "To this day, every pair of boots we produce is touched by 180 to 200 hands before completion. There is something beautiful about the fact that expert craftsmanship cannot be fully automated and that Lucchese details and designs cannot be replicated," says Kindy. "As a steward of this American heritage brand, it's an honor to mark this milestone. Our customers and passionate bootmakers continue to give us so much. Our celebrations are for them because they are the reasons we are still here."
Lucchese looks forward to celebrating its 140th anniversary with the exclusive anniversary boot, The Bluebonnet, along with in-store offerings and celebrations at participating stores nationwide.