MACY'S TO CLOSE 68 STORES, CUT 10,000 JOBS AMONG NEW STREAMLINING ACTIONS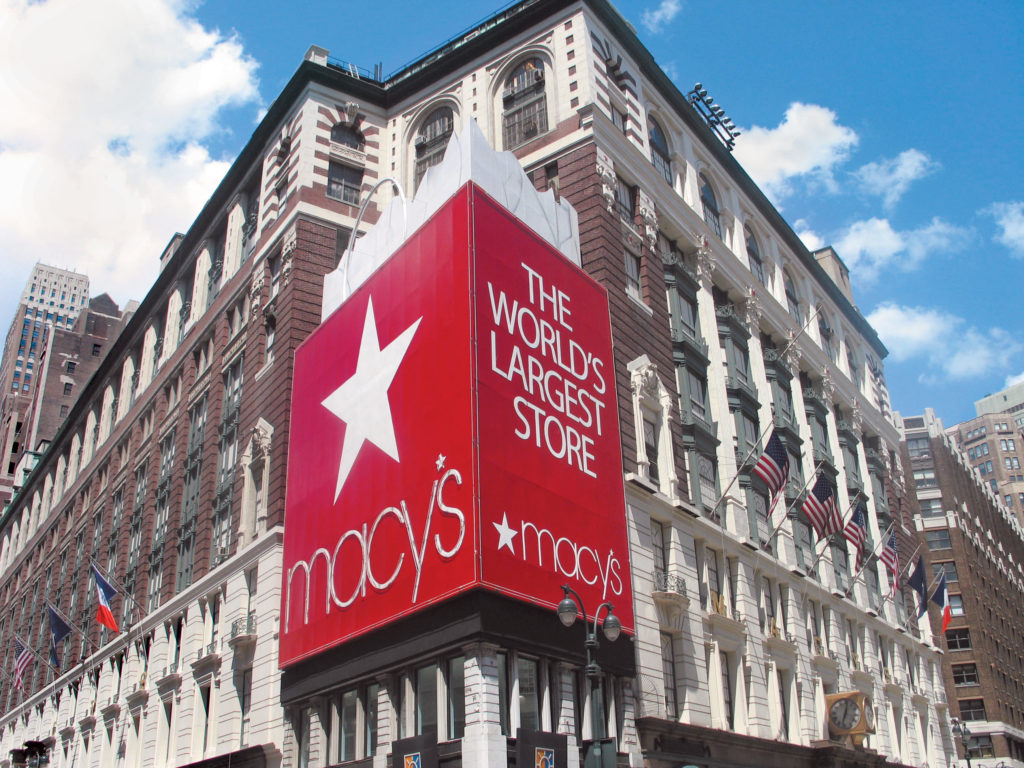 Macy's, Inc. has announced a series of actions to streamline its store portfolio, intensify cost efficiency efforts and execute its real estate strategy. These actions aim to bolster the company's strategy to further invest in its omni-channel capabilities, improve customer experience and create shareholder value.
Among these actions, Macy's plans to close 68 stores across the country (out of a current total of 730 Macy's stores), and leave approximately 10,000 employees without a job.
Of the 68, three closed mid-year, 63 will be closed in early spring 2017 and two will be closed in mid-2017. Three other locations were sold, or are to be sold, and are being leased back. (A list of planned store closings, as well as store openings, is included at the end of this news release.) The company intends to opportunistically close approximately 30 additional stores over the next few years as leases or operating covenants expire or sale transactions are completed.
As a result of closing 63 Macy's stores in early 2017, along with the three closed mid-year 2016, the company's 2017 sales are expected to be negatively impacted by approximately $575 million. This reflects the company's ability to retain sales at nearby stores and on macys.com through targeted marketing and merchandising efforts.
Associates displaced by store closings may be offered positions in nearby stores where possible. Eligible full-time and part-time associates who are affected by the store closings will be offered severance benefits. The company estimates that 3,900 associates will be displaced as a result of these closures.
Four new Macy's and Bloomingdale's stores are currently planned and/or under construction, as previously announced. In addition, new Macy's and Bloomingdale's stores are planned to open in Abu Dhabi, and one Bloomingdale's store is planned to open in Kuwait, all under license agreements with Al Tayer Group. The company also plans to continue its expansion of Macy's Backstage (within Macy's stores) and Bluemercury (freestanding and within Macy's stores).
To address the need for greater efficiency and productivity, Macy's, Inc. will be restructuring its central organization with a focus on eliminating layers of management to reduce costs while improving decision making and agility. The company also plans to intensify its efforts to reduce non-payroll costs companywide by achieving lower pricing and reducing consumption to deliver sustainable savings. The company estimates that these actions will result in a headcount reduction of an additional 6,200 employees.
Macy's has also announced the sale of its downtown Minneapolis store to the 601W Companies, whose intention is to redevelop the building into creative office space on the upper floors and to pursue retail opportunities on the street and skywalk levels. This transaction is expected to close by fiscal year end.
These actions are estimated to generate annual expense savings of approximately $550 million, beginning in 2017, enabling the company to invest an additional $250 million in growing the digital business, store-related growth strategies, Bluemercury, Macy's Backstage and China. These savings, combined with savings from initiatives implemented in early 2016, exceed the $500 million goal communicated in fall of 2015, one year earlier than expected.
"Over the past year, we have been focused and disciplined about making strategic decisions to position us to gain market share and return to growth over time. While we are pleased with the strong performance of our highly developed online business, as well as the progress we have made on selling and visual presentation programs and expense reduction initiatives in 2016, we continue to experience declining traffic in our stores where the majority of our business is still transacted. Given the overall trends challenging us and the broader retail industry, and the time needed to execute new strategies, we expect our 2017 change in comparable sales to be relatively consistent with our November/December sales trend," said Terry J. Lundgren, chairman and chief executive officer of Macy's, Inc. "Our omni-channel strategies continue to evolve based on the changes in our customers' shopping behaviors, including a focus on buy online, pickup in store and mobile-enabled shopping. In addition, we have invested in and enlarged our customer data and analytics team, which will help drive our new marketing strategies for 2017. Whether it is improving corporate agility, enhancing our customer engagement strategies, or continuing to capitalize on the potential value of our real estate assets, we remain focused on the actions that will ultimately improve our financial results and provide the greatest return for our shareholders."