MACY'S TO SELL MORE REAL ESTATE AMONGST NEW EARNINGS REPORT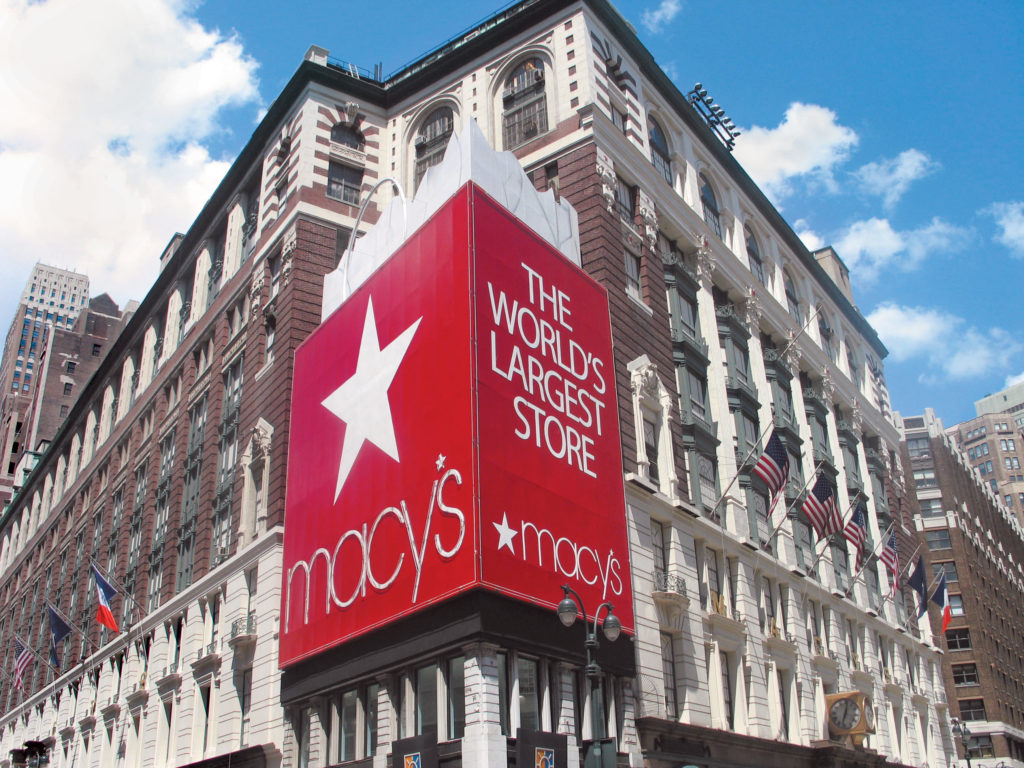 Macy's, Inc. has reported fourth quarter and fiscal 2017 results and is providing guidance for fiscal 2018 that reflects the company's plan to return to comparable sales growth.
Sales in the fourth quarter of 2017 totaled $8.666 billion, an increase of 1.8 percent, compared with sales of $8.515 billion in the fourth quarter of 2016. Comparable sales on an owned basis were up 1.3 percent in the fourth quarter and up 1.4 percent on an owned plus licensed basis. Total sales in the fourth quarter of 2017 reflect the 14th week of sales, whereas comparable sales are on the same 13-week basis as fiscal 2016.
Sales in fiscal 2017 totaled $24.837 billion, down 3.7 percent from total sales of $25.778 billion in fiscal 2016. Comparable sales on an owned basis declined 2.2 percent in fiscal 2017. Comparable sales on an owned plus licensed basis declined by 1.9 percent in fiscal 2017. Total sales for fiscal 2017 reflect the 53rd week of sales, whereas comparable sales are on the same 52-week basis as fiscal 2016.
Heading into fiscal 2018, Macy's, Inc. continues to opportunistically evaluate its real estate portfolio to identify opportunities where the redevelopment value of its real estate exceeds that of non-strategic operating locations. The company also continues to focus on creating additional value from its flagship stores while adding vitality to the retail experience.
In February 2018, the company signed an agreement to sell floors 8 through 14 of its State Street store in Chicago to a private real estate fund sponsored by Brookfield Asset Management. Brookfield intends to convert these largely unused floors into dynamic, creative office space. As part of this transaction, Macy's, Inc. will receive a total of $30 million ($27 million of consideration and a $3 million contribution for certain improvements), as well as upside participation in the ultimate value creation associated with the conversion of the upper floors to office space. This transaction will enable the company to make Macy's on State Street a more vibrant shopping destination. The company anticipates closing this transaction in the first half of fiscal 2018.
The company is now exploring opportunities to sell the approximately 240,000 gross square foot I. Magnin portion of the main Union Square building in San Francisco. Macy's Union Square comprises multiple buildings, and the former I. Magnin flagship building, situated at the corner of Stockton and Geary Streets, is a separate structure well-suited for development. As previously announced, Macy's sold the Union Square Men's building and is incorporating the men's business into the main store. The company is also making additional enhancements to the Union Square main building through the conversion of street-level selling space into high-end retail shops that will be leased to third parties. The Union Square main building will remain the largest department store in the Bay Area and will comprise approximately 700,000 gross square feet.
"We are committed to returning Macy's, Inc. to comparable sales growth in 2018 and will build on the momentum we created in the fourth quarter of 2017," said Jeff Gennette, Macy's, Inc. chairman and chief executive officer. "Macy's, Inc. had a solid fourth quarter, including strong performance in January, and the full year exceeded our expectations for annual comparable sales and adjusted earnings per diluted share. We are encouraged to see a trend improvement in our brick-and-mortar business, and we had the 34th consecutive quarter of double-digit growth in our digital business. Consumer spending was strong in the fourth quarter, and we were ready with improved execution and great products across all categories. We were disciplined with our promotional cadence and maintained a good inventory position. We head into 2018 with an improved base business, healthy inventories, a focused and engaged organization and a clear path to return Macy's to growth."
"In 2017, we tested and iterated a number of merchandising and strategic initiatives as part of our North Star Strategy. These initiatives contributed to our fourth quarter performance, and in 2018 we are ready to scale as well as test additional revenue-driving initiatives. We are also encouraged by customer response to our new Star Rewards loyalty program," said Gennette. "On the path to growth in 2018, we will continue to improve our execution, strengthen our product offerings and make the necessary investments to be competitive with today's demanding consumer."
Looking ahead, the company is strategically investing to accelerate the rollout of a number of near-term growth initiatives impacting stores, technology and merchandising. The company has also developed an employee incentive program to drive results and engagement with associates at every level of the organization, with an emphasis on its hourly associates. These investments are expected to support the company's return to comparable sales growth in fiscal 2018.