MAN OF STYLE: JOHN PIZZARELLI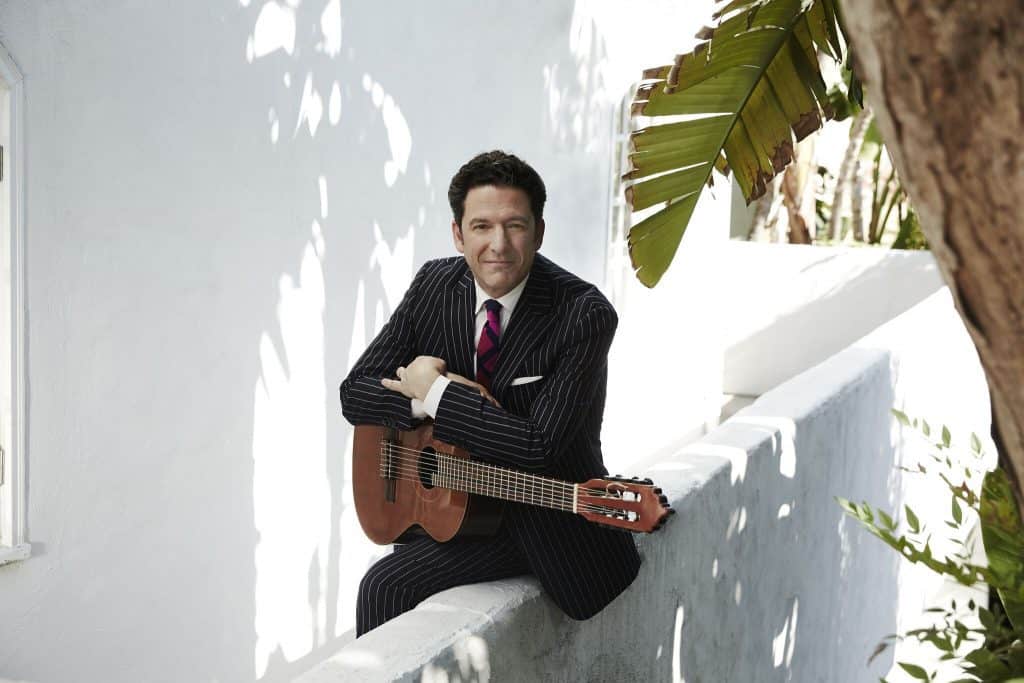 For more than 30 years, John Pizzarelli has thrilled audiences around the world with his peerless guitar playing, sold out clubs from New York to Brazil to Japan;  appeared on Broadway in the musical "Dream" (where he met his wife, singer Jessica Molaskey); and recorded albums with such musical greats as Sir Paul McCartney and James Taylor. Along the way, he has also earned a lot of attention for his devotion to sartorial excellence. MR recently spoke with Pizzarelli in advance of his upcoming engagement at NYC's swanky Café Carlyle (March 20-24).
MR: What should Carlyle audiences expect from you this time?
JP: I was going to do this big Cole Porter show, but I realized it probably needs a year on the road and a record first to gel. And it's so much harder standing up there by myself without Jessica (who often plays the room with them), so I decided I will just play some of my personal favorites and mix it up. I think it will be fun.
MR: Does it feel different when you play the Carlyle than other venues?
JP: I try to approach the Carlyle differently from the other rooms I play because it is a different vibe from the standard jazz club. It's a beautiful setting. But I also love to be able to talk to the audience – and in that room, people tend to talk back –and have people make requests. At most jazz clubs, they expect you to be so quiet.
MR: On to the fashion. Why do you always look so good on stage?
JP: My whole family were jacket and tie people from the beginning. I can remember photos of my father's uncle Peter and his brother Bobby, and they were so well-dressed even during the depression. Even when they were at a picnic, they were always impeccably dressed. Peter worked at a needle-and-thread company in Paterson and that may have been part of it. And of course, my dad (the legendary jazz guitarist Bucky Pizzarelli) is my greatest example. I think I've seen Bucky in sneakers twice in my life. As I tell people, he even cleaned the pool in his loafers. And as a kid, my mother, Ruth, was definitely our fashion consultant.
MR: Where do these great outfits you wear onstage come from?
JP: The most thrilling thing for me is people throwing clothes at me to wear on stage, I've been through Brioni, Paul Stuart, Luciano Barbera, and I love them all. In fact, I love wearing suits of any type wherever I go – I even dress up to go to the theater and I will always put on a jacket and tie anytime I'm on a plane. The hardest thing for me is to dress down. In fact, I am cursing the night some years ago when I went to Gino's (a now-shuttered restaurant on the Upper East Side) without a jacket and tie and Ralph Lauren walked by.
MR: Does your love of tailored clothing extend to your family?
JP: Jessica likes how I look, but she won't talk to me about my wardrobe and she won't buy me clothes. Sometimes, when I'm desperate, she'll mix a shirt and tie for me. Perhaps the greatest things is that my son John Jr, who is now a manager at Babbo, loves dressing up. He actually has four of my old Paul Stuart suits! If we're going out to dinner, he even texts me "are we suiting up tonight?" And he loves it when the answer is yes!