MANAGEMENT ONE PANEL EXPLORES COURAGE AND RISK IN RETAILING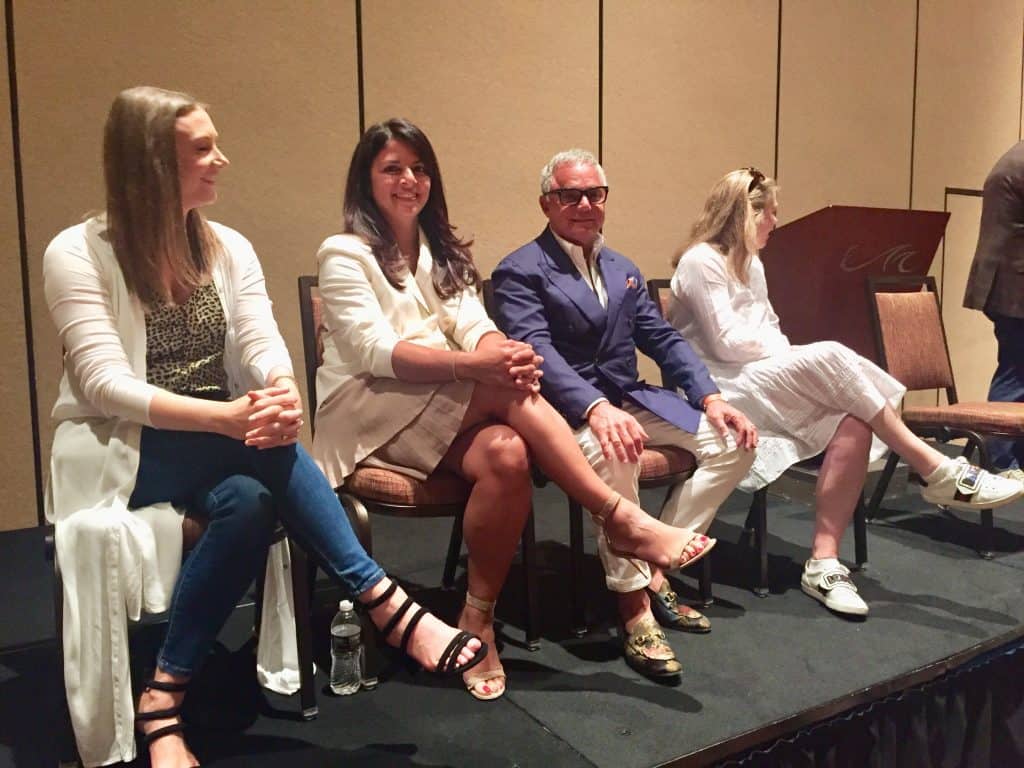 Among the best parts of UBM trade shows are the educational panel discussions. Marc Weiss, president and CEO of Management One, moderated a fascinating presentation on Monday evening on "Courage and Risk." The speakers (in photo from left: Erin Hohnbaum, Gloria Malouf, Sam Malouf and Stacey Pecor) were a diverse group of retailers with two common denominators: the courage to change, and a passion for the business that is virtually contagious.
Weiss kicked off the evening with some tips from a book about the mental challenge of baseball:
*Commit to a mission and make your daily actions consistent with the mission.
*Keep it simple.
*Control your thoughts and emotions so that you stay in the zone.
Meanwhile, here's what we learned from the other panelist:
Stacey Pecor of Olive and Bette's, has four women's contemporary stores in New York City: her original boutique on the Upper West Side, two on the Upper East Side, and one in Soho. She grew the business by getting to know her customers personally, showering them with exceptional customer service, creating an atmosphere of friendship and loyalty and (last but not least) frequently bringing in fresh merchandise. She lives by the mantra that the customer is always right, even if they return something from several years ago; this is the main thing that distinguishes her store from competitors who likely carry broader assortments of many of the same brands. Pecor sees her customers two to three times a week (when they're walking the dog, taking the kids to school, etc.): she knows them well, they know her, and this friendship is a bond.
Sam Malouf grew up in this father's iconic menswear store in Lubbock, Texas where he worked alongside his dad and brothers. When he decided to open his own store in Burlingame, California, he started with men's, believing them to be more loyal. When he added women's, it was expensive product targeted to an older customer. He soon learned that young women were dying for his type of service-oriented upscale store but wanted contemporary product, including new and different fashion from emerging designers. Thank goodness, Sam's wife Gloria is a gifted buyer-seller-events planner. The two have invested in the business, including a half million-dollar remodel, and are growing it nicely, despite the general slowdown in traffic affecting most brick-and-mortar stores. The couple believes that with more competition, their goal is to raise the level of product, service and events. Their "experiences" include things like taking 25 customers to dinner at a top restaurant, hosting a private shopping-spree charity breakfast for 20 women or sending individual customers photos from Paris of fashion to come next season.
Erin Hohnbaum of E. Leighs, started her business at age 26 by taking a $50,000 gift from her dad and, in less than seven years, she parlayed it into a chain of eight successful fast-fashion stores in Arkansas, Texas and Kentucky. Interestingly, she does not consider herself in the fashion business; instead, she describes her mission as "empowering women" by creating a community of people and places where women can hang out if they're having a bad day. For this reason, she does not sell online, concentrating instead on making sure women feel comfortable in the store and leave looking prettier and feeling better than when they came in. She shared some wise advice about hiring, managing and leadership: Make sure your sales associates buy into your mission. Work hard at managing your own mental stamina. Invest in people who are smarter and more capable than you are and let them shine. Hire only positive people. Have the courage to fire people who don't fit into your business culture. Own your mistakes and encourage your people to do the same.