MANNY CHIRICO HONORED AT 40TH AAFA AMERICAN IMAGE AWARDS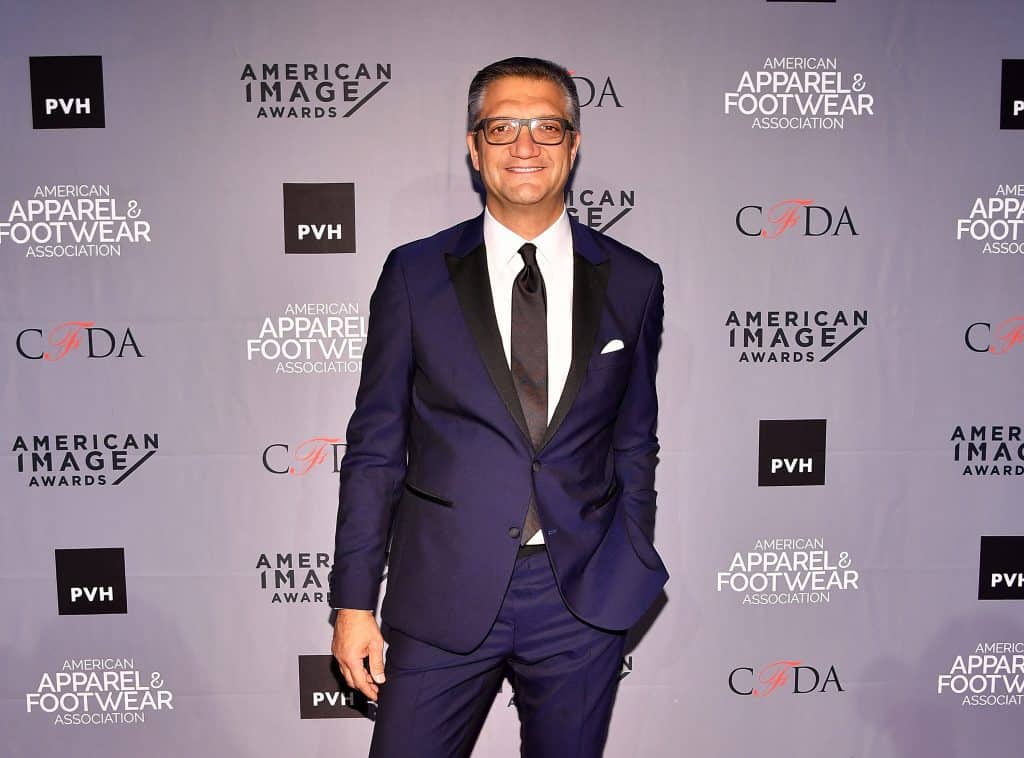 PVH Corp. Chairman and CEO Emanuel (Manny) Chirico was named Person of the year at the 40th AAFA American Image Awards on Monday, April 16 at 583 Park Avenue. The evening also honored Camuto Group (Company of the Year), Joseph Altuzarra (Designer of the Year), Fred Segal (Retailer of the Year) and Mansur Gavriel (Fashion Maverick).
Attendees at the event included Macy's chairman and CEO Jeff Gennette (who came to present Chirico's award); Lord & Taylor president Liz Rodbell, designers Nick Graham and Ruthie Davis, CFDA CEO Steven Kolb, Paralympian Amy Purdy, television personality Cynthia Bailey and host of other luminaries.
Television broadcaster Katie Couric – outfitted by Altuzarra (and what she termed industrial-strength Spanx) – proved to be a charming, self-deprecating host for the event. Calling herself the evening's "cruise director," she told the crowd that "while I am not really a fashionista, I love being in the same room with all you people. It's not just a great event, but a great place to add pictures to my Instagram account."
Prior to the event, Chirico spoke exclusively with MR about the state of the apparel industry and PVH's future. "I think that retail environment in the U.S. is infinitely better than it was this time last year. The inventory pipeline is much cleaner. But I'm not jumping up and down for joy just yet. The environment remains extremely volatile, especially with all the issues we face in Washington such as border taxes and tariffs," he said. "As far as PVH, I am really excited with the direction that Raf Simons is taking our Calvin Klein brand, and I think everyone at Tommy Hilfiger, including Tommy Himself, is doing a great job and there will be a lot of exciting things ahead for that brand."

At the dinner, after a touching video featuring Chirico's coworkers and family and a warm introduction by Gennette, who praised Chirico as a great business partner and mentor and stated that "no one understands both the art and business of retailing better than Manny," Chirico accepted his award after a lengthy standing ovation.
In typically humble fashion, Chirico turned attention away from himself. "I don't believe you honor a person, but you honor a company, and this wouldn't be possible without the 35,000 associates around the world who are the real heart of our company. I always say PVH's two greatest assets are its brands and its people, and the secret to our success for nearly 100 years is that as the world transforms, PVH changes with it. Despite an ever-changing retail environment, we continue to prosper and grow."
Chirico also made mention of his wife, Joanne, his sons Vincent, Michael and Dominic, and most notably, his parents, Dominic and Louise. "I am the son of two hard-working, working-class parents who instilled me in the importance of giving back and getting involved," he said. "I learned from them that a great company is measured by more than its balance sheets or financial results, but by the impact they have on the community."
Photos by Slaven Vlasic / Getty Images for AAFA