MEN'S FASHION FORECASTERS DEBATE HOW TO PREDICT TRENDS IN AN ERA OF SOCIAL MEDIA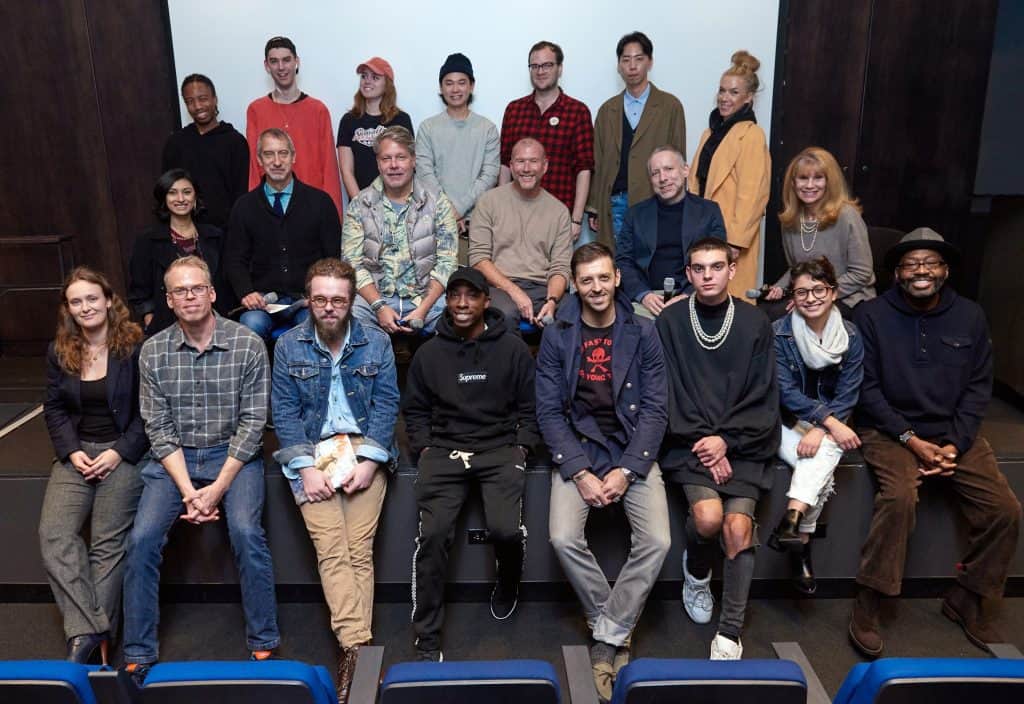 In collaboration with the Fashion Insitute of Technology (FIT), MR recently hosted a panel of men's fashion experts to discuss trend forecasting in 2018. In our social media-driven era, how do retailers project fashion and how can emerging designers get a foot in the door? Thanks to our retail panel and the enthusiastic staff and students from FIT's menswear design program.
Q: Trends once trickled down from high to low, then street style elevated trends from low to high. How does one forecast men's fashion in 2018?
TIM BESS, MEN'S FASHION TREND ANALYST, THE DONEGER GROUP: In retrospect, the olden days were easy: designers and big brands called the shots. These days, you have to look everywhere to find the trends. But if you have a sense of what's next, you'll see it everywhere. I try to project early but I often advise my clients to think about it now but implement it later. A good example is a slouchy fit. You have to know when not to push a trend.
KEVIN HARTER, GROUP VP OF INTEGRATED MARKETING, BLOOMINGDALE'S: Trend is a strange word for us now. These days, we don't tell customers what's cool, they tell us. For the past year and a half, we no longer do trend reports, we do style reports. Now, based on social media influencers, we look to balance it out. We like to tell our customers—young and old—how to get the look but switch it up. That's what resonates. Trends are still part of our business: 'camo is the new black' was recently featured in our windows and we sold about $2 million worth of camo. But we told our story in a different way, as a part of an overall style, not as a separate trend.
MICHAEL MACKO, FASHION PRODUCER/CONSULTANT: Men are different than women. Women change their look every six months. Men move more slowly; they always look for the same things. The goal for the men's industry is to do basics in a new way: camo in black and grey rather than green. Find something that men understand and tweak it. Men feel more comfortable staying in their comfort zone. Also, trends have bell curves: you have to know when to get out. Although it's important to show new looks for the cool kids and early adopters, most men want to wait until they see their friends wearing it. So menswear retailers can stay with a look for a couple of seasons.
KEN GIDDON, CO-OWNER, ROTHMANS NEW YORK: Social media has changed the game. Someone can come up with a great social idea or a cause and that becomes a fashion trend. Tuned-in retailers don't need forecasts: we go to trade shows; we see patterns. We need to be observers and plugged into social media. At our store, we're pretty good at observing: we're not the fastest out there but we know our customer. It took the last two years to get him into fitted jeans. He's definitely not ready for pleats. What's hot now in our store: eco-friendly brands with a story like Save the Duck. (It's well-priced, no animals were harmed…) Swimwear made from recycled water bottles. These little hooks help a lot but what's really driving business now is events. Fewer men are wearing suits for work. My business was 80 percent clothing; now we're one of the largest denim stores in the world. We have 66 different denim piles from three different vendors (but no, I'm not seeing baggy jeans coming back yet.)
MICHAEL: I'm seeing so much gender fluidity, so many high fashion editorials showing guys in ruffled shirts, in lace fabrics, even big sequin brooches like Christopher Bailey showed at Burberry. Clearly, men today are more comfortable with their sexuality. When I was growing up if you cared about your appearance you were labeled gay. Today, men are expected to look good; breaking down barriers between genders is fashionable. It will be interesting to see how that trickles down.
KEVIN: I'm happy to report that despite what you might hear in the media, brick-and-mortar retail is alive and well. We're selling great interpretations of fleece, streetwear, sneakers; all of these are hot. And yes, events are key. A sneaker drop definitely drives traffic. A recent Ralph Lauren event, where they brought back a collection from 20 years ago, had lines around the block at 8 am. It sold out in NY and the Beverly Center in 15 minutes! I had the designer from Public School and several actors calling and texting me to get them product. Another example of driving traffic involved one of my favorite collections: Stone Island. This was a brand we had positioned as a classic brand; then Drake wore it in a video and we started buying it more fleece and now we can't keep it in stock. So it's largely about storytelling. Our challenge is how do we get the message out, how do we make it fun, what are we doing to drive customers into the store? But the good news is that a lot more is working than not.
TIM: We get great specific feedback from our stores. Hot items this fall/winter include a raglan sleeve henley, a fashion fleece crewneck, track jackets and track pants. What is not working is last year's basics. Guys want what's new, not what's already in their closets.
Q: Could you share a few thoughts on what makes a brand cool?
TIM: Marketing is key but you have to start at the item level. When I look at brands, it's often a piece or two that's cool, not the whole collection. Supreme is a whole different story as they did it all— marketing, collaborations, working with Louis Vuitton for a while, limiting distribution. I believe they can keep it going, even on a larger scale.
KEVIN: What makes a brand cool is authenticity. Gucci, Balenciaga, these companies know who they are. These are brands that allow you to push the envelope while being yourself.
KEN: I was also going to say authenticity. I'm not so sure there really are cool brands. What I've learned is most brands do five or six things really well, and then they're reaching for things they're not so good at. When I walk into some of the stores in the Meatpacking District I often see six great items and hundreds that are unexceptional. Look at Faherty and Billy Reid: they do some incredible things that truly reflect their DNA but if you try to buy broad, you lose a bit of the coolness factor. The coolness is in those five or six exceptional pieces. My job is to curate the best of these brands.
MICHAEL: I think we can all learn from the Supreme phenomenon: if you want to be cool, do smaller more frequent drops rather than huge seasonal deliveries. Even though these drops are limited quantities, they create a halo effect around the brand that sells basic logo t-shirts. I definitely think that's the cool. Also, collaborations, even unauthorized, seem to work, as does brand borrowing (e.g. a designer brand using a font that's similar to a streetwear brand.) Exclusivity, authenticity, newness: this very cool customer does not want the same thing that everyone else is wearing.
Q: Would you share the biggest mistake you've made so these students can learn from your experience?
KEVIN: I've learned that you can't make decisions based on your personal taste, especially in a department store. I remember all the years I didn't buy this particular brand that made fancy embellished shirts because I really hated the product. I passed on it for years only to watch every one of my competitors pick it up and build million-dollar businesses.
MICHAEL: When you work in fashion, unless you design your own brand, you can't go by your own taste. As men's fashion director at Saks, I worked so hard getting in a Paul Smith shop; I was devastated the following year when it got replaced by a Versace shop. I soon learned it's never about your personal taste.
KEN: There's an old retail adage: If you're not making mistakes, you're not taking enough chances. My biggest mistake was not figuring out a way to buy the real estate my store is renting. Another was going to a trade show and buying tons of these bright color rubber belts from Italy, packaged in plastic cubes. I think I sold 3 out of 300. (Does anyone want some?)
TIM: My mistakes usually result from pushing our clients too fast. We have many classic traditional stores that don't need to be contemporary, just because I like contemporary. I need to listen before I advise.
MICHAEL: When I was at Saks, chief merchant Ron Frasch would often say that he was very happy to be second. Let Barneys and Bergdorf 's fight over being first. Let them work out the kinks with new vendors.
Q: One question on tailored clothing: is there enough newness? Why isn't the industry changing the basic suit model?
KEN: Men are the new women. They care, they look at Instagram, they're noticing details like peak lapels, pocket squares, inside trim. I believe there's enough newness in models. The problem is that since fewer guys wear suits regularly, they don't see it as an investment. Many of our customers are trading down from a $2,000 suit to a $500 suit. They say they don't really care how it's made or how long it lasts; they're going for a look.
TIM: I recently did a style presentation on suits and I agree there's lots of newness in tailoring right now. I'm loving what I see out of Europe: the amount of heritage that's come back but not the old heritage. It's a new heritage with performance and comfort features. I love the topcoats selling in fast fashion stores worn with denim. It's amazing—so tailored looking. I think there's a generation that wants tailoring in their closets but it's a bit different for a younger generation that never wore suits. I'm loving things like the slouchier topcoat, a great look already selling in Europe and Asia that's very fresh.
Q: Final question to help aspiring designers in the audience: how does a new brand get into your store?
KEVIN: My advice is to persevere. We try to see every brand that calls us. We go to all trade shows, we divide and conquer. My advice is to start off small. Take advantage of the services available to you at FIT and from the CFDA. If you're all about design, find a partner with business savvy, with financial expertise. Maybe don't start out with department store clients.
MICHAEL: My best advice is to do your homework. When I was at Saks, we'd always ask "where on our selling floor do you see yourself? It's important that you know the store.
TIM: It's tough for new brands to break in, especially in a moderate department store that are less open to newness. They don't have the space; they have to make money. New brands would do better to pursue small specialty stores.
Q: How about selling direct to consumers?
KEVIN: I used to work closely with the CFDA and I recall one young designer who decided to drop his wholesale business and go direct. Unfortunately, it didn't work for him; it's harder than it looks. The best success stories are those where there's a balance of brick-and-mortar and digital. You can start out online and perhaps move into temporary pop-up shops.
KEN: New gift markets keep popping up around the city; these are great places to start out I believe. As for reaching retailers, it's not that hard. I suggest you visit the store, send an email, compliment what we're doing, convince us why your line would sell in our store, perhaps consider a consignment arrangement to start. You have to be entrepreneurial but we're in your court. I truly love carrying emerging brands and root for independent designers to take off. What it takes most is perseverance.