MENSWEAR'S BEST DRESSED: MARCO MUGGIANO OF SLOWEAR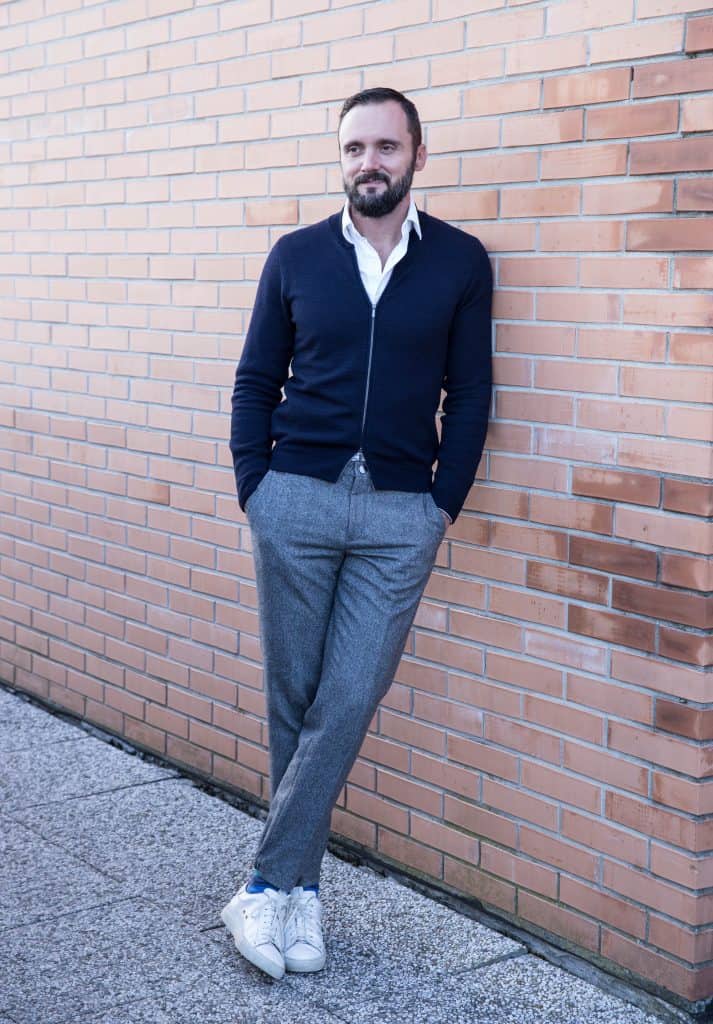 Slowear, one of the more interesting concepts to emerge from Italy, embraces exactly what its name implies: slow, well-made fashion.
The roots of Slowear start in Venice in 1951: an industrial history made from skills and passion developed more than a half a century ago, which is also the inspiration for creating new paradigms- a sort of rebirth of the way we conceive the art of manufacturing and how it can inspire new generations in its approach to consumption.
Slowear is comprised of four individual brands: Incotex, for pants; Zanone, for knits; Montedoro, for outerwear; and Glanshirt, for shirts. Don't think of it as a vertically integrated company but rather an association of the like-minded. Each brand keeps its industrial and production autonomy unaltered to ensure the best production of high-quality products.
To learn more about the company, we recently spoke to Marco Muggiano, Business Development & Communications Director at Slower. Muggiano touches on his personal style, how it influences the company he works for, and his insights into the current volatile state of the retail business.
Q: How would you describe your style?
A: I generally prefer to let others describe my style. Every morning I always try to dress very casual and elegant at the same time. The key is always to find the right balance between comfort and elegance. You spend your full day between meetings, appointments, taxis and being too constrained in a suit is not the best way to combine life and work. I think a good balance between sporty details (like a pair of sneakers), and smarter items (like a tie), can turn your look into something nice to see.
Q: Is there a specific person or thing that inspires your style?
A: Yes, I stopped using a mirror. When you look at yourself in a mirror you will always debate your choices, and I do not like wasting time on insecurities. I watch my outfit from above and just look down. If I see a nice combination (precisely: if I like the combination) and I feel comfortable in it, I am set.
Q: Is your personal style influenced by the Slowear collections?
A: I was wearing Slowear products long before I began working for the brand, so I am not necessarily influenced, but I love the Slowear collections. They fit my style because they perfectly mix casualwear with an elegant touch. I am definitely into smart casual, not really a suit and tie person. Never have been, never will be.
Q: For those who aren't familiar, what is Slowear known for? What's its signature style?
A: In 2 definitions: smart casual and durable fashion. What else could you ever need? Since the 50s, Slowear became synonymous with incredible industrial competence applied to garments. Five brands compose the package: Incotex for impeccably cut trousers, Zanone for advanced knitwear, Montedoro for functional jackets and outerwear, Glanshirt for smart casual washed shirts and Officina Slowear, the accessories brand of the family.
In 2003 when Slowear was created, we decided to keep specialization. If a brand is specialized in producing a specific product and has been doing it for 60 years, that brand can only be the best in that specific category. All brands and collections are always matching versatility and rigor; casualwear and formal wear, elegance focused on comfort. With an emphasis on durability – each item is conceived to survive trends and fashion waves. The idea is to produce an item that will live with you longer than a simple season.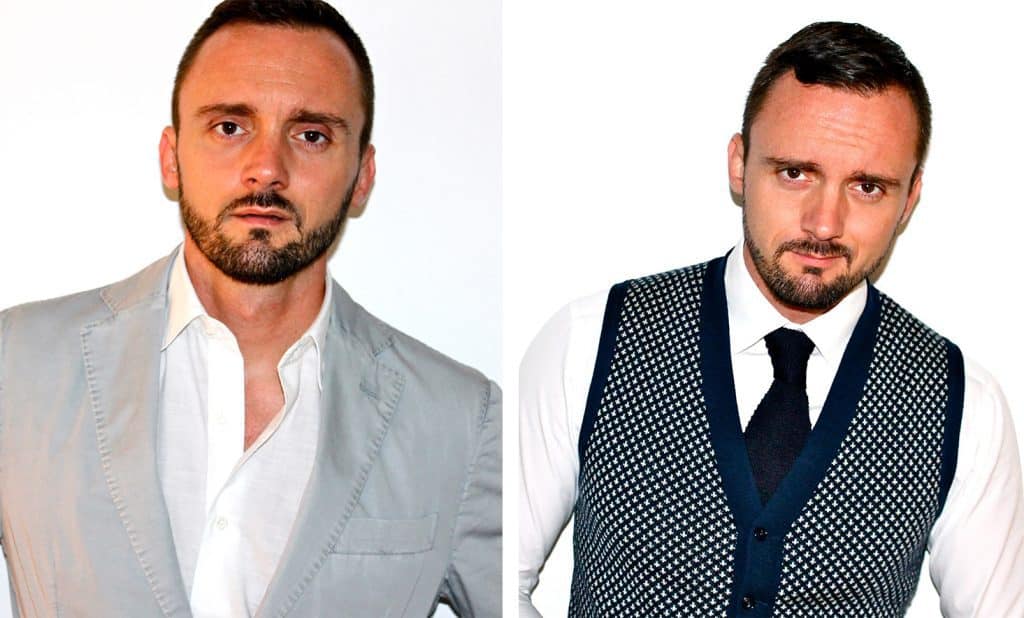 Q: You travel all over the world for your brand, in your opinion, where do you go for the best selection of menswear?
A: Well, it would be questionable if I say the Slowear Stores worldwide (from NYC to Tokyo, London, Paris, and Milan), yes, it is true: I still buy products from our own stores. I am a fan above all. But I remain curious and when I travel I always make sure to arrange some free time to check out the best shops of the towns I am in, such as Braun in Hamburg, Murkudis in Berlin, Trunk in London (which is a point of reference for smart casual style), Santa Eulalia in Barcelona, and United Arrows in Tokyo. I also enjoy some other concept stores such as Nike Lab or the Lane Crawford design stores. When it comes to cities, I think Milan is definitely the most inspiring place: people are simply stylish, regardless of their income. When browsing the city, people look like they just came off a catwalk, is it there any better way to be inspired?
Q: What have been some of the challenges you've experienced while building your business?
A: Usually a communications or business development director has to promote and focus only on one brand. Here, the most difficult part is dealing with 5 brands and an umbrella brand: Slowear. The latter is our inspiring philosophy and rules over our decisions. Luckily the complexity it offers, in terms of brands and product, is understood by our final consumers. Our brand ethos can be defined as a sort of 'intellectual' and modern approach to fashion.
Consumers are inundated messages by all the fashion brands, we do not aim to be for everyone, but for connoisseurs, for those men who are specifically looking for a high-quality product, durable, stylish and who are not into branded products and logos.
Q: What is one of the most memorable moments you've had while building your business?
A: I have a few. One of them is when Franca Sozzani, beloved and missed Vogue Italia editor in chief, adopted us in a way and told us she loved our concept and therefore decided to be with us at every opening of all new stores over the past 3 years.
Another one is when we signed off an agreement with Samsung Cheil in Korea to expand our business into the Korean market 5 years ago. And lastly when we launched our talent support program, working closely with new talents coming from Italian fashion and design schools. We can't do enough to support younger generations!
Q: Best piece of advice you've ever received?
A: Never underestimate the trousers. Since you are young you tend to focus on the top part of your outfit. Instead, I learned that if you wear a great pair of trousers, the top part will come super easily. Even a plain white t-shirt and a pair of white sneakers would make you look great if you wear trousers made with the best fabrics and perfect fit.
Q: Since retail is in the midst of a rough patch, what do you think retail will look like in five years? What needs to happen for retailers/brands to be successful?
A: The signs are clear already: all fashion brands must deal and run their business on an omnichannel perspective, reinventing retail. But above all revolutionizing the relationship with their consumers.  All brands must switch their approach to a consumer-centered strategy, imagining your consumer is in a 'Total Retail' environment (regardless of the channel of sale or information), from offline to online, to communication and social media, they are inundated by messages and information of any kind.
On top, it does not matter where a customer buys your products, in his/her point of view he/she is just buying YOUR products, your brands (as if the channel was not part of it).
Therefore, there's no choice, brands must start thinking as consumers and not as companies. And they need to try to be brave. Most managers are not pushing themselves out of their comfort zone. "It worked in the past I'll stick to it" – they say – there is nothing more wrong than that.
Another complication is the tech revolution. With social media and general global socio-cultural evolution, people and ultimately consumers, are very hard to define and culturize today. You have people in their 40s behaving like Millennials and vice versa. As if we entered a sort of cross-generation, cross-fertilization era, which is making old-school clusters and old ways to market a product, obsolete. And that's the extra complication in an already complicated environment.
Brands need to also deal with the fact: consumers are usually reacting much faster than brands and companies, that's why brands and companies should try to react as fast as they are.
I am thrilled to see what comes up next and I personally think that "hard times" are always the most exciting ones. It's those kinds of moments in which you are obliged to finally get out of the box, and from your comfort zone, and push boundaries to become more creative, to think in a different way, to find smarter solutions. We are ready.