MENSWEAR'S BEST DRESSED: SEAN DIXON, CO-FOUNDER OF RICHARD JAMES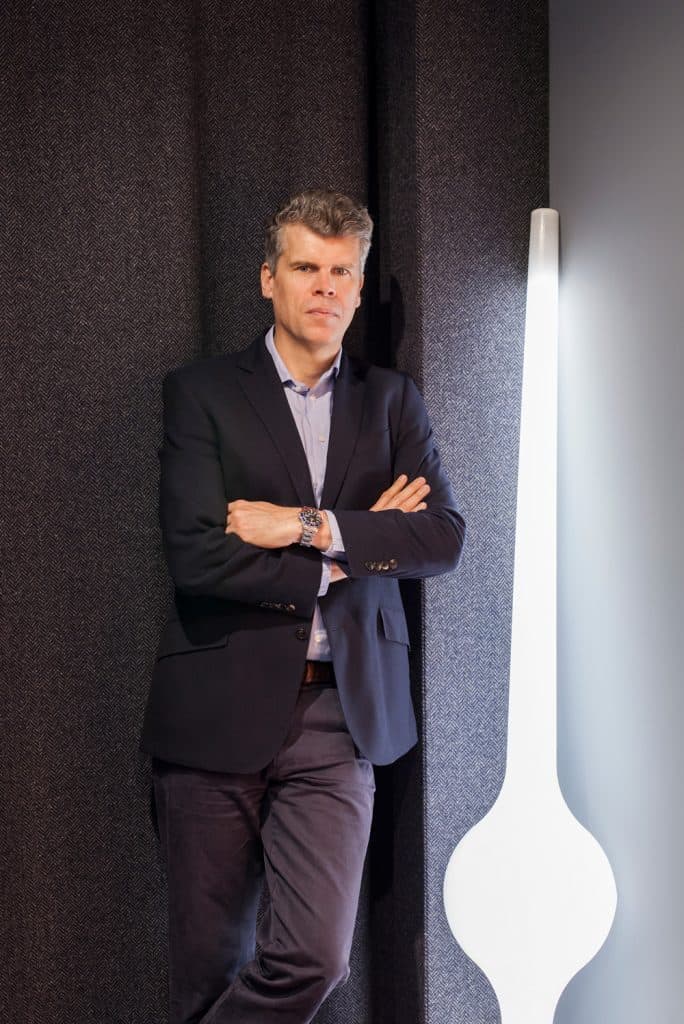 Founded on Savile Row in 1992 by designer Richard James and his business partner and co-founder Sean Dixon, the Richard James brand was established with the goal to produce classic men's clothing of exceptional quality and push the boundaries through color, cut, and design.
The first of the "new establishment" or "new bespoke movement" of Savile Row – the new, more fashion orientated wave of tailors who moved onto the street in the nineties – Richard James is widely credited as having done much to revitalize the reputation and fortunes of what is widely acknowledged to be the world center of quality tailoring.
MR recently caught up with Dixon on his personal style, his challenges he faced while building the brand, and one of his most memorable moments in his career.
Q: How would you describe your style?
A: Relaxed sometimes messily British. My entire school life was spent in quite formal uniforms that had to be rigidly adhered to. Trying to subvert the rules wearing something that was not prescribed became a bit of an obsession. Seeing if I could get away with a slightly different colour, fabric, texture or shape became a game I would sometimes win but often loose. Today if I am wearing a formal suit, I don't want it to feel like a uniform, there always needs to be a detail no matter how small that takes me back.
Q: Is there a specific person or thing that inspires your style?
A: Inspiration can come from any anywhere. Living and working in London is an inexhaustible source. I am often inspired by our clients particularly for bespoke tailoring. The appetite for individualism, self-expression and bravery never ceases to amaze me.
Q: How does your personal style influence your collections for Richard James?
A: One's personal style cannot help but influence the collection but at the same time it is important not to let that limit the range and potential. I think of myself as a good barometer as to how our customer wants to dress but as we sometimes like to gently nudge men from their comfort zone, that can apply to me as well. We are well known for our use of colour and this is an area both myself and our clients have become braver.
Q: For those who don't know, what is Richard James' brand ethos?
A: In simple terms we describe ourselves as; "A contemporary Savile Row house that pushes the boundaries of menswear through colour, cut and design." The reality is much more than this. Plenty of time, effort and thought goes into each piece of clothing we produce, this has to be matched by the environment you shop in (on or offline) and the level of service you receive. We are always questioning ourselves on how we can improve.
Q: How did you get started in the business?
A: Whilst at college I had a holiday job working at the famous designer store Browns on South Moulton street London. At the time it was virtually the only place you could find designer clothing. It was an exciting and fascinating time and place. This is where I learnt that good design and fabrication could elevate a run of the mill piece of clothing to something much more desirable.
Q: What have been some of the challenges you have faced while at the brand?
A: There have been many challenges over the years. The first was just being noticed and then maintaining a relevance in the market place. Our business is a classic example of art and commerce, finding the right balance at the right time is key to moving the brand forward. Saying that it is important to embrace the challenges as mainly they help improve everything you do.
Q: What is one of your most memorable moments you've had while working in menswear?
A: Very early in the brands history Elton John and Gianni Versace visited the store with their respective partners, in just over an hour they had purchased virtually all our stock. Standing in the chaotic remains of the store after they had left, we then thought we might be onto something.
Q: What's the best piece of advice you've ever received?
A: "Always re-invest in your business" This is something we did and still do, whether it is stock or people put the profits back in and watch the company grow.