THE MERCHANT'S MERCHANT: JEFF FARBSTEIN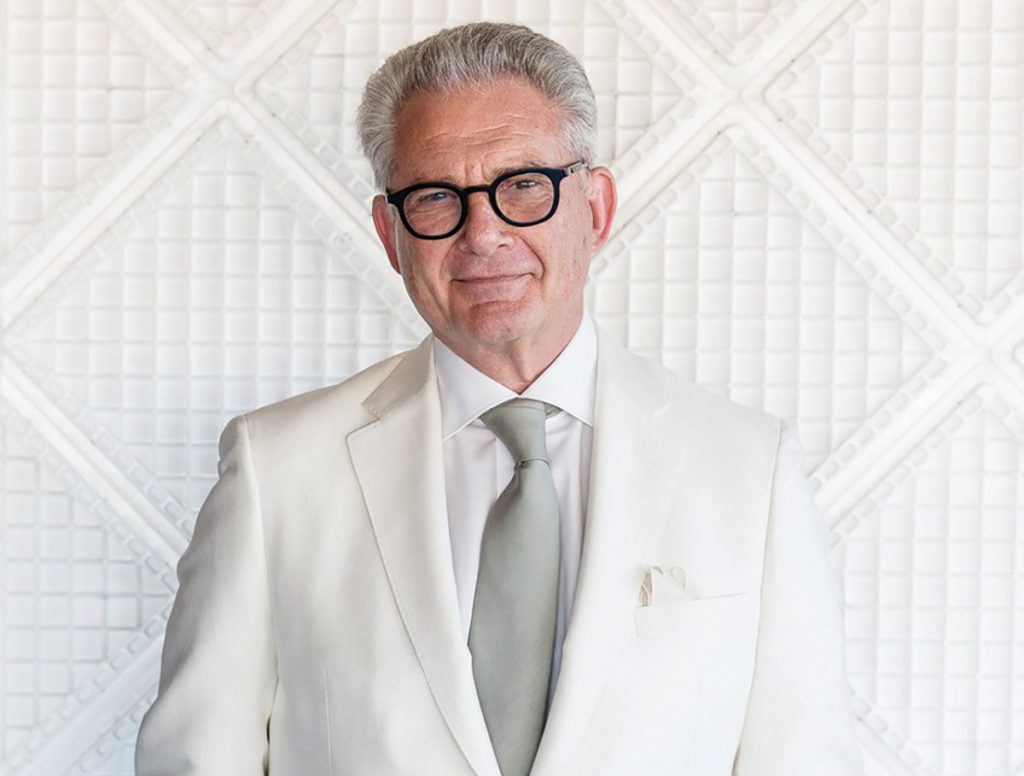 There's no question that Jeff Farbstein lives and breathes menswear. It's what he loves doing and what he loves obsessing about. His passion incorporates the product, the people, the promotion, the presentation and especially the problem- solving. He's totally involved in every aspect of the business, always striving to understand, always dreaming up new and often crazy ideas to capture his customers' share of wallet.
David Vosko, merchandise manager of clothing and furnishings at Harry Rosen, has worked with Farbstein for 30 years and knows him well: as a mentor, teacher, and friend. "There's an intuitive element to what Jeff does that defies explanation. He'll often surprise you with his ideas: they're rarely textbook. He has powerful relationships in the market and always takes time to listen to people, which gives him an amazing grasp of what's going on out there. Most importantly, he's always the voice of reason: when Larry wants to know what's really going on, he turns to Jeff."
Larry Rosen, Harry Rosen's brilliant CEO, confirms this. "Jeff is the youngest-thinking old guy I've ever met: in his dress, his attitude, his expression, in life. He hasn't aged: I'd put him up against any 30-year-old. He's current in his thinking because he always knows what's going on. He has an uncanny sense of forecasting: he can anticipate what trends will be relevant to our clients before they do. For example, he came to me in the early 1990's and pushed to do more fashion, to take a stronger position in Hugo Boss and other modern brands. Then 10-15 years ago, he came to me and insisted we move more aggressively into the luxury market: Kiton, Cucinelli, Zegna, Loro Piana, Canali; he felt we shouldn't be a part-time player in these brands. The same with outerwear: before anyone was talking about Canada Goose and Moncler, he brought them in with authority. While most merchants initiate change by adding a few percentage points here or there, Jeff uses data and intuition to make major shifts. He's an insightful, thoughtful, connected merchant who understands the world, predicts what customers will want, and always seeks what's new. And because he's trained his team so well, the excellence he's brought to the business will surely outlive his career with us."
Known for his integrity and humility, Farbstein appears uncomfortable with such praise and insists there's nothing magical about what he does. "All it takes is intuition, guts and a little luck. For me it's easy because I've always loved retailing: as a kid, I'd spend hours staring into the windows of the five men's stores lined up on the main street near my grandparents' home. I loved the preppy looks of that era: Polo shirts, Levi's and penny loafers. Before Harry Rosen, I ran my own men's shop with a partner. I loved it, but one day I had this premonition that in my old age, I'd still be there in that exact same spot, unpacking boxes. So I gave it up and worked part-time at a men's store while checking out other career options: real estate, fast food franchises.
Then a mutual friend put me in touch with Harry who suggested we meet over lunch. I picked him up, we went to a restaurant, he fell asleep, I woke him up, but somehow we bonded: I started work as assistant manager of the Bloor Street store in 1979."
As the story goes, Farbstein loved working on the selling floor but was becoming increasingly frustrated about gaps in the merchandise mix. So he wrote a memo to Harry, suggesting some changes.
Harry called him in and said, "You think you can do better? You've got the job." Recalls Farbstein, "The position was clothing buyer and I was secretly disappointed to get stuck in the most boring category in the store. But I ended up becoming Harry's sidekick, going along with him on market appointments and to fabric shows and learning so much. I always had a feel for the fabrics and would shop the European mills early, assigning specific piece goods to specific brands. I could envision exactly which fabrics would work best in which clothing make."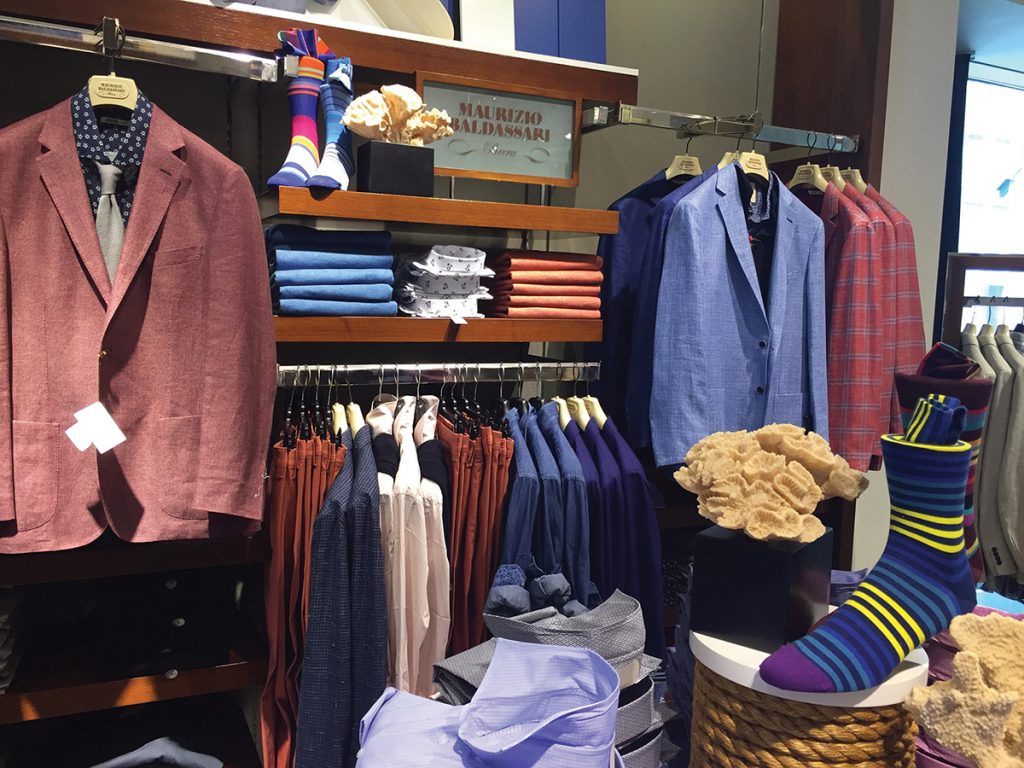 Farbstein talks passionately about his admiration for Harry as a boss. "He was always challenging, always wanting to know what I really thought, not what I thought he wanted to hear. In group discussions, he was famous for speaking last because he wanted to analyze all sides of the picture. I try to do this now with my team: if they come in with a problem, I need to hear all sides of it or how else can I help them solve it?
"Another thing I got from Harry is my work ethic. We'd finish our work day, have a short dinner, and then run around town (in whatever city we happened to be) looking at stores and in store windows. Harry loved to see what other stores were doing and I got my advanced merchandising degree working with him… To this day, I love visiting great stores all over the world. I steal ideas from the best of them and just make sure to execute them better."
As much as he's learned from Harry, Jeff equally appreciates the connection he's cultivated with Larry. "We're very different," Farbstein explains. "Larry came to us already a lawyer and has a logical bottom-line approach to retail so our discussions on how to do things can get pretty heated. But when we get through arguing, we generally end up with great results, mostly because Larry is incredibly supportive of my wild, crazy, 'dreamer' ideas."
Fortunately, many of Farbstein's 'dreamer' ideas have proven successful. These include bringing in the first Zegna Traveler suits before Zegna even had an office in Toronto. "Our first order was 36 suits that we purchased out of a suitcase; 36 quickly became 1000…" Other fantasies turned fabulous: featuring clothing to reflect the Savile Row look of the 80s; supporting the relaxed luxury of Brunello Cucinelli (a first order of 80 pieces steadily evolved to where Rosen is now Cucinelli's largest independent store account in the world); supporting Tom Ford's strong shouldered British-style garment before even seeing product (Farbstein argued that if a Tom Ford collaboration is good enough for Gildo Zegna, it's good enough for Harry Rosen); a recent storewide push to lifestyle shops (some by brand, some by mixing brands to create a more eclectic look), a recent successful focus on Munro, a new MTM clothing brand out of Amsterdam geared to younger guys (and brilliantly housed in the denim area rather than in tailored), and a major investment in their own Bespoke tailor shop.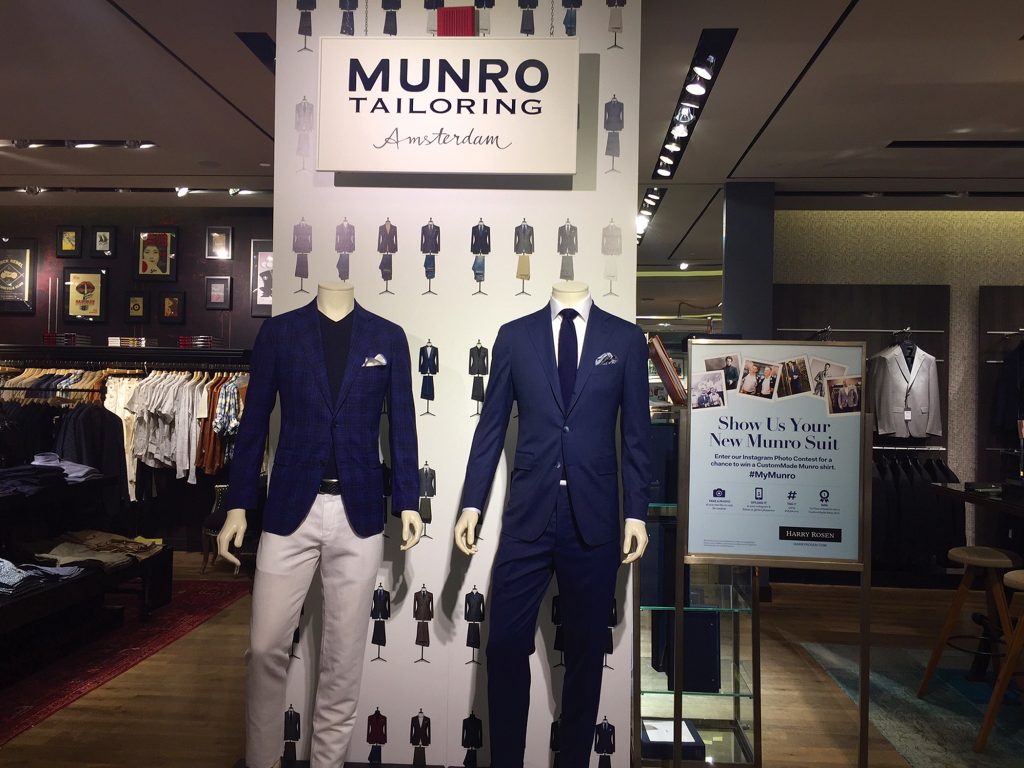 "I use our Bespoke shop as part of my business card," Farbstein explains. "Once people see it, they view us in a whole new light. Who else does a 29-hour garment that's as good if not better than Kiton (with full canvas chest piece and topstitching done by hand)? We don't make much money on it but Bespoke enables us to offer something no one else has."
Known for his unique ability to combine analyzing data with creating dreams, Farbstein is surprisingly willing to share his merchandising insights. "Of course buyers need to study the numbers, but then they need to think about new ways to interpret the numbers and create an aggressive plan. For example, anyone can look at their clothing sales and know they sold x amount of suits and y amount of sportcoats. But when they study it and see that half their clothing is sold on sale, they might decide there's another way to approach the business. Maybe they want to consider merchandising spring sportcoats as outerwear rather than tailored clothing, as a light layer to wear with sportswear. We recently developed this crazy concept and took a strong stand on numerous spring jacket ideas: with the right cotton pant, the right knit tie, the right stretch woven belt, the right cool running shoes. If you can create a new look and convince guys that the look is right, if you buy it with conviction, present it with impact and make it so delicious, irresistible, and sexy, then they'll go for it. Because most guys don't know what they want until they see it in front of them, or until a trusted sales associates communicates the excitement. And then it's magic," he says.
Generally calm, thoughtful and soft-spoken, Farbstein gets just a bit rattled when challenged about his new retail competition, including the major U.S. stores (Saks, Nordstrom) newly arrived in Canada, their off-price offshoots, and freestanding vendor shops and websites, many of which cut price mid-season (or sooner).
"We manage this as best we can," he confides, acknowledging that although his business is ahead, it's not where he'd like it to be. "I view the new competition mostly as an opportunity to showcase what we do best: provide curated luxury assortments, exciting presentation, and exceptional service. Because men no longer have the time that they once did to come into a store on a Saturday morning and sit around drinking coffee. Instead, they're pushing a cart in Costco, or at their kids' hockey game. So we've made it easy for them to shop with us: in store, in their home or office, or online 24/7. And we keep reinvesting in our stores, in our website and in our people to ensure an exceptional shopping experience."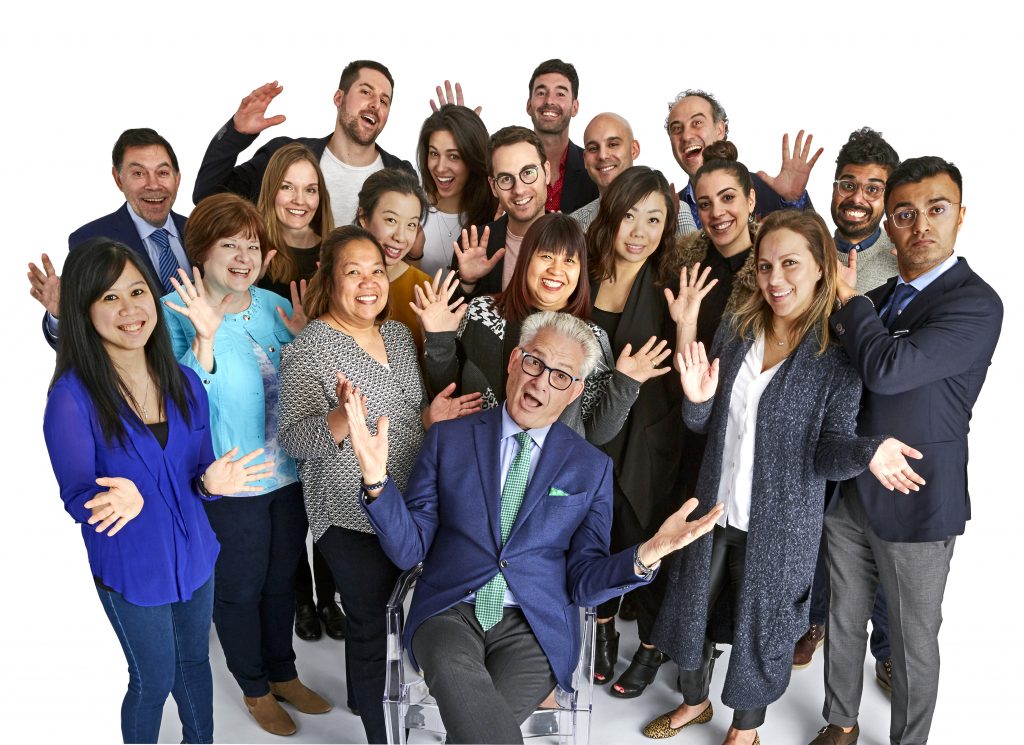 Farbstein also points out that unlike in the States, there are no freestanding Cucinelli or Zegna shops in Canada and that Canali, a huge brand in Saks, is not in Saks Canada. "We have a big pencil so we work with our vendors on confinement and exclusivity. We pay attention: if a vendor site is offering 30 off to friends and family or if a department store leaves the sale price on their site a little too long, we confront our vendors. We also buy differently than the big stores: since we're based in Canada rather than NYC or Seattle, we know our customers personally and often work with our vendors to tweak or revise models. We're menswear specialists, not women's stores that carry men's."
A particularly gutsy recent strategy that's already paying dividends: a focus on narrow and deep assortments, on becoming more important to fewer brands. Farbstein explains the evolution: "I was visiting one of our stores and tried to buy underwear: I wanted a half dozen of one style in one size and color. We carried several great underwear brands—Armani, Boss, Zegna—but among them all, I couldn't find six of the same boxer brief. Shame on us! Guys don't buy underwear in singles so how could we not have sufficient stock? So I challenged the team to go out and find a fresh brand that we could totally own. We decided on Saxx and went after it aggressively, dropping our other brands, giving out samples to all the staff and creating excitement on the selling floors with sexy fashion shows. We launched in four doors, quickly expanded to all, and really killed it! I'd hoped for a $1 million underwear business; my team delivered that goal in a very short time."
Farbstein relates a similar story in belts: working with Italian leathergoods maker Anderson, he and his team selected a single woven stretch leather belt ($185 retail), created their own fixtures, brought in this one style in tons of colors and quickly reported sales of 200 units weekly. Similarly, in an over-assorted and often stocked-out shirt business, Farbstein opted to focus on Eton, working closely with the brand to become "their number one account on the planet."
Whether accessories, luxury or denim, Farbstein's merchandising principles are consistent: "Envision what the presentation will look like, create the budget, create the theater, then go out and energize the sales team, for they're the ones who can best excite the customers. Unfortunately, not all retailers have the imagination to do what we do. Imagination is key: without theater, it's not a particularly fun business that we're in."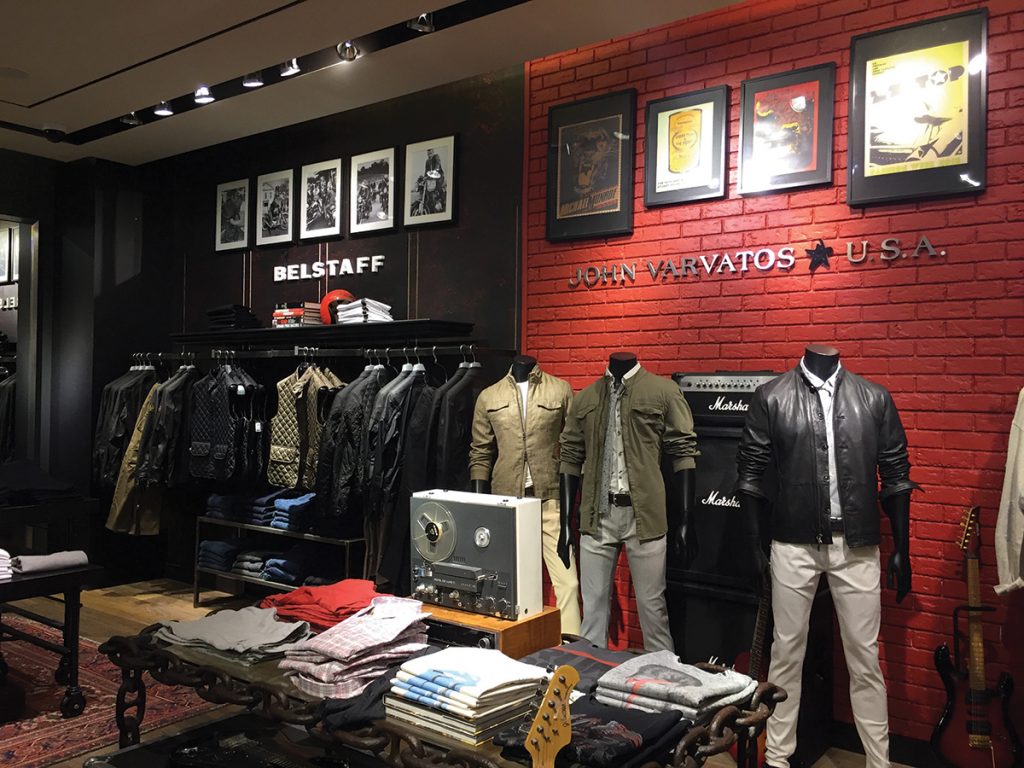 Yet Farbstein considers it his mission to make it fun. "The mood in the industry these days is a problem. Retailers need encouragement: they need to bring their game face every day, to dig deep inside themselves and excite their teams and maintain that positive spirit, no matter how tough things seem. If we could just channel the excitement of the old days: taking out your pocket knife, tearing open the big box that just arrived, seeing for the first time in your store the styles you selected months ago, eagerly calling your customers before the product's even out of the box. Back then, every retailer knew that feeling of exhilaration; today, store owners are dealing with financials, and buyers have too much else to do. So no one's having fun, yet 'fun' is the success secret in our business."
It's also the success secret for a good a marriage, Farbstein maintains. "I have lots of kids," he notes with pride, 'lots' meaning five, all of whom bring him tremendous joy. In addition to his wife who works in real estate, his family includes twins who are 33 (a daughter who's a social worker, a son who's a high school teacher); another daughter who's 24 and practicing dentistry; another son who's 23, just graduated business school and immediately got a fabulous job at Price Waterhouse (without his father's help except for the suggestion to wear a pink tie to the interview) and his youngest daughter, now 15, who might be the one to follow in her dad's fashion footsteps.
"I'm just grateful that we're so solid together as a family and for that I credit my wife and the wonderful way she's always engaged with the kids. I'm not in a hurry to retire but these days, the pleasure of spending a bit more time with family, friends and golf is very appealing."