MICHAEL STRAHAN, MARVIN ELLISON RECEIVE FATHER OF THE YEAR AWARDS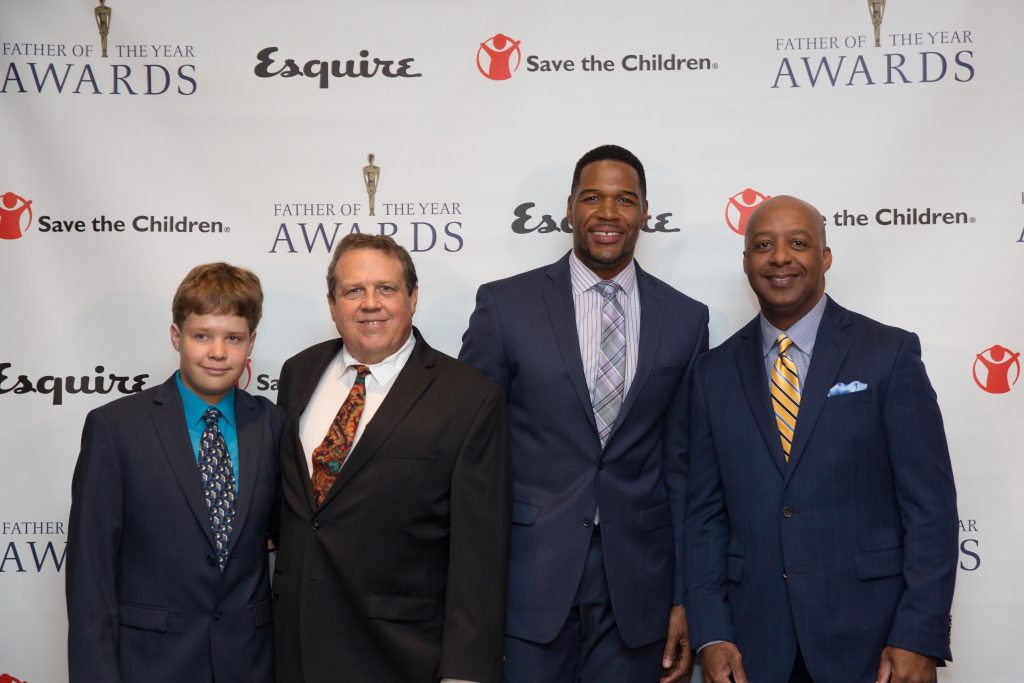 The 76th Annual "Father of the Year" Awards were presented by the National Father's Day Council on Thursday, June 15 at the New York Hilton. The event, which was emceed by Mark Shriver, benefited Save the Children and raised over $1.1 million for the charity.
Three men were honored by the organization: television host and fashion personality Michael Strahan; Marvin Ellison, chairman and CEO of J.C. Penney, and Gary Aurin, who was chosen as the Ashok C. Sani "All-Star" Dad via a contest in Esquire magazine.
Strahan, a father of four children (one boy and three girls), said it was "surreal" to be honored at the event, and said that while he didn't know what he did best as a father, he was proudest of "being there" for his kids. He spoke of his own childhood, specifically how he transformed himself from a chunky teenager (his nickname was BOB, for "booty on backside") into a pro football player with the support of his father (now age 80 and in attendance at the luncheon).
Ellison, who grew up as the middle of seven children in rural Tennessee, also praised his own father as a role model. Speaking of his own role as a father to two children, he said: "I am still a work in progress, as both a CEO and a dad, and I keep learning new things every day. However, I try to practice three commitments as father: to be accessible as a father; to treat my wife, Sharon, as a queen, which sends a message to my son about how to respect women and give my daughter the right expectations of what to expect from the men in her life; and to nurture the dreams of my children."
Finally, Aurin was praised by his 13-year-old son Brett, who submitted the winning essay to Esquire, for his ability to be a loving and attentive father to both Brett and his autistic twin brother, Kyle, especially as Gary had recent survived cancer. For his part, the extremely humble Aurin praised his sons, saying: "My boys have taught me to be open and patient."