MONCLER DEBUTS LARGEST STORE YET ON MADISON AVENUE
Moncler
has opened its first U.S. flagship on Madison Avenue and 59th Street. The two-level, 6,500 square-foot boutique will be the brand's second location in Manhattan after its Prince Street boutique, which opened in 2009, and its 20th location in the Americas.
Designed by the architecture studio Gilles & Boissier, the flagship features 14-foot ceilings and generously proportioned rooms. In another play on height and proportion, a monumental window sits adjacent to the boutique's entryway, introducing the visitor to the world of Moncler. Welcoming visitors is a kinetic light sculpture, conceived by Belgian artist Bardula exclusively for the flagship. This symmetrical installation, named "Solaris", consists of 24 gold metal blades, each 13-feet in height, that face each other and expand geometrically in relation to the visitor. This contemporary sculptural element is juxtaposed against a classically-inspired sculpture of a head titled "Tête Moncler" by French artist Christophe Charbonnel, who was inspired by the first Moncler ads which starred an adventurer with a growing beard.
The Madison Avenue Flagship will have the most extensive selection of Moncler's men's, women's and children's ready-to-wear and accessory collections in the region, including the more technical, performance-focused Grenoble line, the brand's Moncler Gamme Rouge women's runway collection by Giambattista Valli and Moncler Gamme Bleu men's runway collection by Thom Browne. Punctuated amongst this will be seasonal collaborations like Moncler O, its most recent Men's collection with Off-White c/o Virgil Abloh, as well as special product capsules like the Rimowa and Moncler suitcases, "zai" and Moncler Grenoble skis and Moncler Grenoble snow helmet.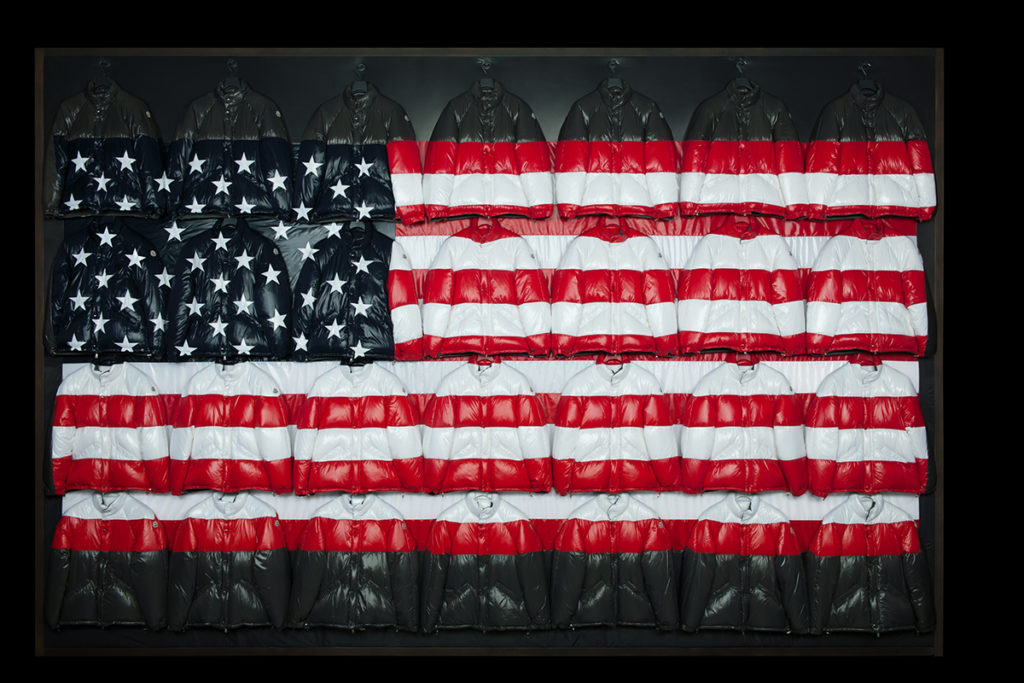 To help celebrate the opening, Moncler aims to pay tribute to NYC through an art installation designed by Thom Browne that will decorate the background of the boutique. The installation consists of 28 special-edition jackets designed by Browne with top-quality materials and fine details, having the American flag as their common theme. The individual jackets – all the same model but different from each other – will collectively create a mosaic on one wall of the NYC flagship store. Each of the 28 duvet jackets, unique and numbered, will be sold for charity online at moncler.com benefiting Robin Hood, New York's largest poverty-fighting organization.

"Coming to Madison Avenue is a significant step in solidifying the brand's global footprint," said Remo Ruffini, chairman and CEO of Moncler. "This 59th Street intersection is at the retail heart of Manhattan, and one of the busiest crossroads in the world. With our Prince Street location, we took our first steps towards establishing our retail presence and speaking to our customers in a very specific and intimate environment. With this location, we are taking a global approach by bringing together all the elements which compose the 'World of Moncler' to elevate and expand our brand identity."

French luxury brand