MOSCOT OPENS FOURTH NYC STORE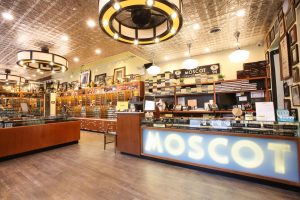 Leading eyewear retailer and manufacturer Moscot has opened its newest store at 555 Sixth Avenue in New York City.
Their new store has floor-to-ceiling panoramic windows directly on 6th Avenue and the space incorporates Moscot's classic design elements which begins with the tin ceilings that add a reflective glow to the space. Other distinctive design elements include the Peg and Groove throne chairs and their custom-crafted "Fan-do-liers," which illuminate and fan customers. The vintage "Fig Trays" to hold the glasses pay homage to Grandpa Sol, 2nd Generation, who repurposed wooden trays used to package figs as optical trays back in the 1930s.
"Great Grandpa Hyman, our founder, started with humble beginnings, selling eyeglasses from a pushcart along Orchard Street at the beginning of the twentieth century," said CEO Dr. Harvey Moscot. "We are continuing this tradition of pushing our cart in a twenty-first century way."
Moscot is a leading eyewear brand that has been in business for over 100 years. They operate four stores throughout New York City, four global locations in London, Rome, Seoul, and Tokyo, and an e-commerce site.