NPD SAYS RETAILERS WILL HAVE TO FIND NEW WAYS TO FULFILL CUSTOMER EXPECTATIONS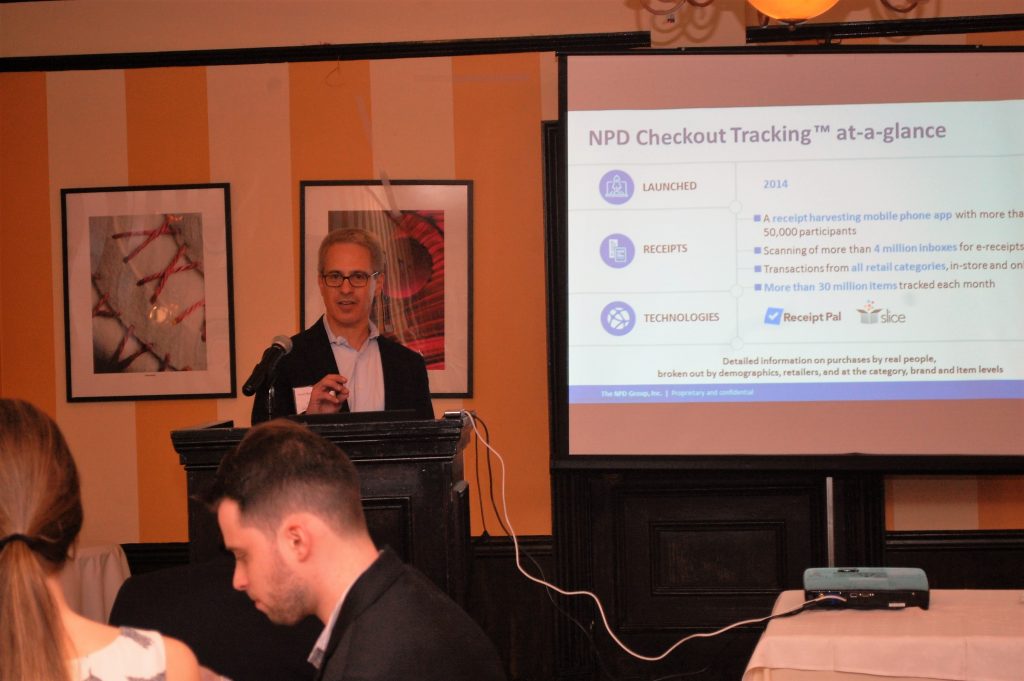 "Retailers will have to learn to operate in new ways," said NPD executive vice president Andy Mantis during the opening moments of his informative, 60-minute presentation, "Loyalty in the Age of Disruption," in front of the Retail Marketing Society at Arno's restaurant. And throughout his talk, Mantis backed up that statement by presenting various statistics and case studies.
One of the areas Mantis concentrated on was the changing behavior of so-called "luxury buyers." Mantis noted that almost 20 percent of consumers with six-figure incomes shopped at so-called "dollar stores." Meanwhile, 71 percent of that demographic visited off-price stores, like TJ Maxx and Marshalls, and 23 percent frequented outlets such as SAKS OFF 5th and Nordstrom Rack.
He also explored generational differences in shopping. Baby boomers still focus on established, big-box retailers including Saks Fifth Avenue, Neiman-Marcus, Macy's, and Kohls; Millennials favor stores (especially for apparel) such as J. Crew and Bonobos; while Generation X prefer Gap and Old Navy. (And everyone goes to Walmart and Target at some point!) All age sectors are leaning more heavily towards e-commerce than in past years, a trend that will continue to grow, although across the board, the majority of actual shopping continued to be done in-store.
Still, one telling statistic that Mantis pointed out is that "young adults" shopping for apparel spent much more online ($70.58 per visit) than in-store ($24.19), although he readily admitted NPD had no research on how many of these online purchases were returned, something that is very common, especially in the footwear sector.
Continuing his observations about millennial shoppers, Mantis said they were far more interested in investing in their "personal brand" – essentially spending more on everything from apparel and electronics that spoke to their own image and interests.  In purchasing for themselves, they seek both quality and value, Mantis said, while often making price/value the prime consideration when shopping for other family members.
Mantis also showed that consumers of all ages now expected promotional prices and discounts whenever they shopped, but also cautioned that some stores and e-commerce sites needed to find better ways of keeping those customers when their sales are over. "By and large, many stores have no strategy for retention," he said.
Conversely, Mantis added that smart retailers might follow the example of Nordstrom, which has fewer sales per year, but focuses on customer service, loyalty programs, and better connectivity between its e-commerce sites and brick-and-mortar stores.
As for loyalty, though, Mantis is the first to admit that it's becoming an outdated concept, with many consumers shopping at over 60 stores in a brief period, depending on need, convenience and price.
"No matter which road retailers choose in the future, the biggest factor for success is in fulfilling the need to meet the consumer's expectations," he noted.