ON THE LAST DAY AT THE VEGAS SHOWS
Wrapping up a great three days at Project and Liberty, I leave inspired and optimistic. I did not find that fabulous must-have item or trend that will jumpstart sales at retail (unless innovative fabrics count as a trend), but I do believe that the market has evolved to a place where customers will be truly inspired for spring '19. Retailers who provide exceptional customer service and an elevated shopping environment, who pay attention to margins and seek out companies with in-stock programs, who have the courage to drop underperforming brands (and underperforming employees), who bring in fresh goods regularly and seek out vendors with limited distribution, these merchants will surely survive and prosper.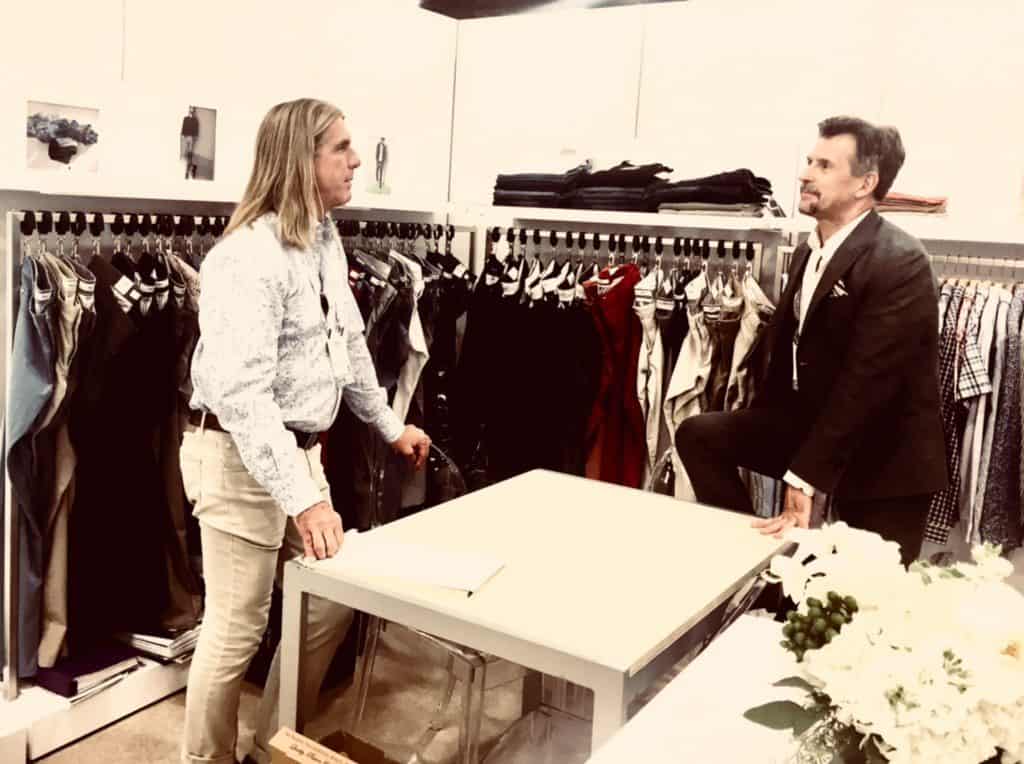 On the vendor side, we spoke with many companies that are successfully reinventing themselves. At Brax, Rene credits their strong growth in just five seasons to both a major in-stock program ("retailers no longer have to carry everything to have access to everything…") and an informal partnership agreement with their retail accounts. "We eliminated all obstacles for our retailers: we don't demand minimums, we don't have our own website or sell on Amazon, we travel to their stores and do in-store seminars. All we expect from them is a genuine commitment to growing the business. We expect them to present the line like they believe in it. One successful store displays our pants on a long front table stacked six deep: this is what makes it a two-way partnership."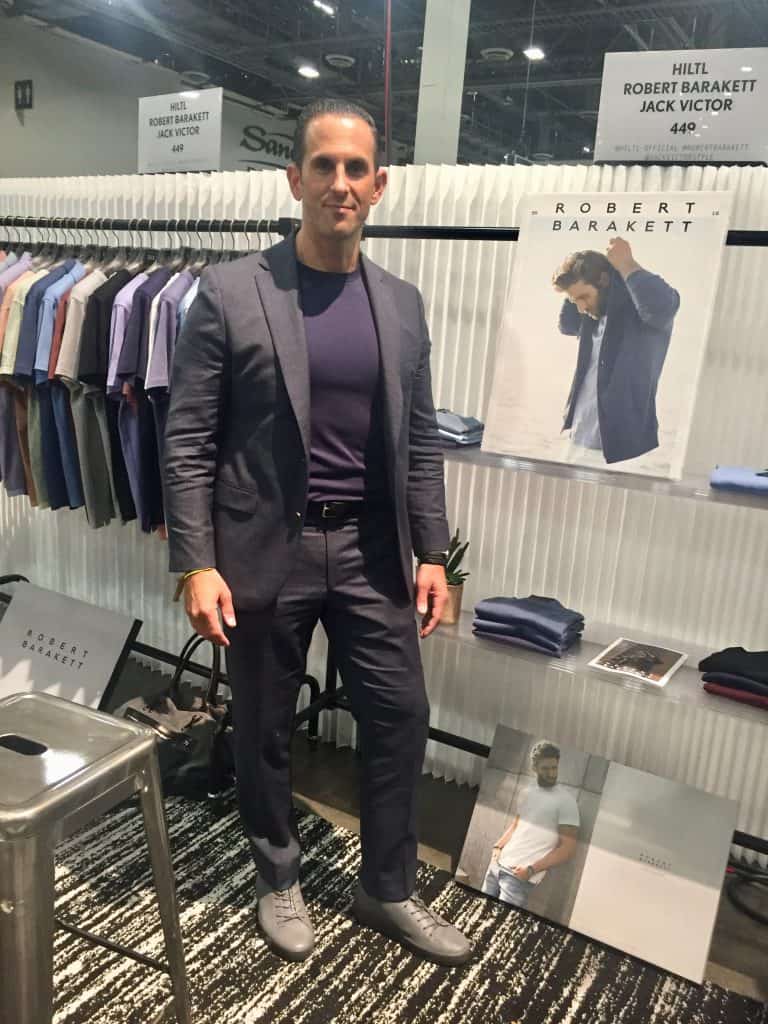 For spring '19, Robert Barakett is keeping it simple with a tight collection of sophisticated knits in beautiful fabrics. The top three items include all cotton tees made of enzyme-washed pima cotton with a secret cold-wash rinse for an extra silky hand ($25 cost). Then there's a heathered pima/poly rolled V-neck ($30) and a button-down shirt in pima with a dressier feel ($44).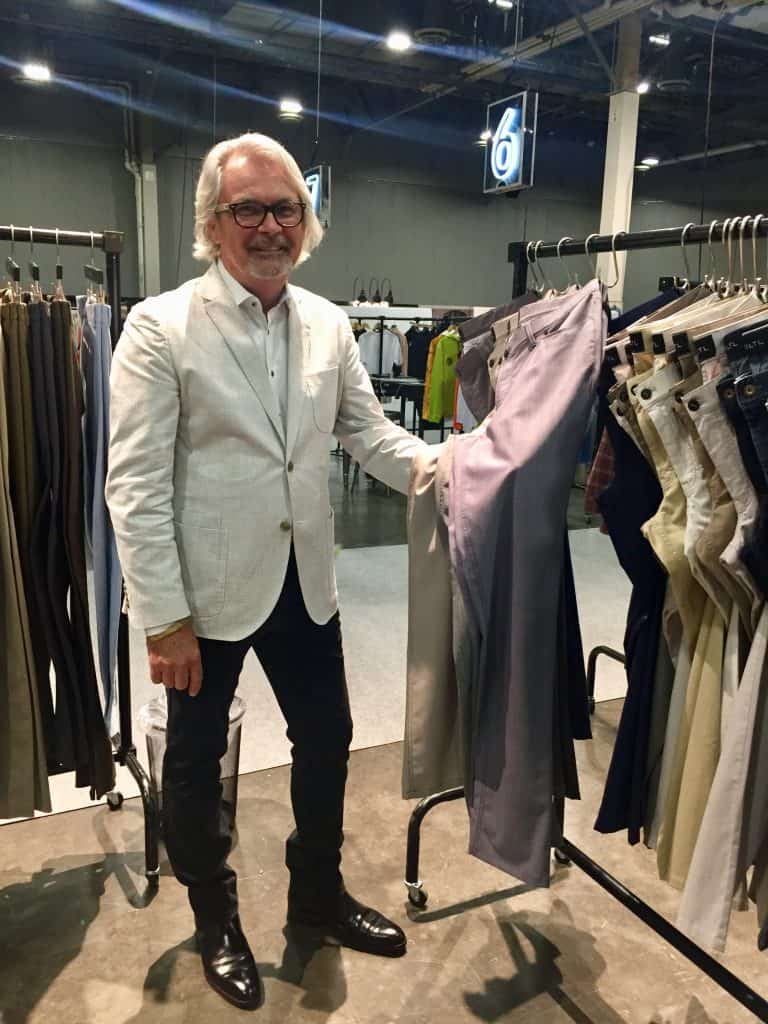 At Hiltl, Jeff Roberts is predicting a transition from today's ubiquitous five-pocket pants (still dominant for spring '19) to a more European flat-front roll-bottom model in fabrics with a luxury hand, including a super soft 200 gram Supima. Roberts says it's been an up year for linens, some pre-washed at the mill available in 20 colors. We also loved a two-way stretch travel pant available in flat-front and five-pocket models and an amazingly light 8.5 ounce denim that Roberts says is their best-selling denim ever.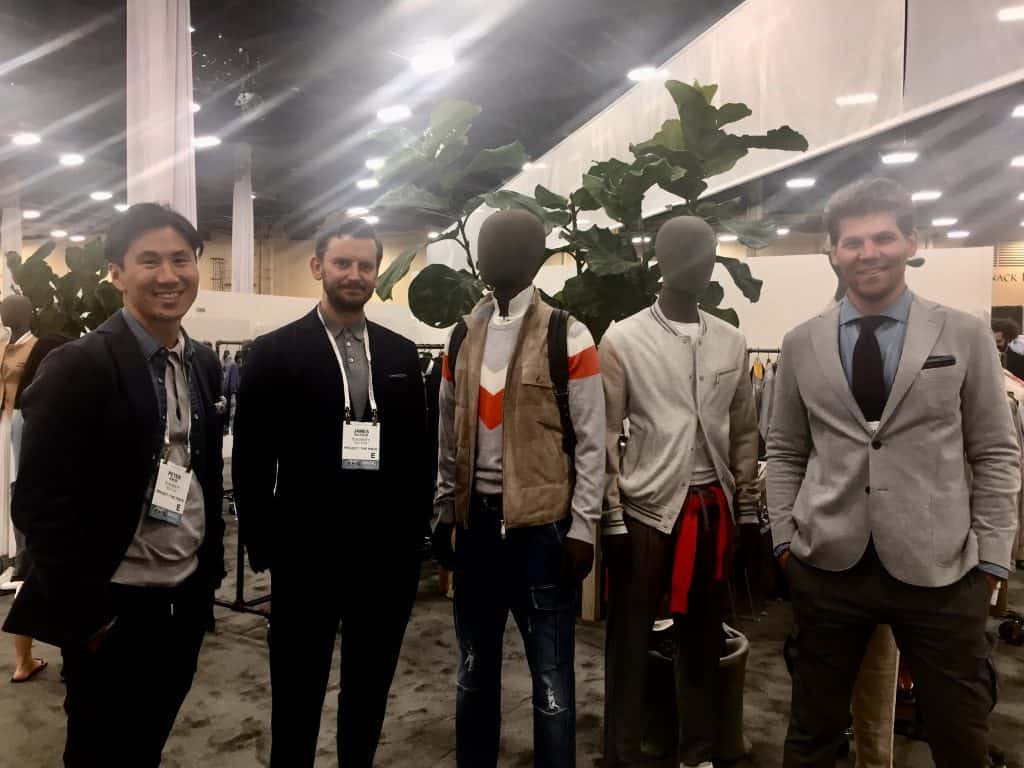 At Eleventy, I worked with Peter, James and Jake who filled me on the company's sustainability efforts designed to counter the fact that clothing is the earth's #2 pollutant after oil. Among their key items for the season: a fabulous Storm System jacket ($995 suggested retail) that's waterproof, breathable and works with everything from track pants to a suit. Also booking well: their cotton stretch blazer available in U.S. sizes 36-50; several stores have captured a B&T audience with these modern sportcoats that actually fit big guys! Also selling well at Eleventy: reversible pocket squares (50 cotton/50 wool) at $90 suggested retails. "Stores need to tell their customers that every blazer needs a pocket square," suggests Jake.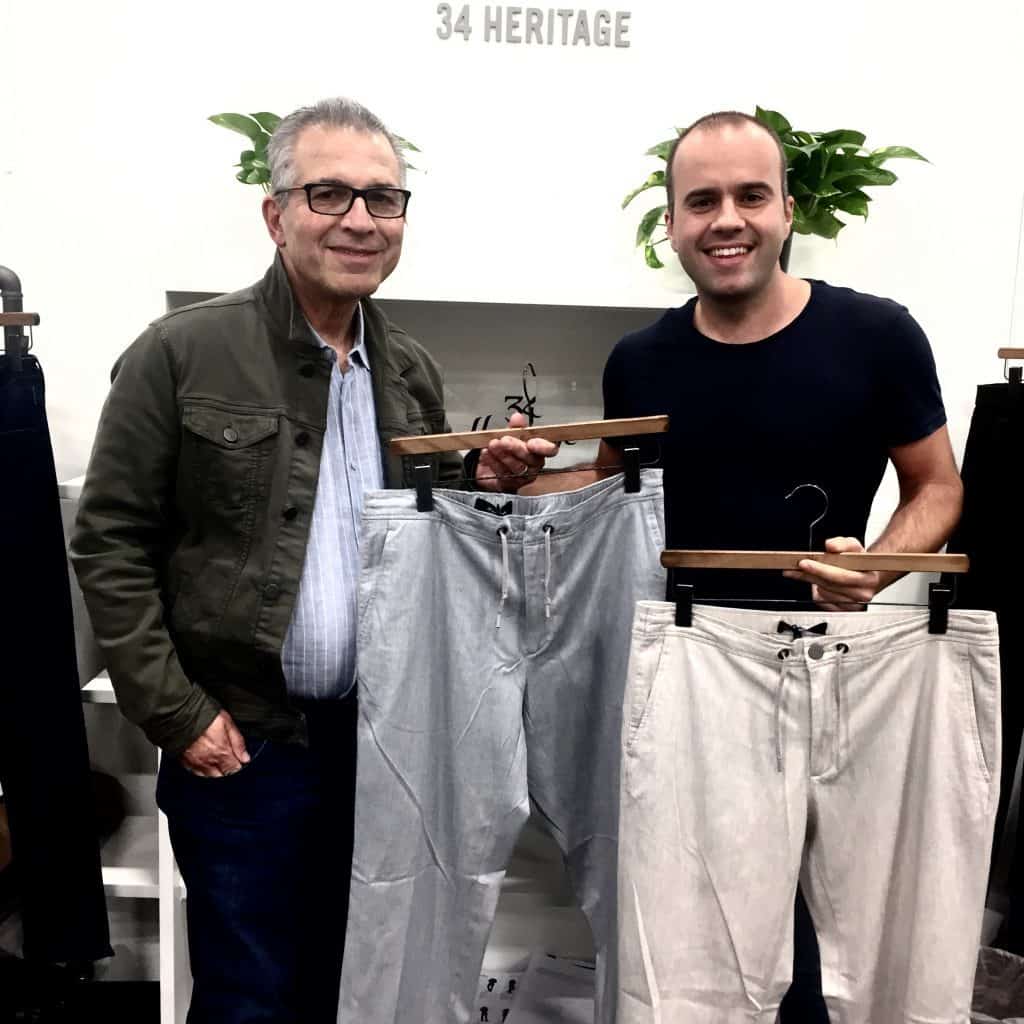 Booking well at 34 Heritage: linen drawstring pants at $76 cost, $190 suggested retail. Showing the goods: Richard Binder and Ugur Caymaz.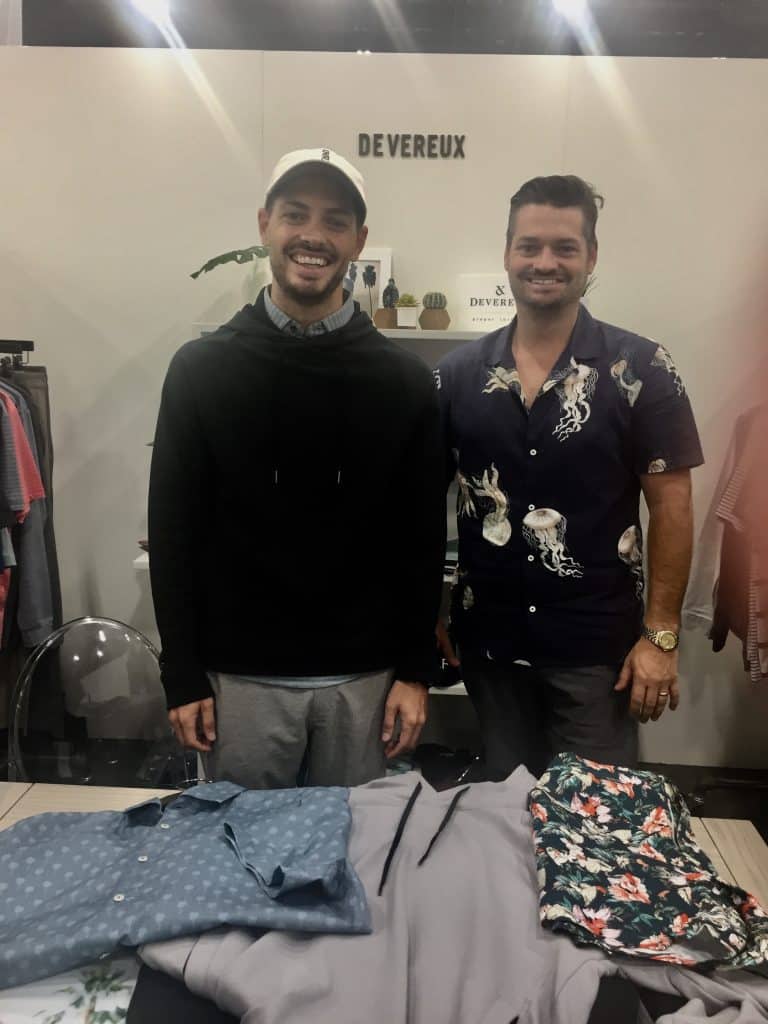 Swimwear was hot at Devereux, as were their printed cabana shirts and comfortable casual bottoms, especially the lightweight, breathable gravity pant ($135 suggested retail) and shorts ($75) with mesh pocketing. Notable here is lots of inside detailing.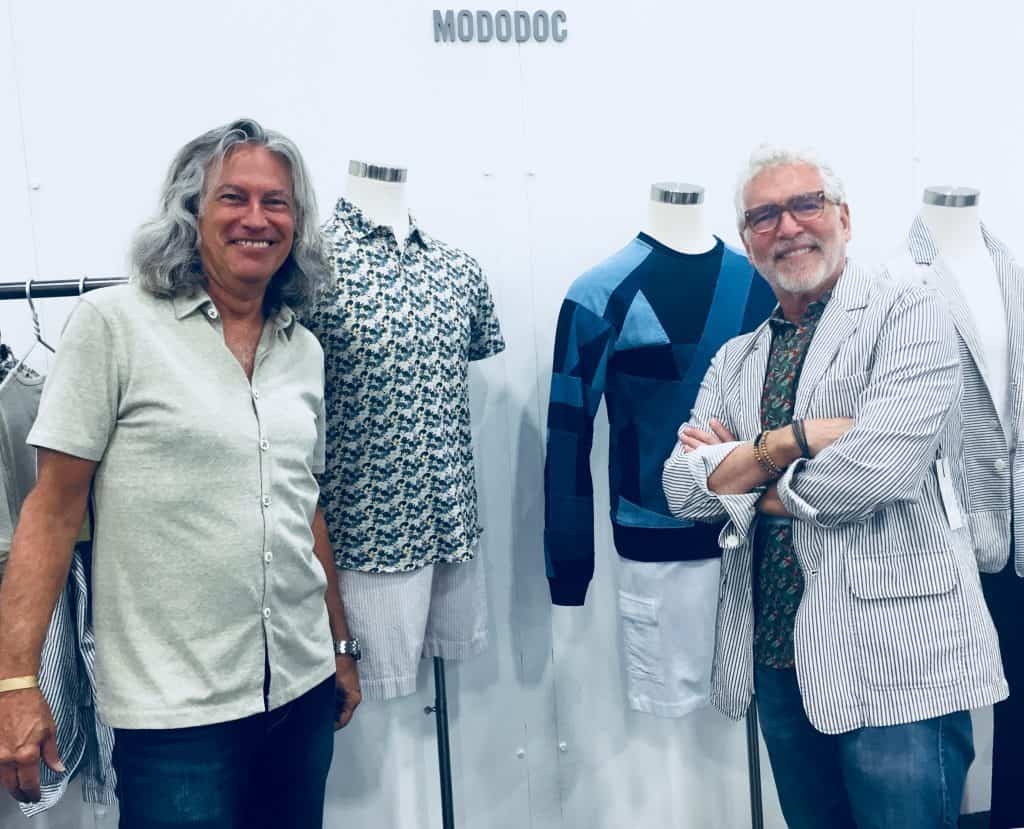 And at Mododoc, Sid and Steve have brought in Glenn Mance to add some personality to this item-driven collection. Check out the well-designed knit sweats and shorts, the stretch seersucker sportcoat ($190), the washed seersucker shorts with contrast stitching and some great printed piques in four different patterns (suggested retail $98). The collection is highly detailed (even the camo prints have hand embroidered accents) and offers 2.5 markups. We loved the woven pant that feels like a knit; $72 cost for a suggested retail of $180.
Finally, the "Most Dedicated to her Job" award goes to Rothman's buyer Lacy McAngus, who suffered an attack of appendicitis while in Vegas and was rushed to the hospital for emergency surgery. But don't bother visiting her in the hospital as we ran into her at the Faherty booth the very next day! Now that's a lady with real passion for her work! (But please take it easy Lacy!)