ONES TO WATCH: DONRAD DUNCAN, EFM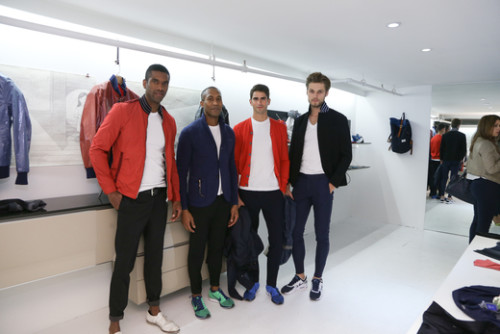 Donrad Duncan grew up in a creative environment. He always loved to paint and his friends and family encouraged him to get into design, so he attended Parsons in New York. After working for a few large menswear companies, including Victorinox as head designer, Duncan ventured out on his own and created EFM, a men's lifestyle brand focused on luxurious functional fashion.
On why he launched EFM: We are living in a health-conscious, global society that's becoming smaller because communication and technology is more available. I wanted to create a brand that gives the user a sense of connection and suits his lifestyle. EFM is Engineered For Motion. It transforms high-performance fabric into luxury sportswear to create this look of active tailored elegance. Heavy outerwear ranges from $1,500  to $1,800, blazers are $600, sweaters are $400 and up, base layer knits range from $248 to $350, bottoms from $248 to $300. We're being selective with retail but are currently selling to stores like David Lawrence in Seattle, C'H'C'M in New York and Martin Patrick 3 in Minneapolis.
On what's next in menswear: Retailers need to be directional, but approachable. We're just at the beginning of performance. Guys are thinking differently and it allows us designers to create classic products and traditional tailoring with functional materials. Fabrics are transforming: we have the ability to create lighter, water-repellent fabrics with stretch and recovery in sophisticated silhouettes. Moving forward we're seeing a sense of simplicity and cleaner lines.