Ones to watch: noble gentlemen trading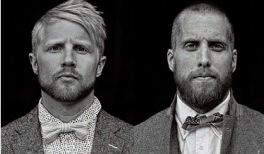 Liam Maynard (pictured left) and his brother Dan are two young, ambitious Canadians who sought out unknown menswear brands and introduced them to the North American market. Now Noble Gentleman is the North American distributor for Zanerobe, Neuw, Rains and Barney Cools. Here, Liam talks about how they broke into the business and made their own rules.
On how Zanerobe's "Sureshot Chino" became one of the first salable joggers: In 2010, T-shirts were really big and we saw that coming to a halt. So we switched gears, launched the Sureshot and lost 85 percent of our business. But if you want to evolve you have to take a risk. So we worked with stores, stylists and influencers on how to wear it. We weren't just selling pants, we were creating a look. It gave us ammunition to engage with customers. We worked with rad boutiques like Boys Co., Simons and Holt Renfrew and now we're one of Holt's top performing brands.
On how to reach Millennial guys: It's all about being aware and working with cool people. Also, it's ok to say no. If you say yes to everything you're going to dilute the brand. For example, music producer and DJ Diplo is one of our brand ambassadors. He has a Sunday night party in Vegas called "Night Swims" at the XS and now Zanerobe makes all of the staff uniforms. But it's an organic thing. A lot of our ambassadors found the brand on their own because they wanted to wear it. Dan is more of the peacock. People were always stopping him on the street asking where he got his clothes. Guys used to get made fun of for standing out with how they dressed; now it's cool.