PITTI UOMO REPORT: DAY ONE
At last night's opening party, U.S. retailers all agreed that it's time for major changes, that doing business the usual way is no longer working and that risk-taking is the safest survival strategy. Most have come to Pitti Uomo for inspiration, innovation and fresh ideas, and they found plenty of those at Z Zegna, an industry innovator in terms of performance fabrics and fresh design. We loved their techmerino wool suits that are completely machine washable, their very cool looser-fit pants and their slip-on rubber soul 'wave' shoe with suede trim. Also exciting here: their new modern version of a DB sportcoat that they call a 1 1/2- breasted sportcoat because there's less crossover fabric for a more casual look that can even be worn open. Maybe this will be the model to finally get American men back to wearing DB clothing!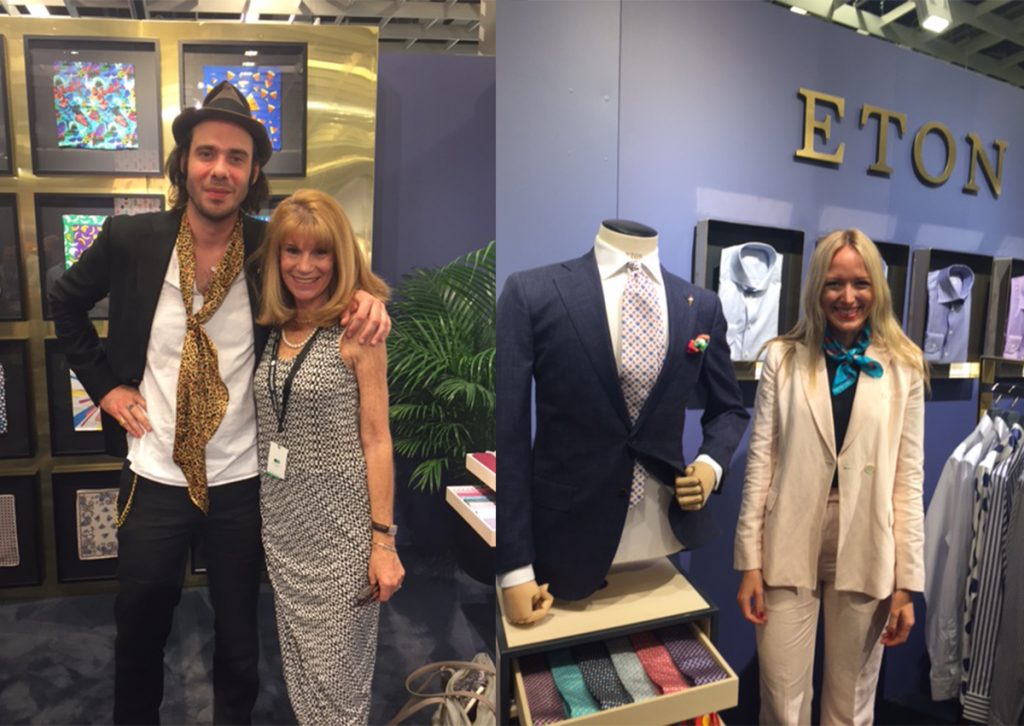 At Eton, head designer Sebastian Dollinger spoke about the design and fabric innovation that goes into his collection, and about the challenges of working with a narrow product offering. "Since we specialize in shirts, ties and accessories, we have to create as much excitement as if it were a full collection." Clearly, he and his design team have done this brilliantly by creating shirts and ties that range from sophisticated whimsical to subtle business looks. We loved the fun resort-inspired prints for spring '18 (ice cream cones, crabs, watermelons), the new popover and banded collar shirt models (some to wear with suits!), and all the new linens and wrinkle-resistant linen/cotton blends. We also loved Eton's colorful scarfs and pocket squares and encourage retailers to keep pushing these fashionable impulse items in their stores. An interesting aside: tie widths are moving back up from 7 to 8 centimeters for a more traditional look; knit ties are staying at 6 centimeters.


Finally, for retailers at the edge of luxury, don't miss Christian Louboutin's exciting new sneaker collection! Uniquely constructed by hand just outside of Florence, these sneakers have a double sole and feature a variety of interesting fabrics (suede, patent, croco-embossed leathers) and trims (from sequins to studs). What's more, these sneakers actually function: we watched them in action at a bike polo tournament where the players looked as cool as they were comfortable. We also loved the designer's formal velvet slippers, their modern take on the Chelsea boot, their signature espadrilles and their famous red soles, now coveted by men as well as women. Footwear equality for all!

I hadn't been to Pitti Uomo in several years and early into day one, I already remembered all the reasons menswear retailers need to be here at this amazing trade show! These include: fabulous displays and presentations, innovative men's fashion, interesting people, and a host of fresh business ideas!