PSYCHO BUNNY TO OPEN FIRST U.S. RETAIL STORE IN MIAMI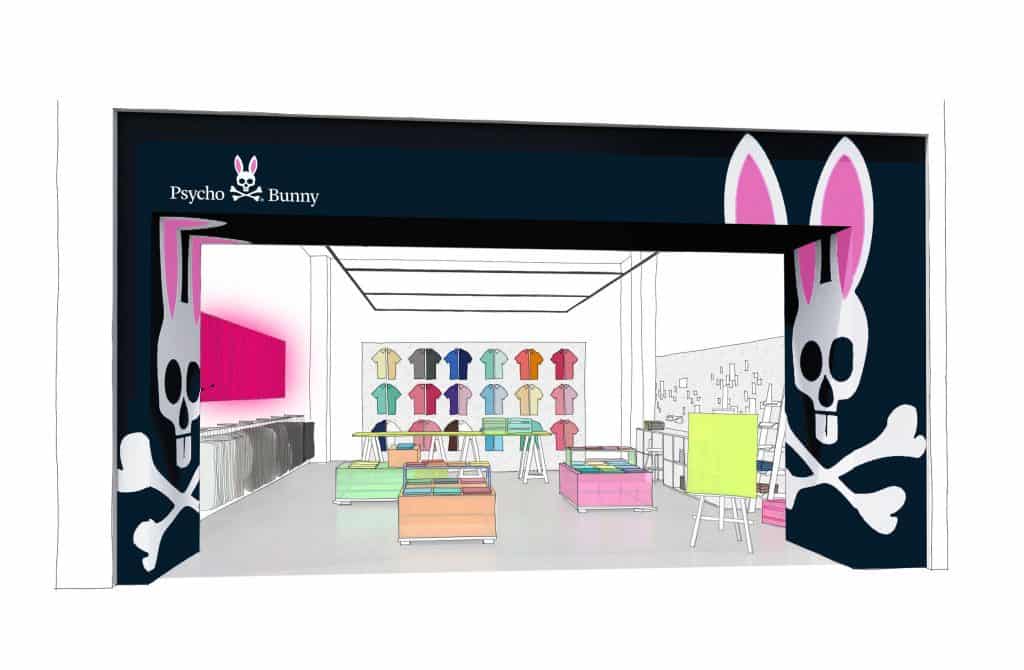 Men's contemporary and golf clothing brand Psycho Bunny has announced plans to open its first U.S. retail store in Miami, Florida, located in Aventura Mall next month. The new store will go through two iterations. The first iteration will serve as a temporary pop-up art experience during the holiday season. After the holidays, the pop-up will close for renovations and permanently reopen in early spring 2019.
The 1,600 square-foot pop-up store is designed to replicate a working artist's studio and acts as a 'behind the scenes' setting before the store transforms to its finalized state. The pop-up will have two distinct visions; each side of the store featuring a different pop-art display that highlights Psycho Bunny's adventurous, irreverent spirit. A mood board wall will feature art and objects that embody the brand as well as feature Psycho Bunny merchandise. On the opposite side, a colored light installation will sit above product highlighting it for customers as they browse the store. The back wall will feature a custom art installation by local Miami native, Alex Yanes, who specializes in vibrant, 3-D art pieces. Throughout the store, colored acrylic crates and cubes will serve as storage areas for additional store merchandise and give additional pops of color to the vibrant interior. The store will open with its fall and holiday assortment and feature exclusive product designed for Miami.
Florida has always been a particularly strong market for Psycho Bunny. Psycho Bunny's original founder, Robert Godly explains, "We've always had a strong presence in the Floridian market, Miami being the epicenter of culture, art and color, directly correlates with the artistic direction the brand. Aventura, for us, was a perfect choice, as it serves not only the local community but also international markets. We're confident this will aid in growing the brand on a global scale."
The pop-up will be open from early November through January 15th, after which it will go through extensive renovations to unveil the permanent Psycho Bunny retail front. The Psycho Bunny store will be located on Level 1 in the expansion wing of the Aventura Mall.