PVH'S KEN WYSE HONORED AT LINCOLN CENTER'S BUSINESS LEADERSHIP AWARD BREAKFAST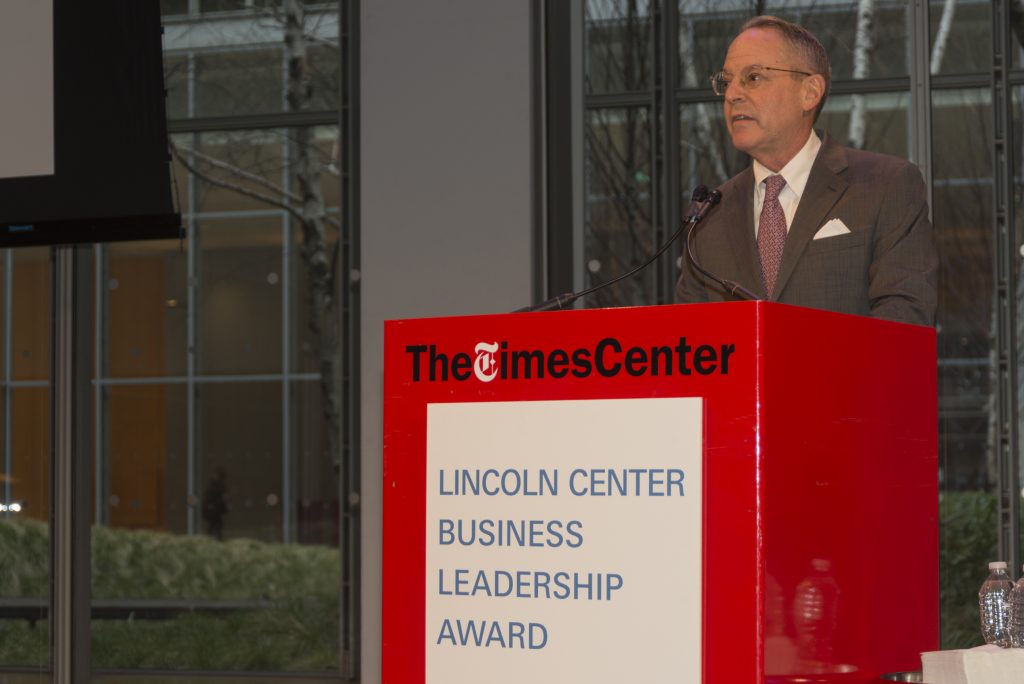 It was a full house on Monday morning at the gorgeous auditorium in the New York Times building where PVH's Ken Wyse was honored at Lincoln Center's Business Leadership Award Breakfast.
PVH chairman Manny Chirico introduced Wyse, and spoke glowingly of his 30-year career at PVH, where Wyse worked his way up to president of their licensing division and mentor to many young PVH executives. In addition to crediting Wyse for PVH's huge licensing business, Chirico expressed much appreciation for Wyse's intense passion for the arts and his unofficial role as PVH's "cultural ambassador," teaching associates how art influences the world. (Chirico even admitted totally enjoying a production of Carmen at Lincoln Center a few years back — tickets Ken had obtained for him despite his minimal interest in opera.)

Wyse spoke with self-deprecating humor about his circuitous career path. He grew up in Cleveland loving the arts, and thought maybe he'd be a dancer, a concert pianist or even a thespian. ("Whew: I'm glad I pronounced that correctly!") Instead, he chose international business; between attending graduate school at Baruch College and working as an assistant manager at famed eatery Schraftt's, he became a regular at Studio 54, amassing $25,000 in credit card debt. Fortunately, Lincoln Center hired him as a telemarketer for the Metropolitan Opera, where he ended up as their top seller, allowing him to pay off his debt while cementing a future relationship with Lincoln Center.
To top off an amazing morning, attendees were treated to a spectacular performance by sisters Ann Hampton Callaway and Liz Callaway, both former Tony Award nominees. (Liz is also an Emmy Award-winning actress, Ann is a multi-award-winning songwriter and cabaret superstar.) The highlight: a musical tribute to Ken Wyse that Ann spontaneously composed on the spot based on adjectives provided by the audience. (Think "fastidious" "spiffy" "charming.")
Congrats to Ken on this prestigious award and thanks to PVH, Peerless, and G-III for being among the corporate sponsors of such a fabulous event!