RALPH LAUREN PURPLE LABEL PRESENTS TIMELESS MENSWEAR COLLECTION IN MILAN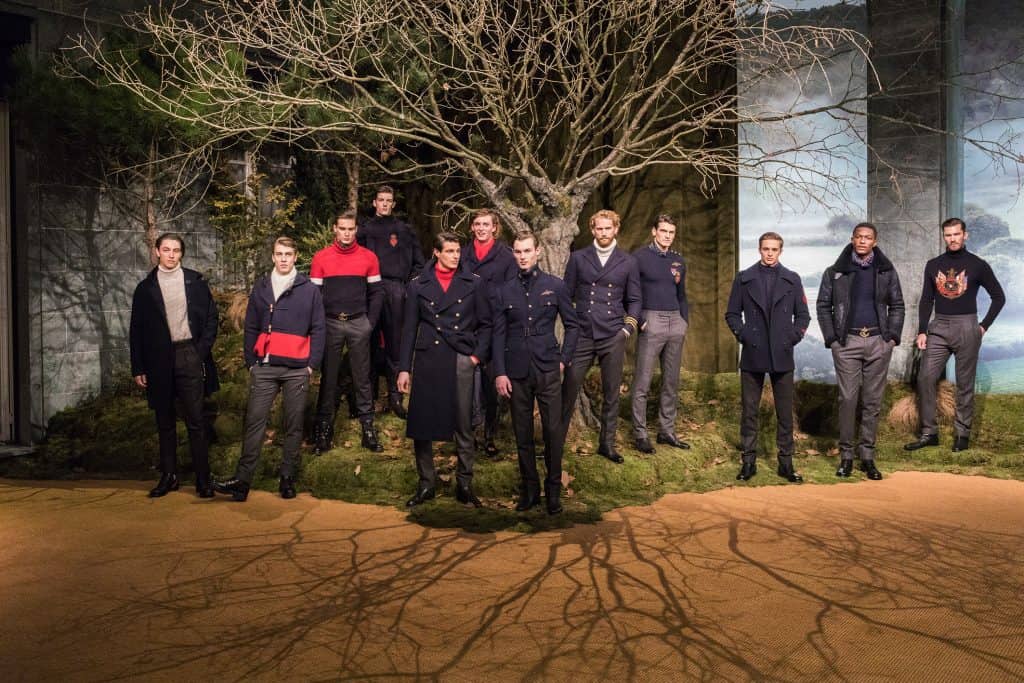 With his latest Purple Label collection, Ralph Lauren champions the formality and elegance of tailoring in tandem with the modernity of iconic sportswear, culminating in a statement of timeless style.
The centerpiece of the collection is a nod to naval officer uniforms, with a palette grounded in navy and charcoal with bold, graphic accents of red. Insignia and embroidered patches and crests are prominent throughout the collection, showcasing admiralty in its most rakish sense. Silhouettes are modern interpretations of historic military garments. Signature brass details adorn an array of outerwear pieces, such as the buttons of a double-breasted officer's topcoat, while anchor belt buckles accentuate the collection's nautical spirit. The season's footwear, including needlepoint velvet slippers and shearling-lined high-top sneakers inspired by aviator jackets, echo details from the apparel for a complete head-to-toe look.
Formalwear again draws from military style, looking to the regiments of Scotland for an unexpected twist on the classic evening statement. Tartan cashmere and antiqued velvet accent a collection of black tuxedo jackets inspired by officer dress uniforms, each with intricate details, from the handmade embroidery of one ornamental high uniform jacket to the diamond-shaped metal buttons that garnish a traditional Spencer jacket, worn with tartan trousers. A counterpoint to the Highland theme, two looks offer unmistakable signatures of RL style—a black turtleneck sweater embroidered with Mr. Lauren's profile, and a tuxedo shirt is worn with a western-style Concho belt and broken denim—both evoking Mr. Lauren's own way of dressing.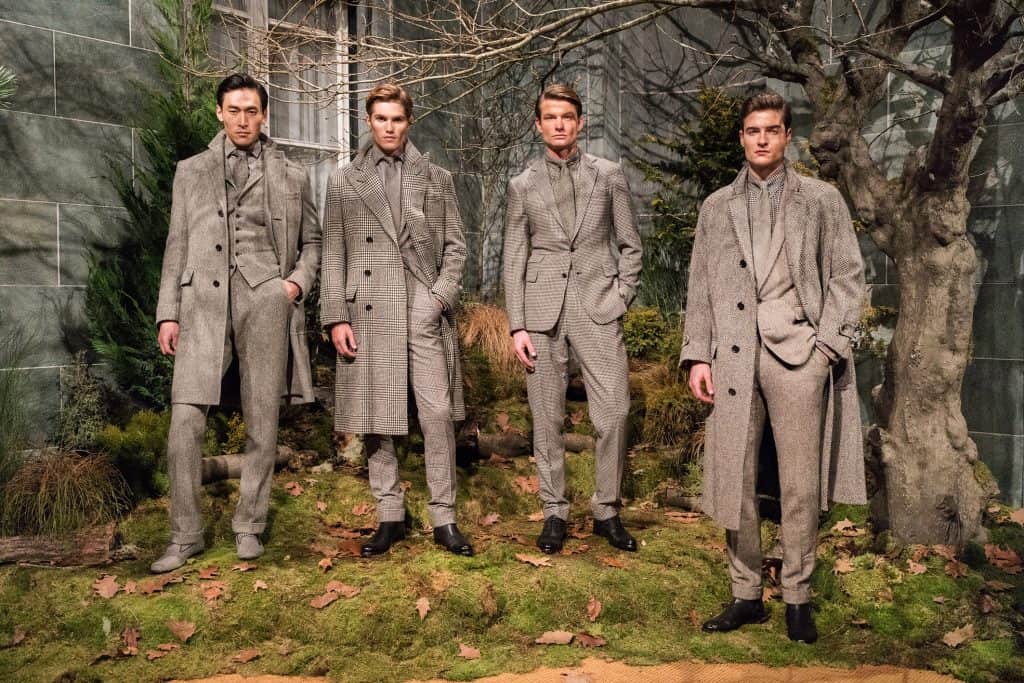 The rugged pursuits of the English countryside, traditional hunting, and field sports meet the ultimate expression of performance this season with the introduction of RLX technology to Purple Label. Quilted down jackets and hybrid nylon sweaters infuse modern utility into the collection when layered under shearling coats and tweed suiting. Fall's rustic hues of olive and navy with bright pops of orange reflect a fashion twist to signature hunting styles and are highlighted by a variety of luxurious textures, such as the suede pants of one look worn with a mélange turtleneck and channel-quilted nylon parka. The looks are also styled with hand-burnished leather boots with Norwegian welt construction to underscore the best of fashion and function.
Understated sophistication defines a group of patterned sportswear and tailoring layered together in a tonal palette of grey and charcoal. Subtle menswear suiting patterns—windowpanes, houndstooth, plaids, and checks—combine to refined effect in each look, such as a cashmere birdseye shirt jacket with a fair isle cardigan, coordinating shirt and tie, and pleated, wide-leg trousers. The group's cashmere fabrics range from full weights to lighter transitional styles, affording an ease and variety in their approach to fall dressing. The collection concludes with seriously elegant, black-and-white houndstooth and Glen plaid patterns mixed with confidence from head to toe. This final concept reflects the pinnacle of sartorial English tailoring, elevated yet again by the distinctive signatures of Ralph Lauren style.