RETAILER MILTON PENN DIES AT 93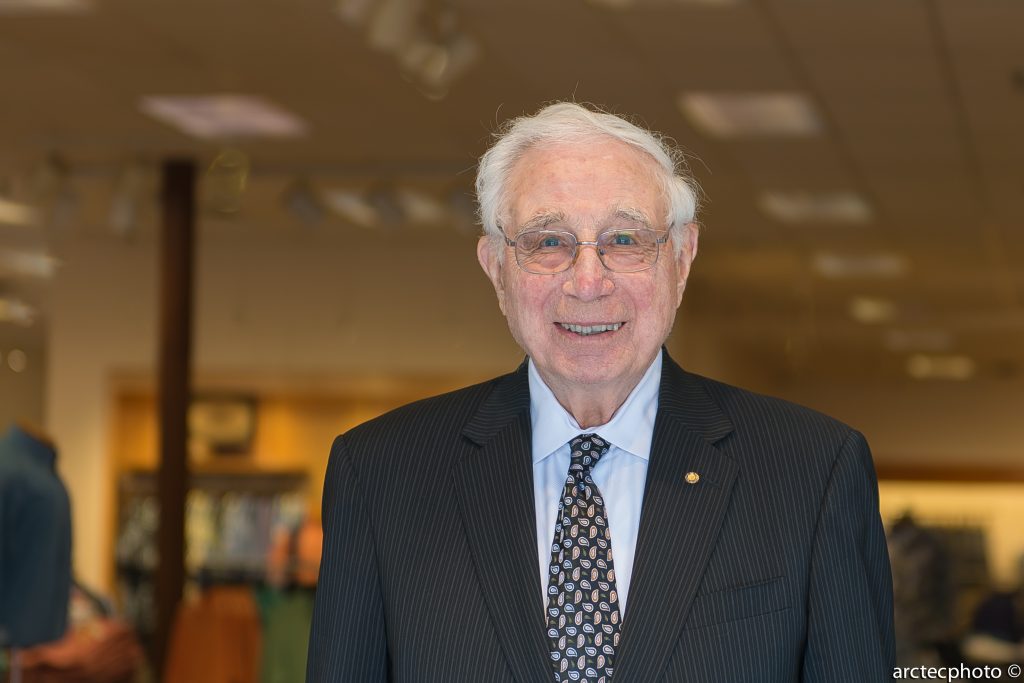 Milton Penn, who expanded his father's business, Puritan Cape Cod, died at his Cummaquid, Massachusetts home Thursday at the age of 93.
Born in Plymouth, MA, April 25, 1923, Penn is a graduate of the University of Pennsylvania's Wharton School and Columbia University. He served in the Navy in the South Pacific and earned a Purple Heart in the battle of Ormoc Bay in the Camotes Sea.
After getting a master's degree in economics from Columbia, Penn turned down an offer to teach at the University of Missouri and joined his father at his specialty clothing company. Moving to Hyannis in 1952, Penn eventually became president of the company and saw it grow at one point to eight locations from the original two.
In his business, beginning in the 60's, Penn added six locations to the original two Cape locations in Chatham and Hyannis: Dennisport, Orleans, Wellfleet, Cape Cod Mall, Mashpee and Falmouth. He was a firm believer that education is the path to opportunity, and when Cape Cod Community College first opened on South Street, Hyannis, he encouraged his employees to take courses there, and reimbursed them for the expense if they got a B or better.
Even after the next generation took over the reins of the company, Penn continued to work.
"Even in his 90s he came to work six days a week in his suit and tie and he'd sit in the store to meet and greet customers," Jim Penn said in an interview with Cape Cod Times. "He always said, 'I'm not here because I have to be, I'm here because I want to be.'"
Penn was recently predeceased by his wife Leona, and predeceased by his brothers Edward and Howard, his parents Abraham and Ida Penn, his son-in-law James Bowman, and his nephew-in-law James Gill. He is survived by his sons Jim and Rick Penn, daughters Jocelyn Bowman and Felicia Penn (Joe Hoffman), in-laws Helene Penn, Eileen Penn, Marcy and Gene Burman, and Betty Penn. Nephews: John Burman (Diana Stinson), Thomas Penn (Chris), Scott Penn, James Penn (Amy), Richard Penn (Julie), David Penn (Jean) and niece Lisa Penn (Anthony Murphy).
Funeral will be held at the Cape Cod Synagogue in Hyannis on Sunday, April 9, at 1:30 p.m. Interment will be held at the Mosswood Cemetery, Cotuit, with Military Honors. In lieu of flowers, donations in honor of Penn's life may be made to: the Cape Cod Maritime Museum in Hyannis or to the Goodworks Fund of the Rotary Club of Hyannis.